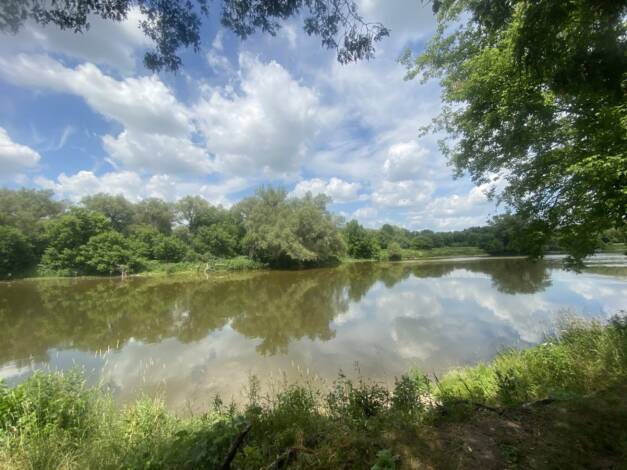 Fab Markets, A Grand River, and Amazing Food: Waterloo Region Open For Tourism
July 22, 2020 Jim Byers
A lazy canoe ride down one of Canada's most historic rivers. One of the best meals I've had anywhere. A nice, new hotel. A marvellous exhibit on the life of Nelson Mandela. And my first trip to beautiful St. Jacobs.
Waterloo Region is only an hour from Toronto Pearson Airport, but it feels like another world. I recently spent a day and-a-bit in the area at the request of Explore Waterloo Region, checking out some natural attractions and taking in some of the sights, all in a respectful and socially-distanced fashion.
My wife and I began our visit with a 90-minute trip down (thankfully, not "up") the Grand River, which flows some 280 km's from north of Waterloo Region to Lake Erie, which makes it the longest river in southern Ontario.
It's also been a vital part of the water traffic of the province for centuries and was a critical source of water – and life – for Six Nations peoples who lived here before European settlers arrived.
Local guide John Butt of Grand Experiences helped us into a fine, sturdy canoe and gave us a push out of the shallow water near the bank of the river at Bingeman's, a remarkable entertainment/camping complex in central Kitchener.
At the request of Grand Experiences, my wife and I wore masks for the canoe trip. Our guide had to help us navigate and wanted to explain the river to us, so he went without a mask in his kayak, which he kept several feet away from us at all times.
Butt explained about the Carolinian forest we were paddling through, a tranquil and softly beautiful region with Sycamore trees and towering, graceful Black Willows. We glided quietly past riverbanks lined with white and soft blue flowers (Queen Anne's Lace and Forget-Me-Nots) and spotted a pair of majestic Blue Herons along the way.
We were told the Grand River Conservation Area has handled the river since 1948, and that there parks and hiking/cycling trails all down the river's edge. It's the perfect place to get away from the city, and so close to several major population centres, including Hamilton, Toronto and London.
Butt explained some of the local First Nations history and also how the conservation folks manage the water flow. The river is home to tons of fish, including bass, trout and pike, he said.
Butt and a co-worker loaded the boats onto a truck and we got a ride back to Bingeman's, where he had lunch on the fine patio at Boston Pizza. I enjoyed a very good, healthy chicken bowl with guacamole and veggies and my wife had one with salmon. Of course, I had to balance that out with a local amber ale from Waterloo Brewing.
Mark Bingeman, the company's president, showed off the massive interior of the restaurant and some of the 28 indoor bowling lanes with giant video screens above. Both the restaurant interior and the bowling lanes are temporarily closed, of course.
Bingeman's, a long-time family institution in Kitchener that now spreads over 170 acres, likely won't be able to use much of its meeting space soon, but the water park was supposed to open when Waterloo Region went to stage three. Bingeman said they'll have plenty of physical distancing rules in place at the Bingeman's Big Splash water park, as well as sanitizers and other health and safety initiatives to help keep visitors safe. The mini-golf course, which looks terrific, is already open.
One new initiative is their drive-in On The Grand Ampitheatre, which has been outfitted with a 60 by 30 foot white screen and was to open July 8 with a showing of "Trolls" and "Jaws." They'll also do live music shows (upcoming is local band Romeo Sex Fighter), comedy acts from Yuk Yuk's, and much more, all with guests safely from inside their cars. They're even outfitting the ampitheatre with fibre optic cables, so they could beam in a show from Las Vegas or almost anyplace else in the world if they wish.
This is a guy who's clearly doing his best to stay ahead of the game and pivot in a new tourism world, so hats off to him and his family.
Bingeman gave us a short driving tour of their campground, which looks great. One section is up by the road and has a small convenience shop, the other is down by the river and has both camping spots and cottages to rent; some of them rustic log cabins and a few fun ones fashioned out of metal railroad containers. All the cottages have air conditioning, and a couple of the railroad container units have fine, second-floor wooden decks for extra entertaining space.
Camping arrangements range from a picnic table and a metal fire pit under the trees to full, drive-in slots for motor homes and trailers.
From there we made our way to the Ken Seiling Waterloo Region Museum, which is featuring an exhibit on the amazing Nelson Mandela until Aug. 3, 2020.
Entitled Mandela: Struggle for Freedom, the exhibit is an all-encompassing dive into the history of apartheid and race relations in South Africa and delves into Mandela's personal history as perhaps the greatest statesman of the last 100 years.
It's a powerful, depressing and yet uplifting and hopeful exhibit that includes a photo of Mandela in his boxing togs and other rare glimpses of the man behind the legend. There also are displays about Canada's role in ridding South Africa of apartheid, as well as personal, poignant letters from Mandela to his children that were written during his nearly 30-year confinement on Robben Island in Cape Town.
The pamphlet for the exhibit sums it up nicely.
"What would you do if you were imprisoned for 27 years? Would you be able to forgive your captors, or would you want revenge? Nelson Mandela chose forgiveness, and he never stopped trying to build a better world."
It's only on a few more days, so don't miss it.
The rest of the museum, including displays on the 12,000 years of human history in the region, were closed when we visited, so I can't tell you a lot. But the building is an architectural gem, and I'm sure you'd find many a great story to read if you took a tour at a later date.
Next to the museum is the Doon Heritage Village; a fine and wonderful collection of old buildings laid out around a small forest. You'll find romantic, covered bridges, old bank buildings, apothecaries and more. They usually have people dressed in period costumes showing what life was like back in the day, as well as farm animals on display. But those both were unavailable during our visit. Still, we quite enjoyed strolling the extensive grounds.
We had a few minutes after the museum to enjoy our hotel, the recently opened Staybridge Suites Waterloo-St. Jacobs. It's a fine place to stay, with bright, large, rooms and helpful staff.
We had a room on the second floor with a good-sized kitchen that featured a two-burner stovetop, a microwave and a dishwasher, plus a coffeemaker, sink and dishes. There was a comfortable sofa bed and a very nice bed, plus a large shower with great bath amenities.
The hotel is connected to the Holiday Inn Express Suites, which has an indoor pool that Staybridge guests can use (and I did). The usual lobby breakfast isn't available, but they're giving guests a grab and go option with plenty of fruit, bagels, yogurt, granola bars and other options. And there's good coffee at the Holiday Inn next door.
It's a great place for a couple who wants some space to spread out, or for a small family. It's also directly across the street from the marvellous St. Jacobs Market, which we explored the next morning.
I've lived in Toronto for 39 years (and two months and six days), so you think by now I'd have wandered out to St. Jacobs to see one of Canada's best markets. Sadly, I had not. But I'll be back now that I know what I was missing.
The array of foods and produce and other goods available was staggering; basket of ripe, red strawberries stretching on forever, rows of brilliant yellow, orange and red peppers, bright orange, organic carrots. Inside there were rows of ribs and steaks and marinated chicken and sausages galore. I'd never heard of it, so I brought home a bit of Serbian sausage, which turns out to be terrific.
We also snacked on a nice samosa and sipped lemonade. Not all the buildings were open, including the Peddler's Village, but they had two market buildings operating as well as the outdoor market, so there was tons to choose from.
They also sell a variety of goods from around the world; Balinese buddhas, South American jewellery, Canadian coffee mugs, and so much more.
Masks weren't required in Waterloo Region during our visit, and not all the visitors were wearing one. But the merchants all seemed to have donned masks, as did we, and there were plenty of sanitizers about and reasonably clear walking and entry/exit signs painted on the ground so we could practice social distancing.
The market is maybe a kilometre or two south of St. Jacobs Village, which is quite handsome and striking without being overly kitschy or twee. We went for a lovely walk on the graded paths along the Conestogo River and later stopped at a small place in town called The Ice Cream Salon, where we had two of the best sausages ever (Debrecyna, I was told, from Kitchener), fries and two Diet Cokes for $18.
It was a terrific lunch. Our dinner at The Red House in downtown Waterloo. That was sublime. 
They have a small patio up front and have turned a former parking area out back into a fine outdoor dining spot, with picnic tables and small, potted palm trees, as well as cheery, red umbrellas for shade.
We had a couple of nice drinks, including a beautiful Peach-Raspberry Sangria and a pale yellow Niagara Negroni with white vermouth that was quite pretty, but not much like a standard Negroni.
Our waitress, Miranda, said she loved the calamari and the lamb spaghetti, which I had eyed on-line when looking at the menu earlier in the day. We also opted for the short rib, which was new on the menu.
The short rib was very good, as was the Harvest Kale Salad, but the other two dishes totally, and I mean totally, blew me away. The calamari was tender and sweet and perfect and was topped with a bit of green olive and tomato ragout with a generous helping of slightly spicy chorizo. If there's a better calamari dish on the planet, I can't imagine it. Absolutely superb.
Then came the lamb spaghetti, which had crumbled lamb ragout, white chanterelle mushrooms, marinated tomatoes, wilted spinach, cremini mushrooms, Grana Padano cheese, truffle oil (the secret) and locally made, thin spaghetti. It was an explosion of Umami that sent my taste buds soaring. Definitely one of the top pasta dishes I've tried anywhere on the planet.
The chef, Dan McCowan, is a super-friendly and chilled out guy who was wearing shorts, flip flops and a plaid shirt as he walked among the guests out back. Miranda, our waitress, also works as a nurse. They were both wonderful, knowledgeable and super fun to talk with.
It would be nice if they had a few more wines available by the glass, including maybe a zippy Sauvignon Blanc from New Zealand. But that's a small issue. I really can't recommend this restaurant highly enough. It's an hour and change from my house in Toronto, but I'd gladly drive there and back for a meal some time.
About the Author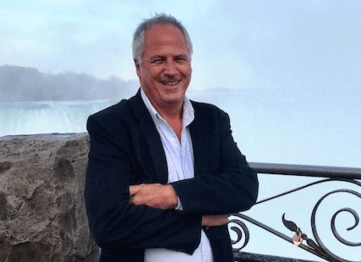 Jim Byers was travel editor for five years at the Toronto Star, which has the largest travel section in North America. "Canada's Travel Guy" is a sought-after expert in the industry and has recently published his first e-book "Ontario Escapes, 19: Places to Visit Right Now."  Jim also serves as Senior Editorial Director for TravelPulse Canada.