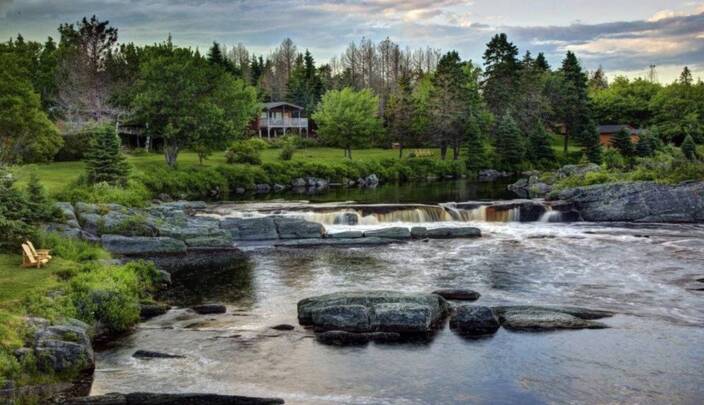 Nova Scotia's Eastern Shore: Serenity Now
July 22, 2020 Admin
The Eastern Shore of Nova Scotia is like another planet. It's only a short drive from bustling (well, kind of) Halifax, but it's definitely a quieter world.
When I was there a few years ago I didn't see a single chain hotel or a franchise restaurant. What I did find were beautiful, quiet bays, goofy but inspiring folk art places and a lovely lodge with great kayaking and canoeing, as well as good food and tons of activities for families.
The shoreline of Nova Scotia around Mahone Bay and Lunenburg is justifiably famous for its craggy bays and lovely inns. But Halifax folks who want to get away from it all know to head the opposite way, up the so-called Eastern Shore.
Only a half-hour from downtown Halifax along Highway 207 you'll find Lawrencetown Beach Provincial Park, a wonderful and long, long, long stretch of sand. This is one of the top surfing spots in Canada, and you'll find several places to rent a board or get a lesson. If that's a little ambitious, try a canoe or kayak ride in one of the quiet bays behind the beach.
After a few minutes heading east you'll want to turn right on Highway 107 to continue your excursion, and then turn right onto Highway 7, the main route along the Eastern Shore.
Highway 7 swings past glorious bays with hardly any cottages or homes to mar your view. It's mostly just you and the coast and the sparkling water and deep green trees. Towns are of the small to tiny variety, with hardly a chain store or motel in sight.
Roughly a half hour past the town of Chezzetcook, at 15359 Highway 7, you'll find an utterly delightful and more than a little zany spot called Colpitts Folk Art. Barry Colpitts makes inventive, imaginative folk art of all kinds, including bright blue and green fish, wooden Mounties and brightly coloured birds and cows. When I stopped in there was a small display of four wooden heads in a case that said "Barry's Head Museum." Of course. It invited guests to rub one of the heads, nicknamed Bob, if they wanted help to quit smoking. Not being a smoker, I can't say if it works. But this place is pretty special.
Taylor Head Provincial Park has a lovely beach and rugged hiking trails, while Ecum Secum is a small village with a pretty white church. A few miles further along Highway 7 is Sheet Harbour, one of the larger towns along the road. There's also a pretty waterfall that's worth checking out. Besides, how do you not love a town called Ecum Secum?
One of the best places to stay on the Eastern Shore is Liscombe Lodge, about two and-a-half hours from Halifax without stopping. They have a main lodge and cottages spread out over a large, grassy site along a pretty river, where you can use their kayaks or canoes. The food isn't fancy but it's good and reasonably priced, and the dining room has wonderful views of the river. It's an outstanding spot for families on a quiet, serene coast of one of Canada's prettiest provinces.
About the Author