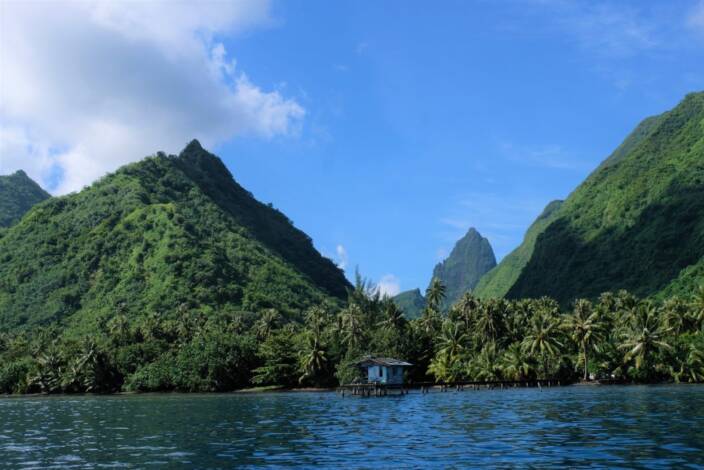 Tahiti: A Whole New World of Beauty and Charm
July 22, 2020 Jim Byers
There's no sign that says "Welcome to Another World" when you turn onto the section of Tahiti island called Tahiti Iti.
I'm thinking there should be.
A driver who makes the turn south on Tahiti's main, road (there doesn't appear to be a name or a number for this two-lane stretch of asphalt; the map I grabbed at the airport in Papeete didn't provide a number, and the woman at the rental car counter merely called it "the road") won't notice an immediate change. But as one emerges out of the tiny village of To'ahotu one starts to leave the roadside snack shops and coiffure salons behind. The road hugs the coastline a little more tightly, and folks in the passenger seat can almost reach out and touch the flat waters of the island's encompassing lagoon.
The mountains begin to crowd a little closer to the sea here than was the case to the north, on the section of the island called Tahiti Nui. If you roll down the window and slow down a little, you can hear the pounding of the waves on the reef that encircles the island and tune into the rustling of the palm leaves high overhead. Small dogs doze at the side – or something closer to the middle – of the road, and folks on well-used bicycles head back home from the market with long, slim, baguettes poking out of their baskets.
(Not only is Tahiti Iti beautiful, it's also quite affordable; with lovely places to stay for less than $200 CAD a night. More on that near the bottom of this post).
Perhaps a half hour after the turn-off onto Tahiti Iti, my wife and I spot a small sign for Vanira Lodge, which we reach by taking a short but steep, winding hill that even a guy raised in San Francisco takes a second look at before putting his faith in the transmission of his rental car.
A worker at the lodge kindly calls the captain of the ship that's supposed to take us out for a lagoon tour and explains where we go. Having just arrived after a nice overnight flight on an Air Tahiti Nui Dreamliner, where we enjoyed good food and wine and tons of space in their Premium Economy section, we're not quite dressed for a boat ride, so we wander down to our hillside bungalow and make a quick change, stopping for a second to admire the wonderful view of the lagoon and a section of Tahiti Nui that slices down into the water.

It's all wonderful, but it's not until the boat starts to head a little further south that Tahiti Iti begins to reveal herself. The road, sorry, "the road," ends abruptly a few kilometers south of our lodge. Locals can use their cars a little on the other side, I'm told, but for visitors without a helicopter the only way to get around is by boat.
Ten minutes later we're out on the lagoon, getting a close-up look at sand bars that locals take boats out to at high tide for a small party, or even a soccer game. We also check out a fish farm, a black pearl farm and overwater shop, and stop a couple times to watch fluid, athletic surfers take on some of the Pacific Ocean's best waves as our experienced captain, Matahi, negotiates the rolling waves just outside the surf break. (The surfing competition at the 2024 Paris Olympics will be held here, as a matter of fact.)
We're maybe 200 meters off shore, but the land here suddenly looks different. The houses are smaller and more spread out. The docks and piers seem older and more rustic. And the mountains are simply magnificent. There are some lovely hills up around Vaira'o, but once you get south of Teahupoo the mountains suddenly show their muscle, rising in massive columns towards the Pacific sky, with exposed, black columns of basalt rock and thick, deep green jungle.
We're supposed to have lunch at a place called Bonjouir Teahupoo Lodge Paradis, so we pull up at a long dock in front of a deep, green valley with powerful mountains. We walk a few meters along the dock and find a bathtub filled with cool water off to one side. The dock is lined with pots of flowering shrubs; red bougainvillea, multi-coloured croton and more. There's a small beach in front of us with orange and yellow kayaks, and a couple of modest, one-to-two storey buildings surrounded by graceful palms.
I'm beyond enchanted. I turn to my wife.
"Is this not the most beautiful place you've ever seen?"
The co-owners, Annick and Vetea Paofai, take us on a tour of the property, which features modest but attractive units scattered amongst an insanely lush garden. They have units that can sleep up to six people, some with kitchens.
Vetea takes us on a tour of the garden, where we spot papaya, mango, breadfruit, rambutan and massive grapefruit, as well as delicate, pink torch ginger, flaming red bougainvillea, and brilliant white plumeria. Using the words "Paradise Lodge" in your property takes no small amount of chutzpah, but here's it's completely justified.
Vetea also leads us on a short hike through densely wooded land, following a small stream until it reveals a deep pool with a large, black cliff of shining rock on one side. Tapu, one of our shipmates for the day, climbs the rock and does a demonstration backflip for us.
Back at the resort, Annick shows us how she makes poisson cru, the national dish of Tahiti, which features coconut milk and raw fish. There are dozens of ways to make it, but Annick likes hers with coconut milk, tuna, onion, tomatoes, chopped cabbage, thinly sliced carrots, celery and lemon juice.
"Not everyone adds cabbage or carrots, but I like the colour from both, and the crunch from the cabbage. I also don't put lemon juice right on the fish like some people do. I don't want to cook the fish with the juice, so I add it to the coconut milk instead."
Annick puts on demonstrations for her guests, while Vetea is happy to escort visitors to the waterfall, stream or the panoramic lookout spot they have high on a hill. He does the same thing for guests on Paul Gauguin Cruise ships who visit this amazing, low-key part of Tahiti.
Minutes later we're in the lodge's open-air dining spot, perhaps 10 meters from the sea. We dine on Annick's amazing poisson cru, as well as grilled taro with pepper and butter and local sweet potatoes, with sides of rice and bread. (Tahitians, seemingly like all Polynesians and Hawaiians, do love their carbs).
Annick tells us that most of their visitors are locals, "people who live here but want to see the REAL Tahiti." They also get a fair number of French visitors, as Tahiti is a department of France and French and Tahitian are the main languages. There are also a sizable number of tourists from the U.S. and Canada, the latter mostly from Quebec.
She also tells us that arriving at the lodge by boat is part of the allure.
"The government has talked about extending the road, but it would ruin things," she said. "When you take a boat to a place, you feel like you've really gotten away. Kids who stay with us say to their parents, 'I don't want to go back to Tahiti,'" meaning Papeete or a busier part of the island chain.
"As soon as you put your feet on the dock you feel, what do you say, good vibrations. Those mountains just welcome you.
"Here you have all of Tahiti in one place," Annick continues. "We have lagoons, deep green mountains, waterfalls, a river, beautiful gardens, a panoramic spot." And that's not even counting the bathtub, great poisson cru and amazing sunsets.

Annick tells us she came to see the property, which has been in her family for some time, when she was 10 years old.
"I didn't come back until I was 40 but when I saw this land from the boat I knew exactly where I was. It was just a feeling in here," she said, pointing to her chest.

"It was all jungle, jungle, jungle, jungle, jungle when we decided to build here. People said to me 'What on earth are you doing over there.'" I said, 'Just wait 20 years.'"
With a great lunch safely tucked away, we hop back on the boat to check out a stunning coastline with deep black lava rock and electric green ferns clinging for life, pounded ceaselessly by blue waves and towering columns of white foam. We also explore caves and watch brilliant blue-green perroquet fish on the reef, which you can almost reach out and touch. Even Tapu, who lives here, is busy snapping photo after photo.

The mountains in this part of Tahiti are truly majestic; spiky columns and broad-shouldered masses of rock that rise into the blue sky with authority. Some of the ridges look sharp enough that you could break off a section and use it to shave with.

Matahi points out one rock formation with a sharp cone rising from the middle. "If you tilt your head it looks like Jacques Chirac," the former, large-nosed leader of France, he says with a laugh. "Some folks also call it 'The Penis.'"
Ahem, yes. Okay.
I've always loved the South Pacific, but it's when I'm floating off this black lava coast, with the palm trees swaying mere meters from my face, that I begin to understand how easy it must have been for Fletcher Christian and others on board the HMS Bounty to high-tail it off the ship and escape into the clutches of what they called Otaheite. And I'm not even being waves at by smiling, young maidens with grass skirts and flowers tucked behind their hair.

Back at Vanira Lodge we peel off our sticky clothes and take a dive into one of their two small pools, which rest on a small plateau of grass surrounded by towering fan palms and flowering shrubs. There's also a net for volleyball/badminton and a yoga pavilion, which attracted a handful of young women later in the day.

We get to the washroom by walking out the door to our spacious patio. There's an outdoor sink and a fabulous outdoor shower, which in our unit, Vai Iti, featured lovely views of the valley below and a generous slice of the Pacific Ocean. There's also a large hot tub that I check out and a hammock. It's very private and secluded, so bathing suits are strictly optional.

Our room is modest in size but has a nice bed and, next to the bed, what looks like the trunk of a small tree reaching from the floor to the ceiling. It makes it a little awkward to get out of one side of the bed, but it's a cool feature that provides a lot of character.

We also have a small fridge in the room, which is handy for keeping your water cold, or your rum, as well as a kettle with tea and pretty good instant coffee.
For dinner that night, we walk a few feet up the hill to the main dining area, which is an open-air affair with a small lawn off to one side and a pair of palm trees that frame a lovely sunset. They had three options for dinner that night; shrimp curry, local fish Asian style and a steak, which was cut up in small pieces and served with good pommes frites and a creamy gravy like one is sometimes served with steak in Europe. We also had a nice salad with cashews and Japanese dressing.

The next morning they had a nice selection of tropical fruit, as well as muesli, cheese and yogurt, plus bacon and eggs.

I think Tahiti gets a bit of a wrong label from some folks. They see those overwater bungalows (which I'll write about in an other post fairly soon) and check the prices online and think, "Nope. Too expensive."
But, as I mentioned, Bonjouir has rooms for less than $200 CAD a night. Vanira has rooms listed in April for $240 CAD a night. I found meals to be cheaper in Tahiti than I do in Hawaii, aw well.
Tahiti Iti is on the same island as Papeete and the airport and the big resorts. But it feels like an entirely different place. I can't wait to go back.
About the Author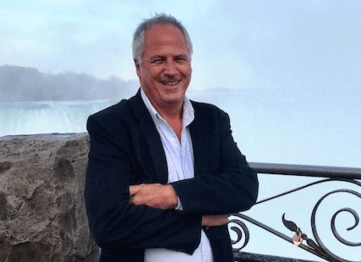 Jim Byers was travel editor for five years at the Toronto Star, which has the largest travel section in North America. "Canada's Travel Guy" is a sought-after expert in the industry and has recently published his first e-book "Ontario Escapes, 19: Places to Visit Right Now."  Jim also serves as Senior Editorial Director for TravelPulse Canada.