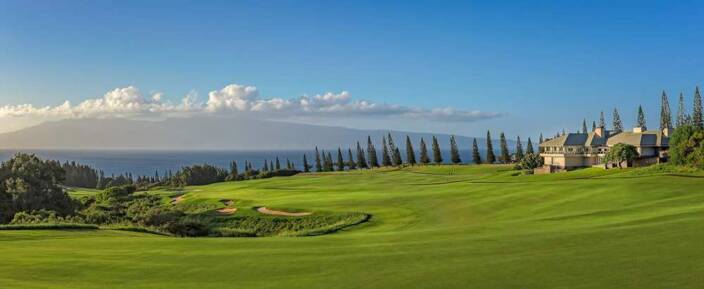 Hawai'i Golf: From Funky to Fabulous
July 23, 2020 Jim Byers
Golf fans are accustomed to seeing the immaculate, beautiful fairways at Kapalua every January when the PGA Tour stops in for its yearly Hawai'i fling. The Kapalua Plantation Course is a beast, and it's not for the average duffer. But there are plenty of other places on the island of Maui and the other islands of Hawai'i to enjoy yourself on the links.
I've been to Hawai'i probably 25 times by now, and I've played golf on all the islands except Oahu. Here's a look at a variety of Hawaii courses you can try; both fancy/expensive and casual/cheap.
EDITOR'S NOTE: Hawai'i currently requires visitors from outside the state to self-quarantine for 14 days upon arrival. That rule is in effect until at least Sept. 1.
PRINCEVILLE, KAUAI: They used to have two courses on the north shore of Kauai, but it's now down to one. The Princeville Makai layout is a true stunner, with several holes on the edge of cliffs that fall steeply down to the blue Pacific Ocean and great views of the rugged north shore mountains past Hanalei. Conditions are fantastic, and it's a playable course that almost every level of golfer can enjoy. The par-three seventh hole is a dramatic shot over beautiful cliffs, with killer mountain and water views. The bunkers in front of the seventh hole resemble waves rolling into Hanalei Bay to the west. This is the first-ever course designed by Robert Trent Jones Jr. If you don't want to play you can still take a sunset golf cart tour and capture some great Instagram images. INFORMATION: http://www.makaigolf.com/golf/proto/princeville/
KAUAI MUNICIPAL COURSE: The island's 18-hole public/municipal course is in Wailua, not far from the main city of Lihue. It looks tame from the club house, but this is a muni course with bite. There are several holes along the Pacific Ocean, which means you're likely battling those offshore breezes. The 17th hole is a lovely par three down a big hill to an ocean-side green fronted by bunkers. Arnold Palmer once called it one of his favourite holes. INFORMATION: http://www.kauai.gov/Golf
KAPALUA, MAUI: The Plantation Course is up the side of a hill overlooking the channel between Maui and Molokai. It's the site of the yearly opening tournament on the PGA Tour, set aside for tournament winners only. It's a bit of a bear for your average duffer. But the course is kept in immaculate condition, the views are outstanding and the steep, downhill 18th is as much fun as you can have with your clothes on. The Bay Course is much more player friendly but still has some challenges. It also has a couple of holes right on the ocean, including the par-three fifth hole, where you'll have to hit over a steep set of dark cliffs that plunge into the blue water below. INFORMATION: https://golfatkapalua.com/
IRONWOODS, MOLOKAI: This island doesn't get a lot of visitors, but it's a real slice of old Hawaii. The somewhat hilly Ironwoods Course offers some nice views of the island; and some exercise, too. Warning: there aren't any golf shops on the island so bring balls and tees. You can rent clubs, albeit not the latest Callaways. 1-808-567-6000. No website, but you can try the state tourism board's site: ttps://www.gohawaii.com/islands/molokai/things-to-do/land-activities/Golf
WAIEHU, MAUI (Aka Maui Muni): Located a few minutes north of the fun, low-key town of Wailuku, you'll find several holes running along the Pacific Ocean. Conditions aren't quite up to Pebble Beach standards, but the locals are wonderful, and there are some nice challenges. The fifth hole is one of the strongest, a par-three from an elevated tee and into the teeth of the wind. The seventh hole is a par-five stretched along the Pacific. The back nine is inland but has some nice views. INFORMATION: https://www.mauicounty.gov/Facilities/Facility/Details/157
MANELE BAY, LANAI: This is a true stunner. But you (normally) have to be a guest of one of the two Four Seasons hotels on the islands to get a tee time, and hotel rooms generally start around $1,000 USD a night. If that's in your snack bracket, you'll find an amazing course that gets very little usage. Which means it's in consistently tip-top shape. Several holes hug towering cliffs along the Pacific Ocean. Bill and Melinda Gates got married on the 12th hole green back in 1994. INFORMATION: https://www.fourseasons.com/lanai/golf/
OAHU: Turtle Bay has two courses on the quiet north side of Oahu. You can save up to 50 per cent on your golf and room together with the Unlimited Stay and Play package. INFORMATION: http://www.turtlebayresort.com/
KUKUI O LONO, KAUAI: This is a short (2,981 yards) nine-hole course that's 20 minutes from Poipu Beach on Kauai. It's part of an old estate and they're obliged to keep prices low: $12 or so USD for nine holes! The course isn't in pristine condition, but it's fun and playable, and the views of the distant south coast mountains and the ocean are terrific. They don't take tee times. INFORMATION: http://www.kauai.com/kukuiolono-park
HAWAI'I BIG ISLAND GOLF: You can choose top tracks on the sunny Kona coast, or dial it down by playing the fun, entertaining 18-hole municipal course in Hilo. https://www.hawaiicounty.gov/departments/parks-and-recreation/hilo-municipal-golf-course. The course at the Four Seasons Hualalai on the Kona coast (https://www.fourseasons.com/hualalai/golf/) is as pristine as you'd expect, with several challenging holes. I love Waikoloa Beach Golf Course (https://www.waikoloabeachgolf.com/), which is challenging but not crazy difficult, and Mauna Kea (https://maunakeabeachhotel.com/golf/). Both are oceanfront layouts with top-notch facilities.
About the Author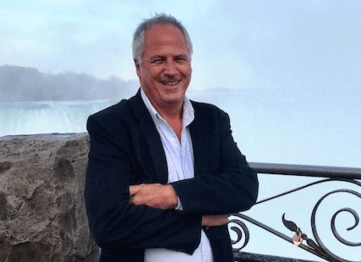 Jim Byers was travel editor for five years at the Toronto Star, which has the largest travel section in North America. "Canada's Travel Guy" is a sought-after expert in the industry and has recently published his first e-book "Ontario Escapes, 19: Places to Visit Right Now."  Jim also serves as Senior Editorial Director for TravelPulse Canada.