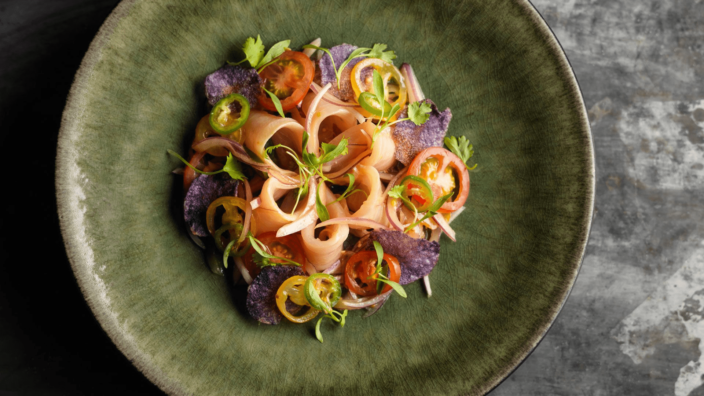 Japanese-Peruvian Cuisine in Toronto: Marvellous Chotto Matte
July 24, 2020 Jim Byers
One of the coolest spaces in Toronto. And some of the best food in the city.
If you haven't been to Chotto Matte in the heart of downtown Toronto (Yonge and Front, inside the gorgeous Brookfield Place), you're missing a terrific dining and sensory experience; one that doesn't feel like anything else I've seen in the city.
Step inside and you're immediately surrounded by a wildly colourful interior that features what looks like a waving banner and a very cool bar. It feels to me like a bold marriage between South Beach and Shanghai. Which kinda makes sense, as Chotto Matte also has restaurants in Miami, London and St. Tropez, France (a pop-up affair, I was told).

The fact Toronto is only their fourth outlet is pretty cool, and speaks volumes about how far this city has come in terms of food and culture in the past decade or two.
The cuisine at Chotto Matte is Nikkei, a word I was told by our waiter means to come from abroad in Japanese. It's now a common description used for Japanese-Peruvian dishes, which owe a great deal to fresh food approaches taken by Japanese immigrants to Peru. Peru was the first country in the world to recognize Japan's government in 1873, and the country welcomed Japanese immigrants as early as 1899.
The menu is immense, so you might want to do some homework in advance. Sections are broken down into a variety of styles, including nibbles and appetizers, tempura, sushi and sashimi and from the Robata Grill (an open charcoal grill popular in Japan).

The yuzu cocktail I'd tried at a special opening night party they had at the restaurant a couple months prior was sadly unavailable when we went in early August, but I had a nice caipirinha and sampled my wife's Jasmine Fantasy, an excellent, summery mix with gin, elderflower, Aperol and pink grapefruit).
On the subject of drinks, I was surprised to see the wine list didn't have Pinot Noir by the glass. It's a popular, light red wine that would work reasonably well with some of the dishes, so I was surprised to see the red wines leaning to heavier options.

The music is a touch loud for older folks, but that's part of the youthful appeal of the place. As are the open kitchens and the psychedelic walls outside the washrooms (enough to make a travel writer of a certain age wax nostalgic for his days of black light posters and the smell of incense).

We started with the shrimp spring roll. And could easily have stopped with it, as it's hands-down one of the top dishes I've had anywhere on the planet; a crispy, super-light and utterly delicious concoction with shrimp, shiitake mushrooms, yuzu and shisho. It's going to be hard to go back to "regular" spring rolls at my neighborhood Thai place, I can tell you that.

The pork belly also was outstanding, just-right crispy with nashi pear and yellow tomato salsa to brighten and lighten things up a bit.
The corn with lime and queso was delicious, as well. We then finished off with the Sato Maki; excellent rolls with salmon, yellowtail, red pepper, lime soy and other bits that they briefly flamed at our table with a small propane torch.

We skipped the dessert to cut down on calories, but options include mochi ice cream and a delicious-sounding dish called Peruvian chocolate crema, with honeycomb, dulce de leche and rum.
"We couldn't be more pleased to expand our brand into Canada," said Kurt Zdesar, CEO and Founder of Chotto Matte. "The city's unique culture, energy and international community make it a natural fit for Chotto Matte. We are thrilled to elevate Nikkei Cuisine in this vibrant city."

All in all, Chotto Matte is an outstanding dining experience from both a culinary and sensory point of view. Welcome to Toronto, folks.
About the Author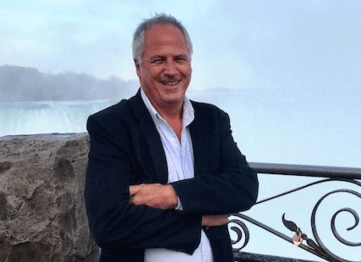 Jim Byers was travel editor for five years at the Toronto Star, which has the largest travel section in North America. "Canada's Travel Guy" is a sought-after expert in the industry and has recently published his first e-book "Ontario Escapes, 19: Places to Visit Right Now."  Jim also serves as Senior Editorial Director for TravelPulse Canada.