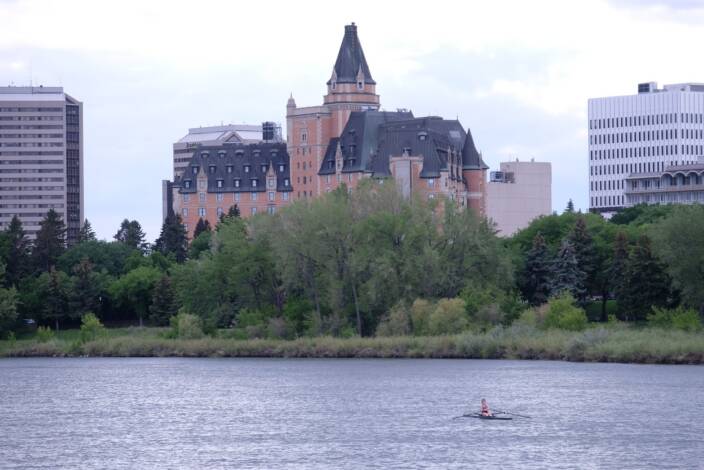 Ten great things to do in surprising Saskatchewan
July 26, 2020 Admin
There are always parts of a country that tend to get overlooked. Visitors to Canada often think about British Columbia, The Rockies, Niagara Falls, Toronto and Quebec and don't ever make it to other places.
Out west, B.C. and Alberta get the lion's share of attention. But the province of Saskatchewan offers up a surprising array of great things to see and do. Not to mention some of the country's best restaurants. The biggest city, Saskatoon, has a terrific arts scene and a few years ago was named the fourth best spot to visit in the entire country by a panel of experts hired by USA Today.
Here are 10 great things to check out in Saskatchewan.
TRENDY RIVERSDALE The Riversdale area of Saskatoon is one of the coolest neighborhoods in the country. You probably wouldn't have gone here 10 years ago, but the area has been cleaned up nicely now. Collective Coffee serves the perfect pour-over java in a cool, urban space, while Drift features a beach-y theme and serves great coffee lattes and other treats. There's a rooftop patio, too. The magnificent Roxy Theatre, which dates back to 1930, is one of the few "atmospheric" theatres left in Canada, with an imitation Mexican village built into the walls and and romantic clouds and stars displayed on the ceiling. Hard Pressed sells Saskatchewan t-shirts with a nice, urban feel and organic denim pants called "nudie jeans."
ARTSY SASKATCHEWAN: The gorgeous Remai Modern art gallery in downtown Saskatoon includes almost all the lino cuts produced by Picasso during his illustrious career. They also have other modern and contemporary art. The building is a beauty, with lots of pale stone and tons of natural light. Not to mention great views of the South Saskatchewan River. Shakespeare on the Saskatchewan is a great acting troupe that does performances under a big tent in a park on the edge of the river, a short walk from downtown. I saw a wonderful rendition of Taming of the Shrew a few years ago. Southeast of Saskatoon, the little town of Manitou Beach has a thriving arts community.
WANUSKEWIN HERITAGE CENTRE Just a few minutes outside Saskatoon, this is a marvellous place to learn about indigenous Canadian culture on the prairies. You'll find fantastic and educational displays about the ways of life of Canadian aboriginals and fantastic old photos and paintings. The region was a gathering spot for centuries; a place where once plentiful and life-providing bison could be hunted or berries gathered. In addition to checking out the indoor exhibits, visitors can take lovely hikes through the surrounding hills and admire a pretty, sweeping section of the South Saskatchewan River.
ROLLING ON THE RIVER: The Prairie Lily is a glorious old riverboat that provides nice rides on the South Saskatchewan River, passing under several bridges and steaming along past lovely riverside homes and parks. You'll get great views of the city's churches and skyline. (https://www.theprairielily.com/index.cfm). A company called Canoeski (http://www.canoeski.com/) can take you on guided canoe rides down the river into town. There's even an unofficial nude beach on the river, a little outside of town.
HEAVENLY CUISINE: Ayden Kitchen and Bar has been wowing Saskatoon visitors for several years. Little Grouse on the Prairie, run by the folks behind Ayden, the Grassroots Restaurant Group, also has earned fantastic reviews. Sticks and Stones is a terrific downtown Saskatoon spot serving Japanese and Korean food and also run by the Grassroots group, which includes Top Chef Canada winner Dale MacKay and Nathan Guggenheimer. Look for remarkable sushi, as well as a killer spicy ramen dish that's rich and powerful without requiring a fire extinguisher. The octopus fritters also are remarkable. You'll find wonderful Asian food in Riversdale at The Odd Couple, including a luscious tomato curry and sausages made with Thai spices. Regina's food scene isn't quite as established, but I had some of the best duck confit of my life at Crave Kitchen and Wine Bar. They have a great patio, as well. I haven't been, but Avenue Restaurant (part of the Grassroots group) is getting rave reviews.
GREAT CRAFT BEER AND LIQUOR Rebellion Brewing in Regina is trying to woo locals off bland, mass-produced products with a series of very good craft beers using Saskatchewan malt. Try their Amber Ale or the Prairie Cherry Mead. Nine Mile Brewing in Saskatoon was started by a couple of young Saskatchewan fellows who grew up on farms nine miles from each other. The beers are fresh and lively and wonderful without being too bitter or hoppy. They've named some of the beers after relatives, such as their Stand Up Brown, named after one of their musical grandfathers. Not far from town is Black Fox, a handsome distillery where they also grow cut flowers. Their best known for their gin.
SURPRISING BEACHES Regina Beach is an adorable, small town on a hill that drops down to a pretty lake with a nice stretch of sand and a playground for kids. You might be in the middle of the continent, but it's a fine beach. In town, check out the historic Bluebird Café for a burger or fish and chips. A bit further north is Manitou Beach, a mineral-laden body of water where just about anyone – or anything – can float. Only two others like it in the world, one in Czech Republic and the other being the Dead Sea. Stop in at Danceland to check out one of the great old dance halls of North America. It's a beautiful, romantic building with many stories to tell.
FARMERS MARKETS They do a weekly market at Victoria Park in downtown Regina that's a lot of fun. When I was there I tried remarkable goodies from Barbara Harder-Lutz, who calls herself the Cake Witch and makes cakes with everything from pears to limes to ginger. You'll also find Nepalese sesame balls with molasses and food trucks dishing out everything from healthy sandwiches to perogies and Mexican food, as well as more exotic treats such as lemon kombucha and a Saskatchewan treat called "confetti cake," which has coloured marshmallows, peanut butter, butterscotch and margarine. The market goes every Wednesday and Saturday from May 6 to Oct. 14. They also do night events. The Saskatoon Farmers' Market is right downtown and has an outdoor and indoor section that offers everything from exotic Asian cuisine to locally grown fruits, including Saskatoon berries. They're open year -round.  A few restaurants are open Tuesday to Sunday, but most vendors are here on Wednesday, Saturday and Sunday. A wonderful and surprising market in a cool city.
RCMP HERITAGE CENTRE The Royal Canadian Mounted Police are one of the icons of the country, and they do their training in Regina. There's an enjoyable, informative film you can see prior to a tour of the centre, where you'll see where they do their parade marching and perhaps even see some training action. Graduates of the academy leave two dozen roses at a cenotaph each week to honour RCMP members who have died in the line of duty. There's also a cool, 1883 chapel you can check out. The main centre building has great displays on the history of the Mounties, including colourful frontier figures and exhibits on modern crime-fighting techniques.
QU'APPELLE VALLEY Saskatchewan folks like to joke that their province is so flat "you can see your dog run away for three days." In fact, however, there are some pretty hills and also a very beautiful valley called the Qu'Appelle valley; a gorgeous ribbon that runs for miles and miles through the heart of the southern part of the province. Villages such as Lumsden are an easy drive from Regina. Stop in at Fourth and James coffee shop in Lumsden for a fantastic snack bar with coconut, butterscotch, chocolate and potato chips.
WHERE TO STAY: The Alt Hotel from Groupe Germain is a stylish spot next to the Remai Modern museum and is one of the newest properties in Saskatoon. The Delta Bessborough, known as The Castle on the River, is one of those great, old hotels built by the Canadian National Railway; a gorgeous brick throwback. Rooms are very modern and well-equipped, and there's a nice spa. Ask for a room overlooking the river. Hotel Saskatchewan is your best bet in Regina, with a graceful lobby and beautiful rooms.
About the Author