Dawson City, Yukon: Gold Rush History and Human Toe Cocktails
July 30, 2020 Jim Byers
DAWSON CITY, YUKON – This historic city's Front Street has the usual mix of tourist shops you find in towns where cruise passengers drop in; old, wooden buildings fixed up with old-timey signs advertising stuffed moose toys, t-shirts and candy. It's great for a social media photo and has its charms.
You also don't want to miss a chance to try the famous Sour Toe cocktail, a nearly 50-year tradition at the Downtown Hotel, where they place a real, severed human toe in a shot glass of alcohol and get you to drink the liquid. If your lips touch the toe, you get a certificate and get yourself enrolled in the Sour Toe club, which now stands at more than 66,000 members, yours truly included (twice).
If that's all you do in Dawson City, that's fine. But there's so much more if you get past the usual tourist places.
I pulled into town on a Saturday around 4 p.m., just as the weekly farmers' market at the city's riverfront park was winding down. I immediately was drawn to a stand operated by Otto Muehlbach, who has an organic farm across the river in Sunnydale. He carves me a slice of kohlrabi root (a type of cabbage) to try as a snack and talks about how he came here from Germany because he loves a "real winter."
"It takes a special breed" to live in the Yukon, he explains. "There's no maybe, no grey zone to life up here. Mother Nature sorts out who's going to make it and who's not."
Muehlbach says he lives off the grid, with solar power and a windmill. He grows his own wheat and makes his own bread.
For a town of this size, Dawson City definitely punches above its literary weight. Canadian author Pierre Berton was born in Whitehorse but raised in Dawson City (and narrates a film in that city's fine museum). His boyhood home — Berton House — is now a writers retreat. American author Jack London came here for the gold rush and wrote his famous "Call of the Wild" while holed up in a tiny cabin in the wilderness. Nobody knew where the cabin was until the 1960s, when researchers finally located it. Half of it now stands in Dawson City and the other half at Jack London Square in London's home town of Oakland, Calif.
I take a short tour of the town with a Vancouver student named Sierra, who explains how one of the local madams used to invite kids into her parlor (business was conducted upstairs) for tea and cookies on their way home from school. The madam ran an enterprise of dubious legality, but she also gave money to charity and closed on Sundays and didn't allow married men inside. Or so they say.
GOLD RUSH
Just a few minutes from town is Bonanza Creek, where gold was discovered in the late 1890s, setting off the world's greatest gold rush. You can explore the area and learn about the strikes and the colourful folks (including Donald Trump's grandfather, who allegedly ran a brothel in town) who came to make their fortunes. For about $16, the folks at Claim 33 can teach you how to properly swirl a pan full of water and sediment and separate the heavier gold flakes from bits of rock and sand.
A couple from Seattle asks panning expert Jeannie Holl how much gold is in the pan they're shaking and swirling. "About $4 worth," Holl says with a straight face. "If it was more I'd be losing money."
GETTING THERE: You can fly into Dawson City from Whitehorse in less than an hour. It's about a six-hour drive, depending on how well you obey posted speed limits. Be sure to fill up as there aren't a lot of gas stations along the way.
About the Author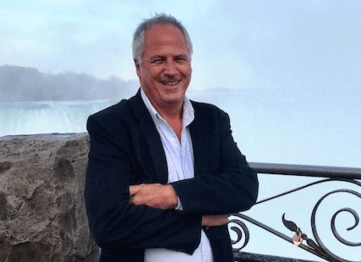 Jim Byers was travel editor for five years at the Toronto Star, which has the largest travel section in North America. "Canada's Travel Guy" is a sought-after expert in the industry and has recently published his first e-book "Ontario Escapes, 19: Places to Visit Right Now."  Jim also serves as Senior Editorial Director for TravelPulse Canada.