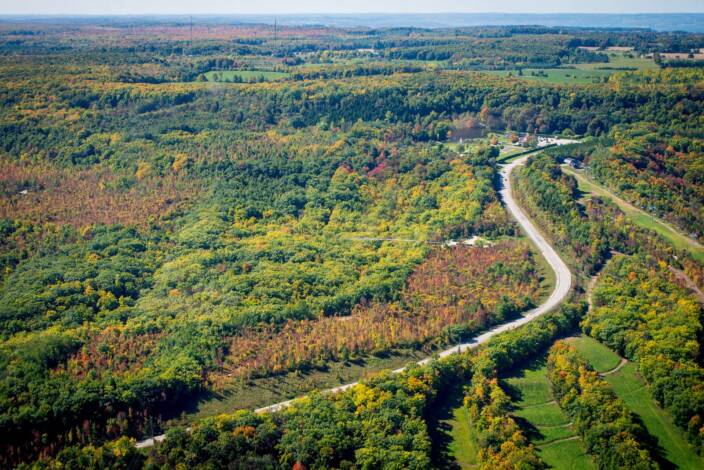 Jim Byers' Ontario Escapes Book: Grey County Waterfalls and Nature
August 9, 2020 Jim Byers
This is an an excerpt from Canadian Travel News Editor-in-Chief Jim Byers' new book, "Ontario Escapes: 19 Great Places to Visit Right Now." It's available on Apple books for downloading to Apple devices for $4.99. https://books.apple.com/ca/book/ontario-escapes/id1523750857
MEAFORD, ONTARIO – I don't know Egyptian cotton from French linen. And I can't say I know the difference between goose down duvets and a Walmart special. But when I laid my head on the pillow during a stay at Millhollow B & B in Meaford I was immediately struck by the sweetest scent. It was pure heaven; fresh and crisp and clean and oh-so-soothing.
I had a great night's sleep and woke up the next morning to have breakfast with my hosts, Milan and Paula Stepan. "What do you do with your sheets," I asked. "They smell amazing!" "Um," Paula replied. "We don't do anything. We just hang them out to dry in the fresh air."
A swing and a miss for the urbanite and seasoned travel writer. But a definite win for old-fashioned hospitality; something you'll find by the bushel full in and around Grey County.
This area doesn't get the attention of Muskoka or the Kawarthas, but it's a marvellous part of Ontario with an immense variety of things to see and do; amazing hikes, kayaking on Georgian Bay, stunning waterfalls, wonderful restaurants and one of Ontario's top spas.
Grey County runs from just north of Collingwood up to the south side of Colpoy's Bay on the Bruce Peninsula and includes the delightful town of Meaford, as well as Owen Sound, Flesherton, hundreds of kilometres of Georgian Bay lakefront and vast sections of the Niagara Escarpment.
Here are some things you should check out.
Hikes: The Old Baldy/Kimberley Lookout, located near Kimberley, Ontario, offers outstanding views of the Beaver Valley. I was there on the first day of fall a couple years ago and could see patches of brilliant yellow and burnt orange and red leaves the colour of an RCMP tunic spread out on the hills that rise to the west. Perfectly weathered wooden barns rested among deep green fields. Above my head, a turkey vulture circled lazy patterns in the sky.
Waterfalls: Eugenia Falls is a lovely patch of water that tumbles into a wide gorge. It's even more accessible than the Old Baldy viewpoint; maybe 50 or 100 metres from a parking lot in the little village of Eugenia. Not far away is Walter's Falls, where you'll find an old mill and barn and a lovely Inn with a fine patio overlooking the valley. There's a nice viewing platform that's a 30-second walk from the Inn, so it's a great spot for folks with mobility issues who still want to enjoy nature. Perhaps the most impressive is Inglis Falls, located in a serene park about ten minutes south of Owen Sound. You don't need to take a hike to see Inglis, so it's quite accessible.
Kayaking: I had a fabulous kayak trip on Georgian Bay with Jim Samis, an entertaining, expert kayaker and outdoorsman who leads tours for Free Spirit Tours. Georgian Bay, part of Lake Huron, is massive and can generate huge waves, as can other areas on The Great Lakes. On the day I visit it was calm and cool, with hardly a breath of wind. The clouds hung low against the blue-grey water, giving the bay the feel of a Claude Monet painting.
Craft Beer, Wine and Cider: Thornbury Village Cidery is located inside a former fruit packing plant that's bursting with industrial architecture atmosphere. Up the road a bit on the Niagara Escarpment is T and K Ferri Orchards, where they grow everything from reliable Mcintosh apples (the McIntosh, which you can see on the Apple logo, was originally bred by a farmer in this part of Ontario) to crisp Paula Reds. I asked about Spy apples, and one of the managers told me they're too "cantankerous," an adjective I had never associated with apples. Georgian Hills Vineyards makes tasty white and red wines and has a pretty tasting room.
History Galore: Grey Roots sounds like a documentary about hair salons and COVID-19. It's actually a museum that celebrates Grey County's history. When I visited there was a nice display on the area's Black history, as well as a splendid exhibit on Egyptian and an historical exhibit called Saints and Sinners that explains Owen Sound's long history as a "dry" city that didn't allow alcohol. Outside the museum, in season, is Moreston Heritage Village, with cool, old school houses, old-time gas stations and more.
Jim's Tips
The Mill Café in Thornbury has two fine patios and very good food. Just across the road is Bruce Wine Bar, which has great food and occasional live entertainment.
The Sheffield Park Black History Museum has several small homes on display, as well as a large that houses African artifacts and displays about the horrors of slavery.
The Pretty River Valley Country Inn is a beautiful spot in a deep, lovely valley, with a big fireplace in the main building and a comfortable living room/sitting area with comfy chairs, sofas and games. They also have adorable Icelandic horses and small group of reindeer in a nearby paddock, so it's great for the kids.
Millhollow B&B has lovely rooms a short drive from downtown Meaford. As well as those great sheets, my room had a cool turret. I had a fine breakfast with perfect scrambled eggs, fruit, yogurt, pastries and strong coffee.
The Ridge Runner Mountain Coaster at Blue Mountain is a thrilling, downhill ride on a sled that lets you control the speed. If that sounds like too much excitement, the Scandinave Spa Blue Mountain has lovely outdoor pools, steam rooms and saunas that will surely melt away your aches and pains.
Be sure to check websites or phone ahead for COVID-19 restrictions before you travel.
About the Author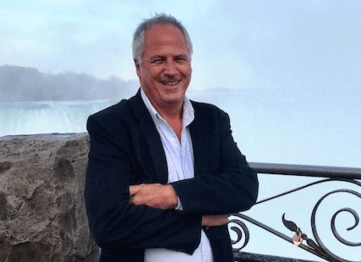 Jim Byers was travel editor for five years at the Toronto Star, which has the largest travel section in North America. "Canada's Travel Guy" is a sought-after expert in the industry and has recently published his first e-book "Ontario Escapes, 19: Places to Visit Right Now."  Jim also serves as Senior Editorial Director for TravelPulse Canada.