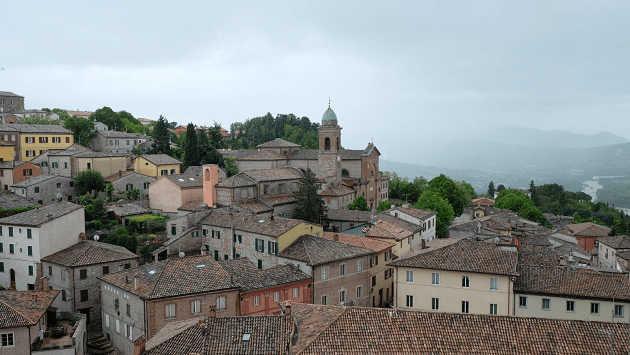 Hilltop Towns, Fabulous Food and Ferrari: Italy's Emilia-Romagna Region
August 10, 2020 Jim Byers
It's a gorgeous spring day. My wife and I are sipping on Italian wine and nibbling on strips of rare steak and fabulous local cheeses on a restaurant patio in this city's handsome main square.
Kids are skipping about, ignoring instructions from their parents. A young couple with guitars sing a lovely tune. A woman rides by in a bike, her son sitting on the handlebars.
Usually by this time of year Italian cities are overrun with visitors from Canada and the U.S. There are tourists about on this day for sure, but things aren't so crazy here in Emilia-Romagna, a heavenly (and tasty) slice of Italy that rests north of Tuscany and south of Milan.
It's a hugely varied region, with some of Italy's best food, as well as meccas for automobile lovers and splendid hilltop towns.
At the Ferrari museum in Maranello, we check out cool models of Ferrari's seldom seen and watch fun movies of old-time racers, including the late Canadian driver Gilles Villenueve.
"When I was young, we all loved Villeneuve," a guide tells me. "When he died people were in such shock."
After our lunch in Modena, we visit with local balsamic vinegar maker Davide Lonardi, who explains the laborious process of making real balsamic vinegar at an estate called Villa San Donnino and spoons some over ice cream for us to taste.
He warns that Canadians might find a bottle of something that says Modena balsamic, but that doesn't mean it's made in the traditional way, where white wine grapes are cooked, reduced and aged up to 25 years. It takes Lonardi 100 kilograms of grapes to get 70 litres of the thick, sweet, syrupy stuff.
In Verucchio, we traipse up a hill and admire an ancient castle, listening to stories of treachery and family rivalries that lasted for centuries. We also repair to a fantastic olive oil spot called Il Borgo where you can taste their pure extra virgin oils in a cave and sample it with local wine. We take our lunch at a small place called Tipicita Italiane, where they pair local wines with a variety of excellent food in a room with creamy stone walls lined with black and white photos.
The hilltop town of San Leo is practically deserted when we stop in but utterly charming, with a central piazza, a small castle and killer views of the countryside; deep green and lush at this time of year.
In Bologna, we have a great tour of the city centre, with its mishmash of architectural styles and stone towers and cool, narrow streets. At the Palazzo dell' Archiginnasio, former seat of the University of Bologna, we admire thousands of fading coats of arms that date back hundreds of years.
One visitor is fascinated by a sign and starts snapping photos. Our group leader giggles.
"The sign says 'no bicycles allowed,'" she explains. "It's not so old."
"In Venice you have to see St. Mark's," a Bologna tourism official tells me over dinner. "In Florence you must visit the Uffizi. Here we tell people to go and explore and find many things."
The city a couple years ago came up with an interesting logo; a series of symbols that people could arrange in different ways in order to "find their own Bologna."
The next day I wander about, poking my head into alleys and skirting through crowds of locals out to buy small, deep red strawberries, fresh fish and bright yellow lemons. I admire the tile floors and the acres of pasta and salami on display at a heavenly food shop called Tamburini.
Later in the day I see two teenage girls walking with an older man between them, holding his arms as he slowly ambles through one of the city's many covered arcades or porticoes. I assume he's their grandfather, but it doesn't matter. They're clearly devoted to him and take great care as he shuffles along, stopping to chat with friends and gently guiding him across the streets.
Maybe that's my Bologna.
About the Author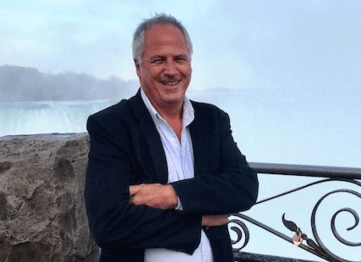 Jim Byers was travel editor for five years at the Toronto Star, which has the largest travel section in North America. "Canada's Travel Guy" is a sought-after expert in the industry and has recently published his first e-book "Ontario Escapes, 19: Places to Visit Right Now."  Jim also serves as Senior Editorial Director for TravelPulse Canada.