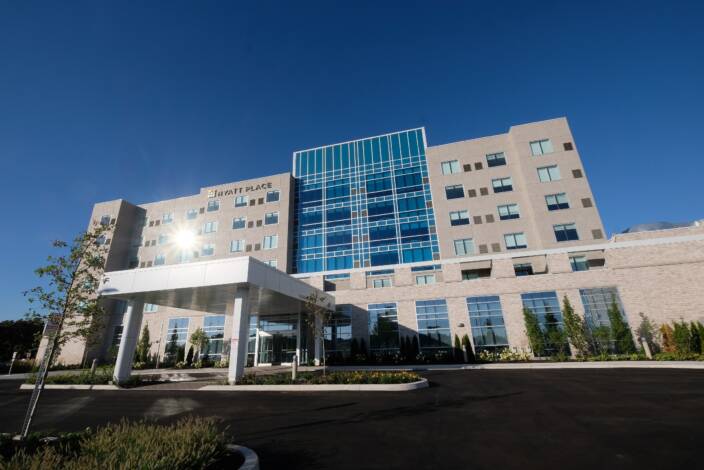 Hyatt Place Mississauga: Great New Spot for Families, Biz Types
August 23, 2020 Jim Byers
Business travellers, families and Hyatt lovers have a stylish new hotel to check out in Mississauga.
The Hyatt Place Toronto/Mississauga opened a little over a week ago on Hurontario Street, just a couple blocks south of Highway 401. It's a beautiful property, and the first Hyatt Place hotel in the province of Ontario.
Visitors who walk into the lobby are immediately met with a bright, wide-open space with beautiful art on the walls, colourful yellow chairs and pretty orchids.
There are tons of nice touches, including a small business/meeting area off the lobby with suspended bits of polished, petrified wood and little nooks with big-screen TV sets.
There's a good-sized indoor pool (currently limited to seven people at a time) and a fine-looking fitness centre with the latest equipment (currently limited to three people at a time).
All rooms are set up with either a king bed or two queens, and there's a sleek, L-shaped couch in the corner (Hyatt calls them "cozy corners") that's also a sofa bed, meaning all rooms can sleep four or even five people without a problem.
Our room had nice blinds to block out the morning sun and a wonderful TV set, plus a mini-fridge, lots of desk space and a large bathroom with a roomy shower. I wouldn't mind some USB plugs for iPhones and such, but there were tons of outlets in good places for plugging in my laptop and phone charger.
The food and beverage options are limited for now, but they serve a nice breakfast with hot and cold items, including breakfast sandwiches, yogurt, fruit, pastries and more. There's no liquor license yet but they have a Starbucks and the front desk staffers also are trained baristas. They also offer wraps, sandwiches, chips, granola bars and other goodies. I was told a Naan oven is on the way and that they'll assess their food and beverage options as they go.
Oh, it's also pet-friendly, so feel free to bring along your family's special dog or cat.
Perhaps the most striking thing about the hotel is the attached ballroom space, called the Luxe Convention Centre. It's a wonderful bit of architecture, with marble floors and gleaming marble walls in a spacious atrium. There's a ton of great light and unusual, overhead light fixtures that look a little like bronze flowers.
They have 6,000 square feet of meeting space that can be divided into four rooms, and they have all the bells and whistles you need to put on a great event. Of course, social-distancing is the rule for now.
It's likely to be a popular spot for weddings, too, and they've already got a couple booked. There is some availability next summer, but weekends are already booked for July, 2021, said general manager Celso Thompson.
In addition to the convention space, they have a few small meeting rooms inside the hotel proper, as well as a nice patio for al fresco dining and a wooden gazebo-like structure that can be used for weddings or other functions.
Health and safety are, of course, major concerns for arriving guests. There's a plexiglass shield between front desk workers and guests, and I spotted a number of hand sanitizing units scattered about, as well as social-distancing signs in elevators and other areas.
A handout given to guests says the hotel is "committed to upholding the highest standards of cleanliness in an effort to ensure you enjoy a healthy, safe and comfortable environment. Guided by its purposes of care, Hyatt recently announced a multi-layered Global Care and Cleanliness Commitment."
Thompson said he's taken a two-day training course operated by the Global Biorisk Advisory Council, and that someone who's taken the course is on duty at the hotel at all times.
"I want us to be who we are," said Thompson, who was recently at Hotel X on the Toronto waterfront. "I don't have a spa, but this is a solid little hotel. It's a solid, solid, solid, three-diamond hotel."
There's also a good story behind the hotel. Businessman Javaid Akhtar, who's the owner, was staying at a nearby property 10 or 11 years ago and saw the land where the Hyatt is now. He purchased the lot in 2014 and began building a few years ago. There were, as is often the case with construction, a few snags along the way, and Akhtar asked his son, Sheheryar Javaid, to lend a hand.
Sheheryar has a widely varied resume that includes work in finance and teaching both yoga and improvisational acting. He's an energetic young man and seemingly a quick learner, and he was able to help his Dad get things under control.
Javaid Akhtar is CEO of Destination at Mississauga Inc., which owns the hotel. Sheheryar Javaid is the company's project director.
About the Author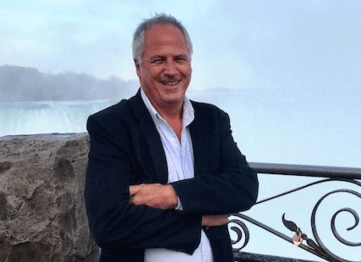 Jim Byers was travel editor for five years at the Toronto Star, which has the largest travel section in North America. "Canada's Travel Guy" is a sought-after expert in the industry and has recently published his first e-book "Ontario Escapes, 19: Places to Visit Right Now."  Jim also serves as Senior Editorial Director for TravelPulse Canada.