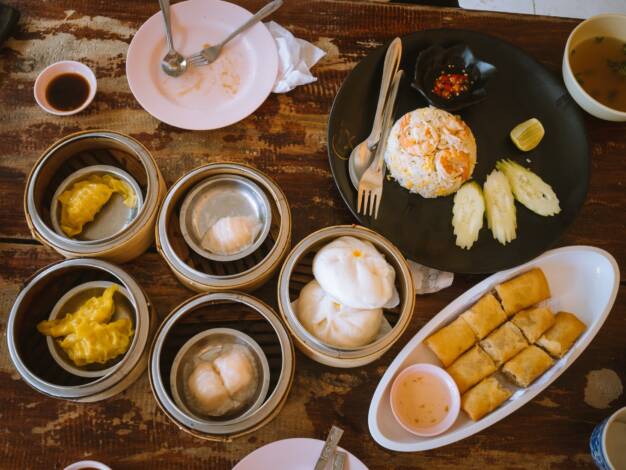 Following the Dumpling Trail in Richmond, British Columbia
September 6, 2020 Jim Byers
RICHMOND B.C. – It's almost 10:45 a.m. when we pull into a non-descript, covered parking lot in the centre of town. Our goal is get to HK B.B.Q. Master before the usual 11 a.m. line up for what many consider to be the best, most affordable Asian barbecue in the Vancouver area.
But instead of walking out of the garage and out onto a normal sidewalk, we enter the restaurant directly from the parking lot. It's a rather underwhelming approach that feels a bit like walking into a car rental office at a small Canadian airport. But on our second day in Richmond I'm already getting used to things not always appearing to be what they seem.
My first stop on my Richmond food immersion tour had been the Empire Seafood Restaurant, a second-floor Dim Sum palace with crispy white tablecloths and large picture windows proudly displaying Vancouver's snow-capped mountains in the distance. Nothing wrong with that. And the food was exquisite; perfect Har Gow shrimp dumplings and crispy Ham Sui Gok with pork and shrimp in a football-shaped pastry, plus plenty more.
Our second stop was at R&H Chinese Food, a teensy, tiny dumpling place inside a fast food court at Lansdowne Mall that sells divine soup-filled dumplings called Xiao Long Bao. And our mid-afternoon snack, if you like, had been fried dumplings at Shanghai Station, a blink-and-you'll-miss-it spot inside a plain-looking food court tucked in the back of a small shopping plaza right across the hall from a Chinese shop selling dried-out lizards on a stick and other mysterious bits.
Which is why I wasn't surprised when we walked into HK B.B.Q. Master through a covered parking garage. Sure, there is an entrance off No. 3 Road in Richmond, but the sign outside is a humble, no-frills beacon. Inside the restaurant, things also are extremely plain, with some Chinese lettering on the wall, two brilliant red vertical pennants and a lonely looking hanging plant in one corner. The place seats maybe 14 people. Or it could be 16.
"I don't know," says owner Eric Leung, looking like he means it. "I've never counted."
For Leung it's all about the steak, not the sizzle. For a mere $13 or so, you'll get a big scoop of fluffy white rice and three kinds of glorious barbecued meat, including duck, tender chicken with a ginger/onion dipping sauce and luscious, glorious pork. Most notable to me is the pork belly, with a perfect fatty crunch on the outside and moist, sweet pork-y flavour. It's all cooked "low and slow" with just the right amount of spice. His son, Anson, and his brother, Robbin, can usually be found on site, working long hours just like Leung.
BBQ master is a strong term. But Leung has some of Vancouver-area's best chefs popping in, sometimes twice a week. His place gets so popular that he has to limit take-out purchases to one pound at a time. Visitors can come back several times in a day, but they have to go to the back of the line first.
Dumplings in all their form – steamed, fried, with soup or broth tucked inside – are big in Richmond. So much so that the tourism folks developed something called The Dumpling Trail, with nearly two dozen restaurants listed, all of which have been inspected and verified for tasty cuisine.
The Asian food I try is delicious, reasonably priced and wonderfully varied. But on my visit to Richmond's Steveston Village I decide to change things up by trying Hog Shack, where pit master and co-owner John Lim Hing does his pork and ribs Kansas City style instead of the Cantonese way. I only have room for a brisket taco, but it's sweet and tender and wonderful.
I had some kind of vision of Steveston Village as an overly touristy place and had always avoided going. But I wasn't even close. The area is attractive and old-timey enough that it was frequently used as an outdoor set for the hit TV show "Once Upon a Time" It's also got some great shops such as It's Posh, with old wine and whiskey bottles melted down into serving trays and many other goodies. Rocanini is a fine coffee spot that would fit in nicely in Vancouver's trendy Gastown district.
You'll also find the entertaining and educational Gulf of Georgia Cannery, which explains the history of the Vancouver region's salmon fishery, complete with a display of canning that includes a fake human finger in a can of fish; a graphic warning of the dangers that workers faced hauling in and canning the salmon.
I stroll the pier outside the cannery and admire the strong, working-class boats and the views of snow-covered Mt. Baker rising behind the wide Fraser River on a glorious, sunny day.
Back in central Richmond, I take a walk before my final meal at the lovely, slightly hidden Minoru Park and admire the ducks swimming around a partly frozen pond and the deep golden colour of the bark on the willow trees. I stop to admire some wild, black rabbits gnawing on carrots someone has kindly left for them and watch as the late afternoon sun lights up the stained glass windows in a small, white, wooden chapel in the park.
Dinner will have to wait.
WHERE TO STAY
The Sheraton Vancouver Airport is a fine base for exploring Richmond's varied food trail. The rooms are nice and there's a pool and hot tub. You're a short walk to dozens of great restaurants and just across the street from Minoru Park.
More information: www.visitrichmondbc.com
About the Author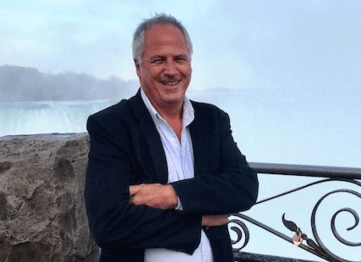 Jim Byers was travel editor for five years at the Toronto Star, which has the largest travel section in North America. "Canada's Travel Guy" is a sought-after expert in the industry and has recently published his first e-book "Ontario Escapes, 19: Places to Visit Right Now."  Jim also serves as Senior Editorial Director for TravelPulse Canada.