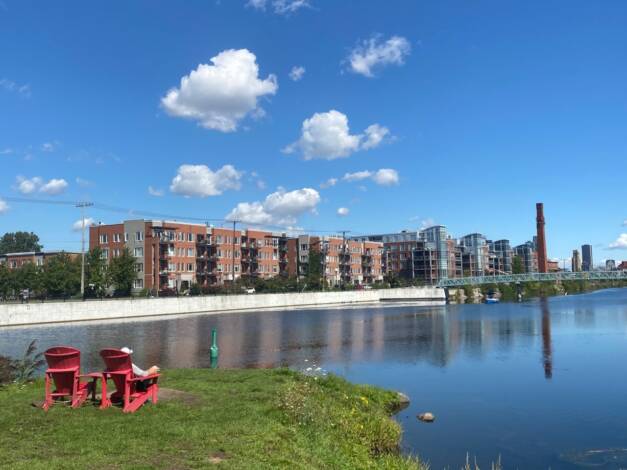 A Socially-Distanced Visit to Montreal: Great Things To Do While Staying Safe
September 7, 2020 Jim Byers
Montreal is one of the great cities of the world. Here are some ways to enjoy it in a new, socially-distant fashion.
A great bike ride
You can rent bikes from the folks at Montreal on Wheels on the Montreal waterfront (Rue de la Commune). They're solid, comfortable, multi-speed bikes. They also have electric ones if you need a boost.
We were heading west to Griffintown over flat terrain along the Lachine Canal, so we opted for the old-fashioned kind of bike and used pedal power to get around.
The Montreal waterfront is simply outstanding. There's a great café on the canal called Marche des Eclusiers in the shadow of some massive, rusting out silos and alongside an old black-and-red ship called the Daniel McAllister.
As you get into Griffintown you'll notice tons and tons of new condos being built along the canal, as well as a series of pretty, waterfront parks that are perfect for social distancing.
I was told the south side of the canal is now a hot spot for development as well. The canal, which runs for 13.5 kilometers, is an historic site and Parks Canada has added a few bright red chairs for folks to relax on.
Back near the bike rental spot, at the end of a perfect ride on a perfect day in late summer, we could see the sky-high Montreal Observation Wheel, which re-opened to the public a few days ago and offers tremendous views of the St. Lawrence and Montreal's waterfront.
An outstanding market
They're added tons of extra seating around the outside of Atwater Market, which is great for al fresco dining. They also have installed protective barriers. Masks are supposed to be worn, and you'll find hand-washing stations and sanitizers scattered about.
Luckily, the food and flowers and other goods are just as wonderful as ever. I enjoyed some tremendous Laksa soup (a specialty in Malaysia and Singapore) from Satay Brothers in the picnic area at the north end of the market, while my enjoyed a plate of smoky ribs.
In the outdoor section of the market we passed rows of deep, red, gleaming strawberries and other fresh fruits and vegetables. Inside there were luscious pastries, reasonably priced Quebec cheeses you don't always see in Toronto, dreamy chocolates, fresh meats and much more.
Atwater Market is steps from the Lachine Canal in the Little Burgundy area of Montreal; just west of downtown.
A magnificent museum
The Montreal Museum of Fine Arts isn't fully open yet, but they do have a wonderful exhibit going. Called Paris in the Days of Post-Impressionism, Signac and The Independants, it features inspiring paintings, drawings and other works.
You'll find works by the likes of Monet and Picasso, as well as Toulouse-Latrec, Seurat and other masters. I loved some of the pale watercolours, but also the oil paintings with vibrant, passionate reds and fiery orange tones. There was a ghostly painting of Mont Saint-Michel and also a supremely colourful work by Maximilien Luce with dark, dark, dark purples and black tones with contrasting pink and white.
A work called Fin de Séance by Lyonel Feininger featured supersized, angular, ghostly men with top hats for a slightly ominous but theatrical look.
Tickets have to be booked online and you're given a specific time for your visit to cut down on crowding. No tickets can be purchased in person.
A one-way exhibition pathway helps visitors adhere to the physical distancing rules they've put in effect.
The museum's permanent collections and regular activities, such as workshops and guided tours, aren't being offered at this time.
Across Rue Sherbrooke from the sunny, bright entrance to the museum is a sculpture garden that rises part way up a small hill on Avenue du Musee. A group called Collectif Escargo has installed a wavy design of bubbles and lines on the pavement called Sailboats; a delightful sea of lavender, green and white with beds of beautiful purple flowers.
It's a lovely and enchanting installation we spent a great deal of time checking out, along with the statues of cows and busts of human heads. Most definitely worthy of an Instagram post, or two.
Fabulous Food
Ikanos is a remarkable, new-ish, Greek spot in town that's definitely a dining experience. The emphasis is seafood, much of it cooked in a Josper Grill. At $68 it wasn't cheap, but the sea bass was insanely good; with soft, succulent meat that just lightly spiced, along with a crispy skin.
We also had a lovely shrimp ceviche with jalapeno cream, fresh peas and cilantro, wonderful Digby scallops with foie gras, celeriac, apricot and capers, and, of course, a serving of flaming Saganaki.
We finished up with some wild berries with soft meringue and tarragon sorbet.
Our waitress was the sommelier and retrieved a lovely, slightly off-dry Greek white wine to complement our meal perfectly.
One wall of the restaurant was done up in soft beige and the other in white, exposed brick with dozens of hanging plants. There were cool metal dividers in geometric patterns and interesting, thin blocks of wood hanging from the ceiling. They also have a patio out front.
It was a little cool when we were there, so we opted for an indoor table. The nearest group was probably two meters away, so we felt pretty comfortable. We were told they grow cucumbers, zucchini and other bits on the rooftop of the building.
And another
Boris Bistro is a classic Montreal spot just a couple blocks from Old Montreal. There's a massive courtyard that's fronted by the façade of an historic building with open doors and windows, which gives a very cool effect.
They planted trees in the courtyard a couple decades back, and they're now towering green beacons that provide shade on a sunny day. It's lovely during the day, but I really liked it when dusk came and the wait staff put dozens of small, flickering candles on the tables.
The restaurant is limited to 50% of its normal seating capacity, so you'll have plenty of room around you. For starters we enjoyed fantastic foie gras and a beautiful bowl of chilled pepper soup. They put a barrier in the middle of the bowl and pour red pepper soup in one side and yellow in the other, then remove the barrier so you get twin half-moons of soup in different colours. Very cool.
I had a good-sized portion of rabbit with cured meat, carrots, cabbage and other bits, while my wife enjoyed a fine filet mignon with creamy potatoes.
For dessert, they can offer you miniature treats so you're not weighed down too badly. We enjoyed a nice panna cotta (just a few spoonfuls) and a small, tasty maple crème brulee.
GM Benjamin Gil is a delight to talk to, a fellow who was born and raised in Mexico and lived in Austria before opting to move to Montreal.
The restaurant also is gluten-free; a nice bonus for folks who need to worry about such things and don't like to have to pick and choose from menu items.
Bonus activity:
We didn't have time but a walk to the top of Mont Royal allows to enjoy amazing views of the city and surrounding countryside. There are beautiful, leafy forests to pass through; ideal for an autumn visit.
About the Author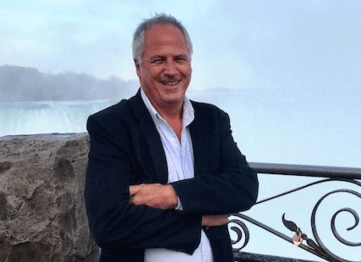 Jim Byers was travel editor for five years at the Toronto Star, which has the largest travel section in North America. "Canada's Travel Guy" is a sought-after expert in the industry and has recently published his first e-book "Ontario Escapes, 19: Places to Visit Right Now."  Jim also serves as Senior Editorial Director for TravelPulse Canada.