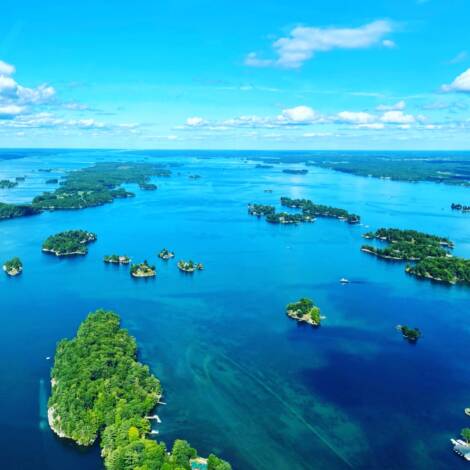 From Helicopter Tours to Penitentiary Visits, Great Things to See and Do in Kingston, Ontario
September 10, 2020 Admin
A truly magical helicopter ride over the 1,000 Islands. Terrific restaurants. A lovely boat cruise on the St. Lawrence. A trolley tour. Kingston, Ontario has a ton of great attractions and things to see and do.
All three of our kids went to university at Queen's, a short walk from downtown Kingston. I believe there's a plaque in our honour outside the Loblaws grocery store on Princess Street, where we did almost all our food shopping at the start of every year for all three, and then usually a couple of visits during the school year. I think I could find the frozen pizza section in my sleep.
We always enjoyed the city, but we seldom were there for more than a few hours. We had lunches now and then, and some celebratory dinners when they all graduated. I don't remember seeing the sights very much, however, so it was wonderful to get an invite to check out the newly renovated Holiday Inn Kingston Waterfront last weekend and see some of the sights. Here's my look at how to spend a great couple of days in town.
1000 Islands Helicopter Tour
This is hands-down the best thing I can recommend for a visitor to the Kingston/1000 Islands region, which is where Lake Ontario ends and the St. Lawrence River begins. The river is home to some 1,864 islands (which are defined as having at least one tree or bush and being above water all-year-long, I believe), and the best way to see them is from the air.
The colours of the water are simply astonishing; deep blues and pale greens and mixtures of the two that look like something out of the Greek Islands. The water is, of course, dotted by all those beautiful islands, most covered with deep green evergreens and deciduous trees (it would be marvellous in the fall with all the rich and vibrant autumn colours). You'll spot small beaches, pretty coves and small areas of exposed, pale limestone.
Of course, there are other things to check out, including small resorts, cities such as Gananoque on the Ontario side and Alexandria Bay on the New York side of the border, the Ivy Lea bridge that joins Canada and the U.S., and beautiful cottages/cabins of all shapes and sizes.
Our tour with 1000 Islands Helicopter Tours was called the Two Castle Tour, a half-hour ride out of Ganonoque (pronounced Gan-ann-ock-way, not Ga-na-na-kay, which is what my phone's GPS kept saying) that shows off both Boldt Castle and Singer Castle from the sky.
Bill, our pilot, explained the history of both and showed off a couple of shipwrecks, as well as the Sisters Lighthouse and other sights.
For you historians or folks curious about the two castles, Boldt Castle was built by the fellow who owned the Waldorf Astoria hotel in New York City, George C. Boldt. He built it as a testament of love for his wife, but she died a few weeks before it was finished and Boldt never set eyes on the finished product.
You can tour the castle today, which took 300 workers to complete and features 120 rooms, complete with tunnels, Italian gardens, a drawbridge and a tower that was built as a children's playhouse. Mind you, it's on the American side of the river so we Canadians can't really visit at the moment.
Singer Castle was built by the Bourne family and also is on the U.S. side of the border. Frederick Bourne was the fifth president of the Singer Sewing Machine Company and built up quite a fortune. The building looks like a massive Italian castle and has a five-story clock tower. It's an incredible, brooding and powerful structure that also has grates built into the walls so the owners could spy on their guests.
Bill told us that the public can even book a room at Singer Castle.
We had a smooth, beautiful ride, with the river stretching out for hundreds of blue kilometers in front of us as we sailed east at around 1,500 feet. They have special glass in the helicopter to cut down on glare, which gives you much better photos. We wore masks and had safety harnesses and headsets so we could hear Bill's commentary and ask questions.
Our ride was set up by Omega Tours, which offers a range of terrific experiences across Canada and around the world. They've beefed up their Canadian offerings significantly this year, given the COVID-19 situation, and you can book anything from trips to the rainforest islands of British Columbia to kayaking the Saguenay Fjord in Quebec as part of the Canadian Signature Experiences package.
The folks t 1000 Islands Helicopter Tours offer rides of 10, 20, 30 and 60-minutes. Bill told us the latter trip includes a ride down the river to see Kingston from the air.
The company office shows a number of celebs who have taken the trip, including
A KINGSTON PENITENTIARY TOUR
The Kingston Pen has been offering tours to the public since 2015, and it's a terrific experience. I won't say it's wonderful, as there's far too much sadness and death associated with a place like this. But you'll learn a lot about one of Canada's most notorious prisons.
We had a guide named, wait for it, Mike Bullet. At least, he swore that was his real name. He also said he's a retired high school teacher, "which is kinda the same thing as working at a prison."
Ba-da-boom.
The Kingston Pen opened in 1835 and wasn't closed until 2013, Mike told us. There were 441 inmates at the time of closing, but at times there were nearly 1,000 inmates with double bunking, we were told.
There were three riots over the years that forced authorities to call in the military. The last was a deadly riot in 1971, in which two inmates who were in for what Mike called "despicable" crimes were tortured and mutilated before dying.
The tour takes visitors to see some of the newer cells that housed inmates. The ones we saw had a bunk bed but held just one prisoner, with a bed on top and the bottom portion a flat surface for writing, drawing, storage; or maybe doing a jigsaw puzzle. They had a stainless steel sink and a toilet.
Mike said the original cells, which you can view at the Penitentiary Museum across the street when it's open (it's currently closed due to COVID-19), were seven feet long and 27 inches wide and housed one inmate. There was no toilet, so the inmates used a bucket. Ugh.
(Later, speaking of really gross things you don't want to think about, Mike tells us that inmates loved to check very heavy, large books out of the prison library. Why? Because rats would often swim up through the water lines and climb out of the toilets at night to seek food. A heavy book would keep them from clambering out into the cell. Ugh again.)
Mike told us inmates had to finish their grade 12 equivalency at the prison's school before they could be discharged. They also got paid to go to school and got paid (not much; maybe $30 a week) for jobs they would do at the prison, including making mattresses for inmates, electrical work, plumbing, upholstery and other tasks.
One inmate in 1845 was just eight years old and was imprisoned for pickpocketing. Mike told us the child was flogged dozens of times for misbehaving.


He also told an amusing story about a fellow who once broke INTO the prison so he could steal money from the warden's private safe. The fellow left his jacket outside the fence and climbed over on a makeshift ladder. Unfortunately for him, the ladder broke and he tumbled to the ground inside the prison. He was caught and sentenced to time in the local jail (not the Kingston Pen itself). When he got out, he went back to the penitentiary, knocked on the door and asked if the warden had his jacket. The warden did, indeed, have the jacket, and he gave it back to the man.
As well, he told us that an inmate once escaped what folks call KP and wrote a letter to the warden. Sadly for the inmate, he forgot that letters are postmarked at their point of origin. Prison workers saw the "Minneapolis" stamp on the letter and found the inmate hiding in Minnesota.
We had to fill out health questionnaires prior to our visit and we wore masks when we were inside. There were plenty of places for hand sanitizing, as well.
KINGSTON TROLLEY TOUR
We had a fun, one-hour ride around town in an open-air trolley, with mandatory masks and socially-distanced seating on board. We passed the buzzing market that's held every Saturday behind City Hall, and also took in a series of beautiful waterfront parks, one of which has a pier named after the late Gord Downie of The Tragically Hip, a band that every good Canadian knows hails from Kingston.
We also drove through the Queen's campus and checked out some beautiful homes I hadn't seen before.
Our Kingston Trolley guide, the super-friendly Selena, talked a good deal about the city's history and also took us over the bridge to see Fort Henry, which offers great views of downtown Kingston and where they do historical re-enactments. We got to see a home where Sir John A. MacDonald, Canada's first prime minister, lived for a couple years.
We also passed the Kingston Pen and the former women's prison just up the road. Selena said she heard that one inmate once said she hated the trolley because "the tour guides would always say in a loud voice that the prison housed 'the worst female criminals in Canada.'"
As we passed an old pump house for water, Selena couldn't resist what she called a Dad joke.
"It's a lot like Netflix," she said. "Folks would pay a monthly fee and get unlimited streaming."
We also passed an old asylum for mentally ill patients. Selena told us Kingston offers ghost tours at night and that folks swear they've seen ghosts in the window of the old asylum.
A 1000 ISLANDS CRUISE
I've taken a cruise out of Gananoque to see the 1000 Islands, and it was terrific. This time we did a night cocktail cruise out of Kingston on the Island Queen.
It was getting dark by the time we got on board at 8 p.m. in late August, so we weren't able to see a lot. But we passed some small islands and could see the city's pretty skyline all lit up at night.
There was a one-man band on the top deck playing great tunes on the guitar and harmonica, including tunes from Neil Young, Tom Petty, The Eagles and Queen. "Bohemian Rhapsody" had the crowd going wild and stomping their feet with a thunderous roar.
They sell beer, wine and cocktails on board. I didn't imbibe, but you can get a double shot for just $9.
We wore our masks when we were near other people and had to fill out a health questionnaire and have our temperatures taken before getting on board the ship.
I'd probably go for a daytime cruise, but if you like dancing and a drink or two, or just enjoy live music on a summer's night, it's a great ride.
WHERE TO EAT
Dianne's Fish Shack and Smokehouse is on Ontario Street, just across the road from Confederation Park. It looks a tad touristy but it's a terrific spot. The owner loves Mexico and Atlantic Canada, and they do a wonderful job with lobster rolls that features large chunks of lobster in a buttered and grilled hot dog bun, as well as outstanding guacamole (watch out for the jalapenos if you don't like spice) and good Hawaiian poke (marinated tuna) with macadamia nuts and more jalapenos. We also tried four tacos; a good one with battered white fish, another that was chicken tinga (an Indian dish), and two that stood out for me; tender beef brisket and pulled pork. Our lobster roll also came with a fabulous salad of fresh greens, peppers and other veggies in a lime-tequila vinaigrette. A surprising and very good place with nice patio space on two sides. Try a Mackinnon Pale Ale for a nice pairing.
We've taken our kids to Wooden Heads many times over the years for pasta or pizza. We went for old times' sake on our recent visit and absolutely loved it. The calamari was perfectly tender and came in a thick, tomato-ey sauce with plenty of curry spices and Naan bread. The Sicilia pizza with sauce, mozzarella, fresh basil and spicy salami was outstanding, and they have a good list of beers and  wine. There's a small patio out front and a larger one out back, where we sat.
Wharf and Feather is the restaurant at the Holiday Inn Kingston Waterfront. Here's a link to a story I wrote about the hotel and the restaurant.
WHERE TO STAY
The Holiday Inn is a great option right on the water. There's also a Delta hotel on the waterfront and several chain hotels in town, as well as lovely B&B's.
About the Author
One response to "From Helicopter Tours to Penitentiary Visits, Great Things to See and Do in Kingston, Ontario"