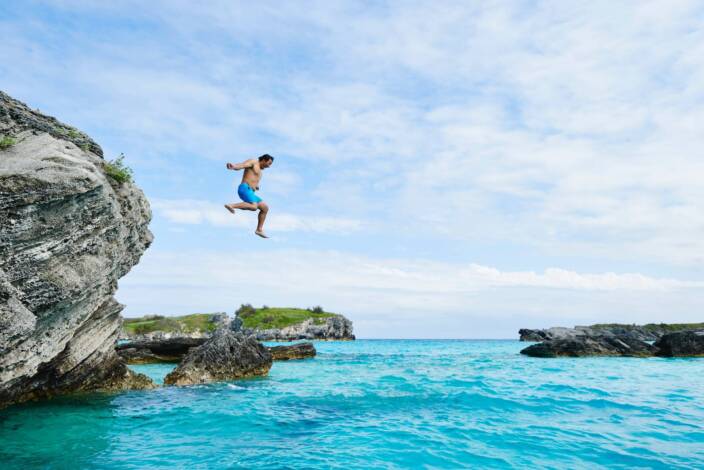 Beautiful and Safe: Bermuda Makes an Ideal Getaway in Today's World
September 15, 2020 Admin
The escape you've been craving all these months.
It's not the shortest tourism slogan in the world, but it pretty much sums things up for Bermuda.
Canadian Travel News had the pleasure of chatting on Monday with Victoria Ilsey, chief sales and marketing officer for the Bermuda Tourism Authority.
Speaking via Zoom, Ilsey said Bermuda has "extremely well" in keeping both locals and visitors safe from the virus. There have been just 177 cases and nine deaths in an island nation of 62,000 people, and Bermuda has an amazingly rigorous, multi-step testing procedure in place for tourists.
Ilsey said the tourism board is still marketing the Atlantic Ocean island (actually a set of three main islands and about 180 small ones) destination in terms of its natural beauty, open spaces, pink sand beaches and general safety. Now, they can add COVID-19 safety to the list.
The tourism authority is tailoring a trip to Bermuda as "the escape they've been craving these past months, and it's also a safe destination for them to choose, so it's appealing both to the heart and the head."
Visitors will find quiet coves and long, secluded stretches of sand all over the destination, which is less than three hours from Toronto by plane.
"The fact you could have a spectacular beach or cove all to yourself is very surprising" to some, Ilsey said.
I had a short visit to Bermuda maybe ten years ago and had a great time exploring small villages and beaches, as well as climbing Gibbs Hill Lighthouse for amazing views and touring about on a moped.
Ilsey said not everyone realizes Bermuda has distinct seasons. Being roughly 1000 kilometers east of North Carolina, but surrounded by the ocean, visitors will find average maximum temperatures in winter of around 20C. That's great golf and cycling weather for just about anyone. For a Canadian escaping the cold and snow, that's swim in the ocean and sip a mojito by the pool weather.
"We're of the Caribbean, but we're not in the Caribbean," was how Ilsey put it to me, which is a cool thought. I found a lot of similarities to the Caribbean when I visited, but also some of those famous English touches like red phone booths. And, yes, a few businessmen in Bermuda shorts and long, white socks.
Ilsey said visitors often are surprised by the safety and cleanliness of Bermuda.
"The whole island almost acts as your resort," she said. "It's very welcoming and genuine. And, while people don't often say they want to travel so they can meet the locals, Bermuda's hospitality is part of what has people returning.
"There's also a whimsical aspect to Bermuda. You could be walking down the street in Hamilton, the capital city, and make friends and be out on a local's boat in the afternoon."
Ilsey said the island re-opened for tourism July 1 and that an Air Canada flight the next day was the first commercial jetliner to land. AC is now flying once a week to Bermuda, she said.
Restaurants are now open, but there are plenty of outdoor patios and indoor seating has been reduced in capacity for social distancing.
Roughly six out of ten hotels in Bermuda are now open for business.
As well, traveller exit surveys compiled since July indicate 95% of visitors "said they felt safe from the virus while on-island," Glenn Jones, the Bermuda Tourism Authority (BTA) interim CEO, said last week.
Ilsey said the destination has a "robust" COVID program and that she believes Bermuda is now seventh in the world in terms of per capita testing for COVID-19
Visitors who want to spend time in Bermuda are required to get a negative COVID test result before they leave. They also need to apply for a travel authorization approval online 48 hours in advance, of their departure.
"Upon arrival all visitors are tested at the airport again, then they are to stay in their accommodation until those test results are received (generally within 24 hours, which is the government's guideline, and sometimes within eight, she said) and then are free to explore the island with face masks and the like," Ilsey said.

"Depending on their length of stay, they're tested again on day four, day eight and day 14. So it is a rigorous testing protocol, but again, what we found on the ground is that is why visitors are choosing Bermuda."
The costs of those tests is included in  the $75 processing fee for the travel authorization form, Ilsey said.
Bermuda has long appealed to older travellers, but Ilsey said the average age of visitors these days is 37. She also said people are staying much longer; 11 days on average now versus four days prior to the coronavirus.
Bermuda last month introduced a "Work From Bermuda" Certificate, which allows visitors to work remotely from Bermuda for up to a year. Hundreds of applications have already come in, mainly from the island's top three markets (the U.S., Canada and the UK).
Ilsey said some applications already have been approved and that at least a couple of visitors have already arrived for their year-long stay.
About the Author