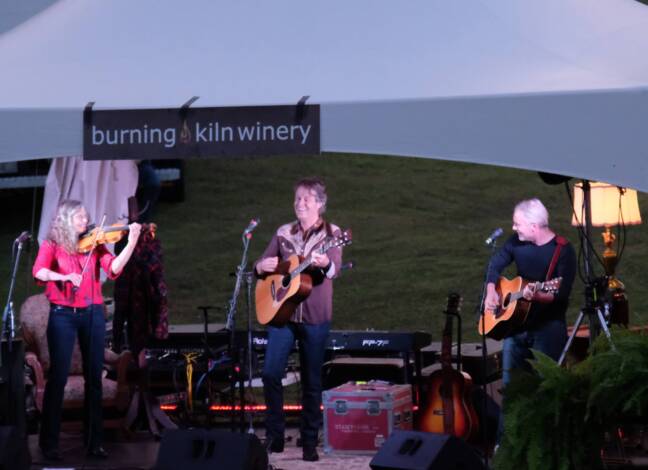 Jim Cuddy Concert and Great Wine: A Day at Burning Kiln Winery and Long Point Eco-Adventures
September 15, 2020 Admin
Terrific wine and food. A cozy pod to sleep in. And a Canadian icon playing, wait for it, live music.
It's been a tough go all over this country for pretty much half a year. So, it was particularly joyful to be on the north shore of Lake Erie last Wednesday night, sipping wine at the edge of a beautiful vineyard and listening to the Jim Cuddy Trio serenading an audience under the stars.
Burning Kiln Winery can usually seat more than a thousand folks for their ampitheatre concerts. But with social distancing and strict rules about public gatherings in effect, they had to limit the Jim Cuddy show to just 100 people for Wednesday, and again the next night for a repeat performance.
It was a glorious show, with Cuddy (famous as a founding member of Blue Rodeo), guitarist Colin Cripps and violinist Anne Lindsay singing some of Canada's best-known tunes and a few surprises, including "Try," "Til I Am Myself Again," "Bad Timing" and "Rhinestone Cowboy," a well-known Glenn Campbell tune from way back.
Groups of chairs were set up a good two or three meters apart, with the folks who bought tickets first getting the seats closest to the stage. My wife and I sat on some chairs up on the patio alongside the pavilion tent, which they often use for weddings.
"I didn't know if it was going to happen," Burning Kiln GM Karen Matthews told me the day of the show. "But Jim really wanted to play."
He couldn't have made much money, if any, by the time he (presumably) paid Cripps, Lindsay and the road crew. But he and the band looked like they were having the time of their lives, particularly during a long, raucous, dizzying, violin-fuelled version of "Five Days in May."
I can't remember feeling this lucky in a long time.
(Be sure to check the Burning Kiln website for future shows. Chantal Kreviazuk is playing Oct. 10 at 2 p.m., again with very limited seating.)
We started our outing with lunch in Port Dover at Callahan's Beach House, a place I mentioned in my recent book, "Ontario Escapes." They haven't put up the palm trees like they normally do, but it was still great to sit on the patio and gaze out at Lake Erie. We also had a very good Hometown Brew Co. ale and a serving of perch (what else would you expect in Port Dover) tacos.
My wife had never been along the shore of Lake Erie, despite growing up in Toronto, so we did the Waterfront Trail drive, which traverses through quiet, beautiful countryside around Port Ryerse and charming Normandale.
We hung around and enjoyed the views at Long Point Eco-Adventures for a few minutes (where we stayed the night) before heading across the road for some wine tasting. The regular wine-tasting room is closed because it's too small to accommodate folks in this social-distancing age.
Our server, Monique, was fun and engaging and poured us several wines to try. I was especially struck by the Sparks sparkling rose, which has a lovely mouth-feel and just the right amount of bubbles. I also loved their full-bodied reds. They're done in the appassimento style, which involves taking picked grapes and putting them in trays in a warm, dry place so they can get more concentrated fruit flavours. The Strip Room is excellent, too.
You could buy glasses of wine or Hometown Brewing beer at the show simply by raising a small flag and getting the attention of a server (thus cutting down on people going up to the wine station and back). It's a great idea, and one that Cuddy, a noted wine afficionado, said he'd like to try back home in Toronto.
They've got a food truck at the winery, so we took advantage and had a fine dinner outside under some deep red umbrellas, with views of the beautiful Turkey Point Marsh, and of Long Point stretching out into Lake Erie.
The food truck is run by Canned Heat out of Port Dover, with good guy and talented chef Ryan Rivard in charge. We had a very good duck confit pizza with mushrooms and an outstanding lamb burger, along with a couple glasses of Burning Kiln wine.
We were lucky and managed to get a reservation at Long Point Eco-Adventures, which has a number of overnight units in different styles and is directly across the road from Burning Kiln in the village of St. Williams. I've previously slept in their "glamping" suites, which are quite cool and spacious. This time my wife and I bedded down in a cozy, wooden "pod" unit, which is laid out to take maximum advantage of the space.
Our room didn't have a shower, but there was a bathroom, a double bed, a sofa, a desk, a small fridge, a kettle and a French Press coffee maker that they nicely dropped off for us for the morning. We had to leave before breakfast, but I've enjoyed breakfast here in the past.
You also can book the Farmhouse, a lovingly restored, 150-year-old, three-bedroom home with views of the vineyards.
Long Point is a large property with tons going on. In addition to dozens of units for overnight guests, you'll find extensive walking and cycling trails. They also do axe-throwing and have a zip-line, as well as an observatory for gazing at the night sky.
You can rent paddleboards for a ride around Turkey Point Marsh or Lake Erie, and you also can rent bikes. It's a lovely area for cycling, with just enough hills to make it interesting but no massive inclines to fight. They're adding some power-assisted bikes soon, so even the moderate hills will be nothing to fret about.
There's also a large dining room and patio overlooking Turkey Point Marsh where they serve Hometown Brew Co. beers, so you can cool off after your ride.
About the Author