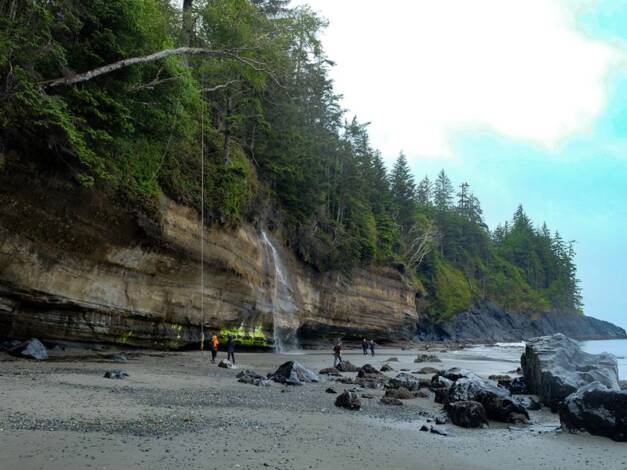 Majestic Mountains and Wonderful Waterfalls: Five Great Parks in British Columbia
September 23, 2020 Admin
British Columbia is blessed with some of the best national and provincial parks in Canada, with wondrous waterfalls, amazing hiking and powerful, majestic mountains. Here's a look at some of our faves.
JUAN DE FUCA MARINE TRAIL VANCOUVER ISLAND
The coastline between Sooke and increasingly lively Port Renfrew is lined with magnificent beaches, including Sombrio and Botanical Beach. I loved my hike to Mystic Beach (see photo above) a couple springs ago. It's only a couple of kilometres from the parking lot to the beach, but you'll be clambering over and around thick groves of trees, fallen timber covered with thick green moss and maybe a small creek or two. So, you can expect the walk to take a good 45 minutes. But don't rush. You'll pass a wonderful suspension bridge over a small canyon along the way as you're dazzled by the myriad shades of green all around you. Mystic Beach is a wild and beautiful spot, with a high cliff at the east end that features a small waterfall tumbling down to the sand. You'll probably find a rope swing nearby, and tons of hikers who are heading up and down the coast on short or long hikes. One of the prettiest spots in a truly beautiful province.
KOOTENAY NATIONAL PARK
If you've been out for a long hike in the Kootenay Rockies and need to you're your tired bones, or if you simply enjoy plunking yourself in naturally warm waters emanating from deep inside the earth, the pools at Radium Hot Springs are for you. There are several pools of warm water (37 to 40C) spread out below a series of magnificent, black, gold and red-orange, ancient rocks and  thick forests of cedar at the southwest corner of the park. It costs $7.30 for adults to use the pools. They also charge a small fee for swimsuit and towel rentals. Lockers are free. Take the 94-kilometre Banff-Windermere Highway to enjoy some spectacular mountain scenery. 
YOHO NATIONAL PARK
Anyone with an ounce of sanity loves the Alberta side of the Rockies. But things can get mighty crowded on the other side of the continental divide, what with all those tour buses rolling into Lake Louise and Banff. I had a great trip to Yoho National Park a couple summers ago, wandering near the base of Takakkaw Falls and watching young kids marvel at the powerful current of water streaming down from high above. Natural Bridge is a geologic marvel, where a raging torrent of milky green glacial water comes hurtling through an opening under a natural rock bridge. It's a huge treat to watch the water roar through this natural gap in the rock.
PORPOISE BAY PROVINCIAL PARK, SUNSHINE COAST
Porpoise Bay is a lovely spot on the Sechelt Inlet with sandy beaches and sweet-smelling, second growth forest.  Pedals and Paddles is a great way to explore the inlet, which is only a few km's in from the ocean along the Sunshine Coast of B.C. Owners Laurie and Dave have a series of spiffy sea kayaks that you can use or take out for a lesson while you learn about the area. They're lovely folks, and Dave is great at reading the weather and knowing if it's perhaps time to head back to land. You'll likely have time to explore some of the small islands in the inlet and check out the cottages and beautiful mountains and hills that surround the inlet. It's also, of course, a great way to get some exercise. Where to stay: Absolute Heaven Oceanfront Suite is a great B & B that's right on the water, with lovely gardens, a hot tub and nice rooms.
SOOKE POTHOLES PROVINCIAL PARK
This might be the world's worst name for a beautiful park. The giant pools filled with water near the wonderful Vancouver Island town of Sooke (a short drive west of Victoria) could be said to resemble the kind of holes you might see on a pockmarked road, but it's not exactly a name that inspires a visitor from Germany or Eastern Canada to want to go. The pools can be reached from a couple of parking lots that aren't far from a road that runs north of the town of Sooke. You'll find a spectacular series of pools and waterfalls spilling into a canyon surrounded by thick forests of conifers. Some areas are a little steep, so exercise caution. One fun way to get here is by using the Galloping Goose Trail and riding an electric bike, which you can rent from Rush Adventures. The town of Sooke has a great coffee shop called Stick in the Mud, as well as a fabulous restaurant called Mom's Café, which serves up truly massive slices of pie.
About the Author