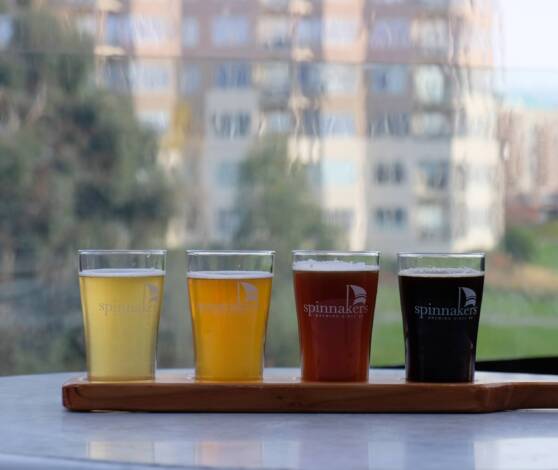 From Craft Beer in B.C. to Zip Lines in Montreal, Great Things to do in Canada in October
September 24, 2020 Admin
October is "Craft Beer Month" in Whistler. Craft Beer Month will feature beer-themed experiences across the resort, particularly in the food and beverage, activity and wellness sectors. This initiative is in partnership with the Whistler Village Beer Festival team (Gibbons Hospitality), who is working with resort partners on an experience participation.
Head to Aldor Acres in Langley on foot or in your car for a one of a kind 4km loop full of up close & personal experiences with friendly farm animals, beautiful sunflowers, and, yes, pumpkins, pumpkins, pumpkins!! $20/per vehicle, $15/per person (if walking). Pre-purchase tickets, limited availability. https://aldoracresfamilyfarm.ca/aldor
Korean Cultural Week is Oct. 12 – 15 in Coquitlam. Support local Korean businesses during Korean Cultural Week! Did you know Coquitlam is home to one of the largest Korean communities in all of Canada? Unofficially known as Koreatown, North Rd. is a hub of Korean business and activity, including restaurants and cafés to clothing shops and pharmacies – all with a multicultural flavours. Here you can shop for imported goods, from trendy clothing and handy housewares to novelty items and culinary delicacies. Hanahreum Mart (known as H-Mart) is a popular Korean supermarket.
MANITOBA
Imagine Van Gogh The Immersive Exhibition is on at RBC Convention Centre Winnipeg. It was in Toronto this month and earned the ravest of reviews. https://winnipeg.imagine-vangogh.ca/
QUEBEC
The MTL Passport is a great way to save big on great attractions in the city, and it's been extended through the end of October. For $57 plus tax, you get access to five great attractions of your choice, including the waterfront zip line and the nearby Big Wheel Ferris Wheel, plus added discounts at local shops and businesses. The deal is on until Oct. 31, 2020, and quantities are limited, so grab yours while you can.
NOVA SCOTIA
This year was supposed to be the 10th anniversary for Devour! The Food Film Fest, but organizers Michael Howell and Lia Rinaldo creatively rebranded this year's festival as "Devour 9.5" since it's going to run a bit differently. Running Oct. 21-25, 2020, it will include 20+ screenings of feature films (including Canadian and North American premieres) and interactive culinary workshops, and the plan is to offer a combination of in-person and online events — sometimes both simultaneously.
Wolfville's classic Al Whittle Theatre can safely host 60 for an in-person screening, and up to 500 folks will be able to virtually attend online. On opening night (Oct. 17), Ratatouille will be screened at the Valley Drive in Theatre — hosted virtually by Emmy award-winning producer Philip Rosenthal, direct from Los Angeles.
Since not everyone can be in Cape Breton for this year's Celtic Colours International Festival, they're delivering the experience online (Oct. 9-17, 2020), with performances and local flavour to keep everyone connected with Cape Breton Island and the Celtic Colours community. 
ONTARIO
Want to see fall colours from across Ontario and Canada without leaving downtown Ottawa? Our nation's capital is home to fantastic Group of Seven collections, and this Canadian group of painters were experts at representing the warm hues of the changing colours. And this year, we celebrate the 100th anniversary of the Group of Seven!
The Ottawa Art Gallery (adjacent to Le Germain) holds an impressive A.Y. Jackson collection. See this as well as their current exhibition, (Re)Collecting the Group of Seven: Celebrating 100 Years, on until November 2021. https://oaggao.ca/recollecting-group-seven-celebrating-100-years
The National Gallery of Canada also houses iconic works by the Group of Seven: https://www.gallery.ca/whats-on/exhibitions-and-galleries/experience-the-group-of-seven-at-the-gallery
NEWFOUNDLAND AND LABRADOR
Newfoundland is home to a new global geopark. Discovery UNESCO Global Geopark invites you to discover a little more about your geological past. Located on the upper half of the Bonavista Peninsula on the eastern coast of the island of Newfoundland, Discovery has a variety of sites where you can tour and learn about the Earth.
About the Author