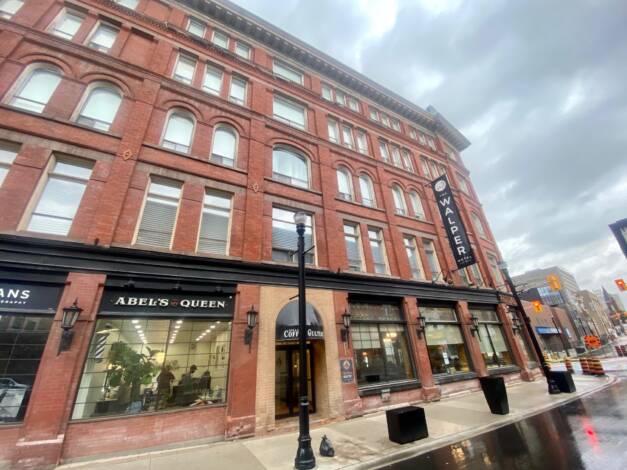 Jim Byers' Blog: Boutique Walper Hotel a Game-Changer in Kitchener, Ontario
October 8, 2020 Jim Byers
David Gibson knows that hotels and restaurants aren't the safest investment in the world. So, when someone told him he should buy the historic Walper Hotel in downtown Kitchener he wasn't impressed.
"Everyone knows you don't guy hotels; they're a money pit. Same with restaurants," Gibson told me last week.
His years of work in the city/property development business in Ontario were a flashing caution light, but Gibson also had heard someone wanted to take the handsome, brick structure and turn it into a cheap motel. That he simply couldn't abide.
He bought the property in 2015, and spent a small fortune restoring the old girl to her former self. The hotel opened for full use in 2017 and has made a huge mark on downtown Kitchener.
Alas, the hotel was forced to close in March due to COVID-19. But they re-opened in August with new health and safety rules in a region of Ontario that has done extremely well battling the virus.
I had a chance to check the hotel out last week and found it truly spectacular, with wonderful food, beautiful rooms, lively, colourful works of art and tons of cool history.
The hotel opened way back in 1893 in downtown Kitchener, a handsome, brick building that speaks very much of southern Ontario prosperity.
The botel was THE place to go in town for decades. Socialites flocked there for fancy balls and big weddings. Royalty came and went, including, they say, the Queen Mother. Not to mention gangster Al Capone. Every Prime Minister of Canada who's been alive when the hotel was operating has stayed here, except (I was told), Pierre Trudeau.
I never got to see it operating back in the day so I can't compare today's hotel with the old model. But I loved what I saw on my visit.
As soon as you walk in you're struck by the white walls and the bright paintings and the light that floods in. The rooms are just as stylish. We had a "King Historical Room," a corner suite with a large living room area with a sofa and a large table and chairs, plus a big-screen TV. The bedroom had a super-comfortable bed with cool designs and a good-sized bathroom with a nice rain-shower and plenty of storage space for toiletries; something you don't always see in older properties.
We had a tour that included one of the smaller rooms, which they call a "pocket room." It was still fairly spacious, with a separate work area and desk that a business person would find quite handy.
The second floor has a sleek bar called Lokal (German for "local") with nice cocktails (try the hibiscus margarita) and plenty of room for social distancing. The second floor also has the Barristers' Lounge, where local lawyers used to gather over the years. It's now the breakfast room, where you can pick up a "grab and go" meal in the morning from Monday to Thursday and a hot breakfast on site on Friday, Saturday and Sunday.
Our tour guide pointed out a window on the second floor that looks out onto the street. We were told none other than Louis Armstrong once stood at the window playing a tune for passersby, and how awesome would that be?
The Crystal Ballroom, with lovely chandeliers and the original wooden flooring, is set up nicely for properly distanced weddings. They also have a spacious gym with modern equipment, including treadmills and a Peloton machine.
The hotel has plenty of whimsical touches, such as signs that say "WTF" (Where's the Food) and bathroom soaps by a company called "Buck Naked."
The enormous basement (7,000 square feet) is home to TWH Social restaurant, which has exposed, yellow brick walls, a wine cellar, a private dining room and cool, old-time black-and-white photos on display.
"It used to be a little seedy," Gibson concedes.
It's a beauty now; very rich and strong and spacious.
We enjoyed tremendous Fogo Island crab from Newfoundland, as well as tasty, confit wild mushrooms, amazing fries, perfectly cooked Newfoundland cod and a tender-as-can-be striploin with a reduction sauce that apparently takes two days to make. I didn't try it but the crispy sous vide, half-chicken sounds marvellous.
I also can recommend the desserts, especially the white chocolate and peach semifreddo with pumpkin seed brittle, caramelized peach puree, smoked Rosewood honey and bee pollen.
The basement has plenty of room for expansion. Some of the space has already been used for jazz nights and for a comedy club.
"The vision is to source locally," Gibson said. "I'm not saying we're the first to do that, but we try to use seasonal, local ingredients."
Renovations to the hotel were a challenge, as historical bylaws didn't allow the owners to shift any walls from the original hotel. But they've done a bang-up job all around, and they now have 30 of the hotels' 92 rooms open for the public to ensure proper distancing.
Gibson told me he doesn't think there's another property like it in southwestern Ontario, and I think he's right. I've seen some lovely B and B's and some pretty hotels west of Toronto, but no boutique hotels with this kind of style, or these kinds of bones.
"I wanted a bit of edginess," Gibson, executive chairman of Perimeter Development Corp., told me over dinner. "I think this could be Toronto or New York."
Gibson had a long career with Toronto-based First Gulf Development and has done a lot of work in the Kitchener-Waterloo Region, a high-tech hub that has attracted thousands of residents the past few years. Both Kitchener and Waterloo have seen new downtown development of late, thanks in part to the region's Light Rapid Transit line.
The Walper is directly across the street from THEMUSEUM, which is the only museum Canada that will host the Rolling Stones Unzipped exhibit next year. The exhibit opens next November and features hundreds of artifacts from Mick and Keith and the boys.
NOTE: The hotel website lists rooms from $155 and up.
About the Author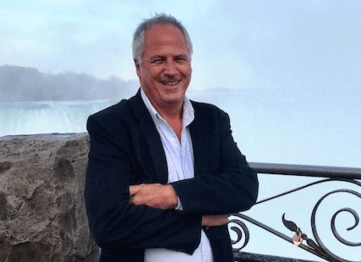 Jim Byers was travel editor for five years at the Toronto Star, which has the largest travel section in North America. "Canada's Travel Guy" is a sought-after expert in the industry and has recently published his first e-book "Ontario Escapes, 19: Places to Visit Right Now."  Jim also serves as Senior Editorial Director for TravelPulse Canada.