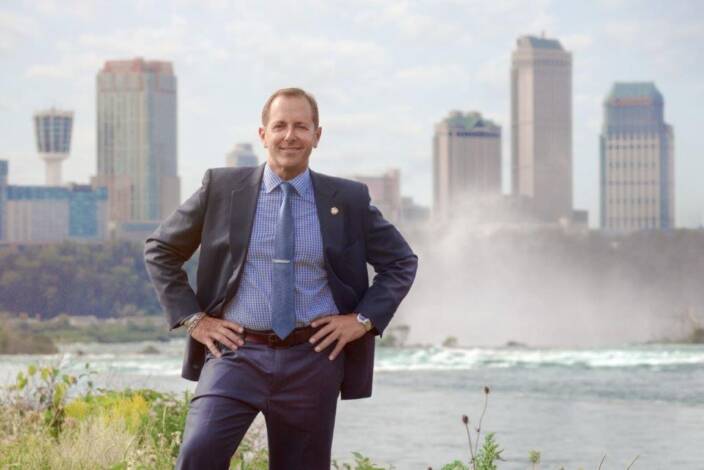 Tourism During COVID: An Interview with Niagara Falls Mayor Jim Diodati
October 8, 2020 Marsha Mowers
Unless you work in the travel industry, you likely don't give much thought to the economic impact the industry has on a country's overall financial health.
Travel's just about jumping on a plane and heading somewhere for a week of fun, sun and fancy beach drinks right?
The travel industry is much more than that and is a huge economic driver for many cities and countries around the world. New York City, for example, celebrated its 10th consecutive year of record growth in 2019, welcoming 66.6 million visitors for business and leisure trips. The economic activity of visitor spending supported more than 403,000 jobs citywide and generated close to $72 billion in economic activity.
Canadian Travel News spoke with Jim Diodati, Mayor of Niagara Falls, one of the world's most recognized tourist destinations, for insight into how cities can move forward after COVID.
Niagara Falls is a bit of dichotomy – it's a small city of just under 100,000 residents, yet 14 million people visit every year.
Forty thousand people in the Niagara region are employed in the tourism industry.
That's right; nearly half of people living in the Niagara region rely on an industry that globally, numbers are showing, is the most affected industry by the pandemic.
"Obviously it's been devastating for cities like Niagara Falls that have such huge dependence on tourism. And Niagara Falls is no different. There are 40,000 people here who count on tourism to put food on the table, pay their bills, their mortgages, it's huge. We're a smaller sized city with big city problems," says Diodati.
Shutting down an entire industry has direct and indirect impacts on its residents. In Niagara, there are four border crossings, all shut down to leisure travel. Typically, 25% of visitors to Niagara Falls are from the US, and yet they account for 50% of overall tourism revenue for the city.
"We're one of those brands. I refer to us as the "Coca Cola" of municipalities. We're so well known around the world, we're the number one leisure destination in Canada and a lot of people come here. It makes it very challenging when all of a sudden you cut off our source of revenue. You can't turn fast enough."
Diodati says the city did "pivot" fast though. In a 24-hour period, the city processed applications that would allow for patio extensions for restaurants, enacted road closures and adjusted road allowances in public spaces like sidewalks, to create public gathering places like the one on Centre Street at the top of Clifton Hill. Some businesses went from looking at facing bankruptcy, to having the best season they've ever had.
The city also got proactive in marketing campaigns, creating the SafeToPlay.ca and SafeToStay.ca websites which the Minister of Tourism said was the first city to do so. The goal is to position Niagara Falls as a safe place for employees, visitors and the community.
It's one component of an overall larger strategy of recovery that Diodati says involves a lot more preparation than people might see and is different than what the media may report.
"By and large, we didn't want people coming here sick, we didn't want people infecting others here and we don't want a reputation where COVID 19 was running rampant," he explains.
"So we dealt with epidemiologists, we utilized the latest technology including innovations like UV light technology and misting with hydrogen peroxide. We created a 'crush the curve' ambassador program through the tourism core, with workers whose job it was to go around to people, offer hand sanitizer, masks and remind them we have a mandatory mask bylaw. Our goal was to be proactive and positive in a compliance over conviction way.
"At the end of the summer, with all the challenges and finger pointing, we're happy to say we were a huge success given the fact we still attracted millions of people and that our COVID numbers were right in the middle of the pack of the rest of the communities of the region.
"Some people said 'Oh, you got lucky,' and I don't know if you can be lucky for three months, but we were successful and it was a big effort by a lot of people because we could not afford to shut down.
"We had to come up with a way to be safe and be open and we looked at what was being done around the world. I'm proud of our numbers. I think we made the best out of a really terrible situation."
About the Author
Marsha Mowers made the move to editorial side of travel after many years working in destination marketing where she represented places such as NYC and Las Vegas. Her experience on "both sides" of the industry has put her in a unique position to provide valuable context to both readers and trade partners. Marsha also serves as Director of Content for TravelPulse Canada
One response to "Tourism During COVID: An Interview with Niagara Falls Mayor Jim Diodati"