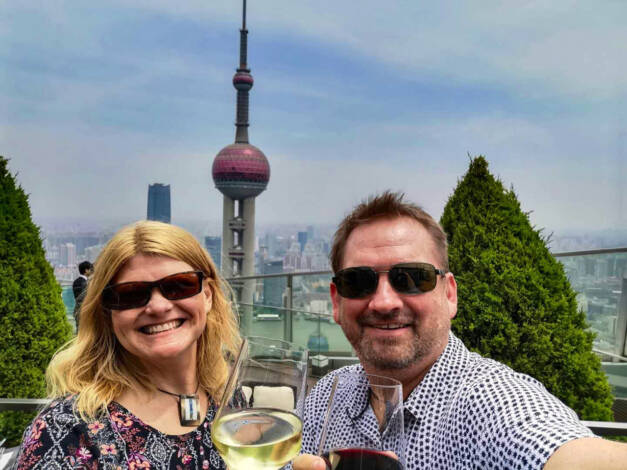 Favourite Places: New Feature Debuts With All-Star Bloggers Dave and Deb (The Planet D)
October 15, 2020 Admin
We're asking well-known travellers what it is they miss most about travel, and about their favourite places. Here's an entry from Dave and Deb (Dave Bouskill and Debra Corbeil), a Canadian couple known on social media as The Planet D and recognized as two of the most influential bloggers and social media travel folks in the world.
It's difficult to choose a favourite destination. Being travel bloggers, it is often the first question we get from people and we always answer, "it depends on our mood and what we are looking to do."
If it's a great adventure, our favourite destination in New Zealand. I don't think anywhere on earth has catered to adventure travel as much as New Zealand. One minute you can be jumping out of an airplane and the next you can be zorbing down the side of a small mountain.
If it's for wildlife viewing, our favourite destination is Tanzania. We've had incredible animal enounters around the world, but there is something special about seeing a group of male lions on the hunt on the Serengeti, or a warthog scrambling away at the slightest sound.
When Canadian Travel News asked us to name our favourites, they "got" us. Because they gave a list of what favourites they wanted. So, here goes.
Favourite World City
Shanghai. It took us a couple of visits to really appreciate Shanghai, but we can't get enough of seeing that skyline with our own eyes. Shanghai is filled with skyscrapers but it's also a great walking city. We love shopping and people watching on Nanjing Street and seeing the city views from the Lujiazui Pedestrian Bridge. From strolling through gardens and sampling amazing dumplings, Shanghai is a place we can go back to again and again.
Favourite Beach
Choosing a favourite beach is a tough one. There are so many beautiful beaches around the world but whenever I think of amazing beaches, our minds go directly to Voidokilia Beach in Messinia, Greece. It is the most perfect horseshoe beach you can imagine. Plus, it's not very crowded, making it even more appealing. This part of Greece is one of our favourite places to visit, with the ancient city of Messene in Peloponnese nearby, and the 13th century Methoni Castle and picturesque coastal villages dotting the coast.
Favourite Nature Spot
Our favourite natural environment is hands down the Galapagos Islands. It's difficult to compete with a destination that has its own unique ecosystem. Many animals of the Galapagos are endemic to the islands. It was amazing to see the giant Galapagos Tortoise with our own eyes and to watch Marine Iguanas feed underwater. Between the beautiful islands, one-of-a-kind marine life and enormous bird population, it is one of the best places to appreciate the beauty of Mother Nature. Plus, it has excellent, deserted beaches to enjoy.
Favourite Place in Canada
There are so many favourite places in Canada, but I think we will have to choose Alberta. It is the most beautiful province in our eyes, with the Rocky Mountains, glacier lakes and the sprawling badlands. We have travelled it extensively in all seasons and can say there is something for everyone. It's probably the best place in Canada for a road trip, with the Icefields Parkway being one of the most scenic drives on earth.
Favourite Local Spot
We have only recently moved to Paris, Ontario and it was during COVID, so most businesses have been running at minimum capacity. But we have been able to enjoy the town a bit. With the Grand River running through town, Paris has been great for enjoy the outdoors. There's a well-maintained bike trail that goes to the hub of Ontario trails, where we can branch off and cycle to Hamilton or Port Dover on Lake Erie. We've cycled along the Grand River to Kitchener and we've also loved kayaking and paddle boarding on the river. When we are finished with a day outdoors, we head to the patio of Stillwaters Plate & Pour overlooking the Grand. It seems to be the hottest place in town!
About the Author