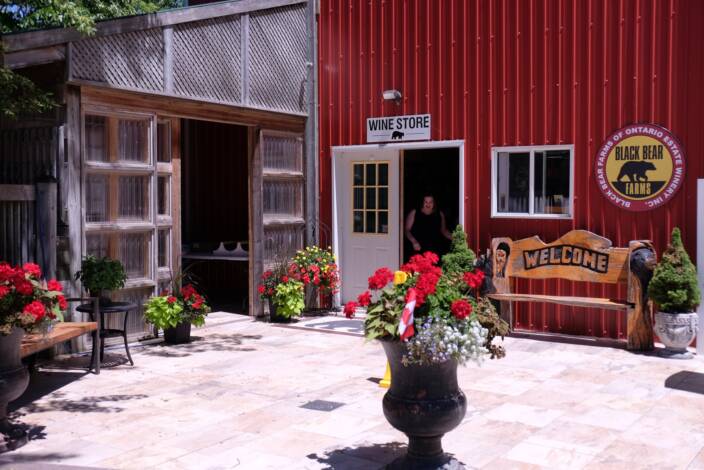 Chocolates, Wineries and Priceless Baseball Memorabilia: A Visit to Kingsville, Ontario
October 17, 2020 Jim Byers
Two Dutch gentlemen who make chocolate birds for the likes of Margaret Atwood. Glorious fruit stands near the shores of a beautiful lake. And a wild and crazy operation that's part restaurant, video arcade, garden shop and petting zoo.
Not to mention fine food, a cool boutique hotel, craft beer and wonderful wineries.
I fell in love with Kingsville on my first visit a couple years ago. I've been back twice since and it remains one of my favourite towns in Canada, an amazingly diverse city of 21,000 souls, where Mercedes convertibles mix with motorcycles and where urban dwellers mix with tractor-riding farmers, birders and beach lovers.
Here are some great things to explore in this part of southwestern Ontario. Given the times we live in, please check to see what's open before you visit.
DUTCH BOYS CHOCOLATE
I stumbled on this place a year ago, when it was called Old Dutch Guys. Henry Noestheden and Cor Boon are delightful gentlemen, Dutch immigrants who decided to open a chocolate shop on the shores of Lake Erie. One of their first customers was a visiting journalist who was heading to Pelee Island to interview Margaret Atwood and spotted one of their bird-shaped chocolates in the window. Knowing Atwood was a bird lover, the journalist made the purchase and delivered it to Atwood, who was so delighted she mentioned it on social media. Wham; an overnight success story. They make wonderful chocolates and use special molds to make everything from chocolate birds to airplanes.
JACK MINER BIRD SANCTUARY
Sure, you'll find a huge pond filled with Canadian geese, pheasants and other birds. They also have a fine museum that explains the important work done in these parts by Canadian naturalist Jack Miner, who was a close friend of Henry Ford and other bigwigs back in the early 20th century. Some refer to Miner as the father of North American conservationism, so wide-ranging was his influence. .Among those who have visited the sanctuary over the years are legendary native Canadian Grey Owl and none other than Marilyn Monroe, a visitor is told. I like birds well enough, but I was personally more interested in Miner's story and in seeing his former home, where you'll find displays of old dishes and hunting clothes, as well as a violin that was often played by his son, who died tragically at the age of 13. Baseball fans will be astonished at the sanctuary's collection of memorabilia from legendary Detroit Tigers' infielder Ty Cobb, one of the greatest players in baseball history and a close friend of Miner back in the day. Included in the display is a funky old bat Cobb once used, as well as a baseball signed by Cobb and the entire Tigers' team. I walked away from the sanctuary shaking my head in amazement.
THE GROVE HOTEL AND CRAFT BEER
This is one seriously fun and funky boutique hotel. I visited last year and had a room with a functioning traffic light on display (yes, you can turn it off at night) and a wall filled with old license plates. I loved it. This time I had something different, a room done up like a casual beach cottage, with soothing colours of green and blue and a pillow on the bed that said "Relax." Which I did. All the rooms are done up in different styles, and there's a fine lobby area with comfortable couches and free coffee and tea and snacks during the day. It's got a great vibe. There's a brewpub/craft brewery next door with fine ales and lagers and, at least when I was there, live music. Most definitely three thumbs up.
COLASANTI'S TROPICAL GARDENS
I had no idea what I was in for when I drove up to this place, located a few km's north of Kingsville's downtown in the village of Ruthven. Along the way I passed wonderful fruit stands displaying deep green cucumbers, vivid red tomatoes, brilliant strawberries and other delights. Colasanti's started as a roadside stand in the 1940's and has evolved into a massive enterprise with a bewildering array of attractions. There's a restaurant in a forest-like setting that specializes in cinnamon-sugar doughnuts and "broasted chicken." Next to that is a children's area filled with buzzing video games and an indoor mini-golf course. There's also a large indoor and outdoor petting zoo, where you'll find baby deer and goats, as well as displays of everything from snakes to alligators and a brilliantly coloured macaw who can dunk a small "ball" into a miniature basketball hoop. They also sell home décor products, tropical plants, beautiful succulents, toys, candy and so many other things I lost track. It's a charming, rambling place that has to be seen to be believed.
PELEE ISLAND WINERY
I visited the winery operations on Pelee Island proper last year. This time I took in a brief tour and tasting at their Kingsville operation, a short drive east of downtown. It's a fine spot with an outdoor dining area out back and a lively tasting room that was filled with women attending a bridal party on the day I was there. I was impressed with their dry, fruit-forward Pinot Gris and bought a couple bottles to take home. Our tour guide, Tracy, talked about the geography of Pelee Island, the southernmost inhabited area of Canada, and explained how the grapes are warmed by the shallow waters of Lake Erie in summer. I didn't visit the island this time, but I highly recommend at least a day trip to check out the tiki bar at the Anchor and Wheel Inn, the island's museum, Pelee Island Winery and other fun spots.
JACK'S GASTROPUB
The pub is an old home and small hotel on Division Street, just a few meters south of Highway 3. The interior pays homage to rock and roll bands, while the exterior patio and porch are quiet spots to enjoy a bit of sun or dappled shade on a warm summer's day. I had a terrific Spicy Jack burger with jalapenos, banana peppers, bacon and onions. Yum and yum again.
BLACK BEAR FARMS
This is a small place on Main Street west of downtown that makes a wide variety of fruit wines. Winemaker William Rondelez (his parents started the farm years ago) shows off an array of tasty products, made with blueberries, raspberries, pears and other fruit. "Thirty nine of our 40 wines have won awards," the genial Rendelez explains as he pours samples for a gaggle of visitors and a passing journalist. I'm more of a traditional wine drinker versus a fruit wine person, but I found several of them quite tasty. They'd be terrific served over vanilla ice cream.
CINDY'S GARDEN
This is another delightful spot that started small and has steadily grown over the years. The main building offers up wonderful garden gear and clothing, including costume jewelry, handbags and other items (alas, mostly for women). The building next door has an ice cream shop and a display with dozens of exotic olive oils and tasty balsamic vinegars, not to mention handy kitchen wares. Back in the greenhouse area I spy some lovely tropical plants to haul back home in my SUV and some Vietnamese clay pots that I'm told can withstand a Canadian winter without having to be hauled into your basement to stay warm. They also have lovely cactus and other succulents., along with beautiful hanging baskets in spring and early summer.
METTAWAS STATION
When I visited this place just south of downtown Kingsville, I had a nice Italian salad with greens, tomatoes, croutons, a warm vinaigrette and plenty of meaty pancetta, plus a nice meat-lovers pizza with capicolo, mortadella, salami and still more pancetta. The food was good, but the ambience was even better. It's a former train station just south of downtown that was built by legendary distiller Hiram Walker, who also owned a railway that took folks south from Windsor to Kingsville. The inside is warm and cozy, but I opted for the covered patio on a perfect summer night in southwest Ontario. It's a super-quiet location on a residential street, and there's a nice wine list.
About the Author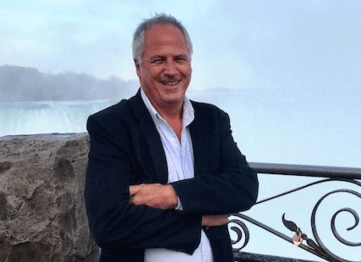 Jim Byers was travel editor for five years at the Toronto Star, which has the largest travel section in North America. "Canada's Travel Guy" is a sought-after expert in the industry and has recently published his first e-book "Ontario Escapes, 19: Places to Visit Right Now."  Jim also serves as Senior Editorial Director for TravelPulse Canada.
One response to "Chocolates, Wineries and Priceless Baseball Memorabilia: A Visit to Kingsville, Ontario"