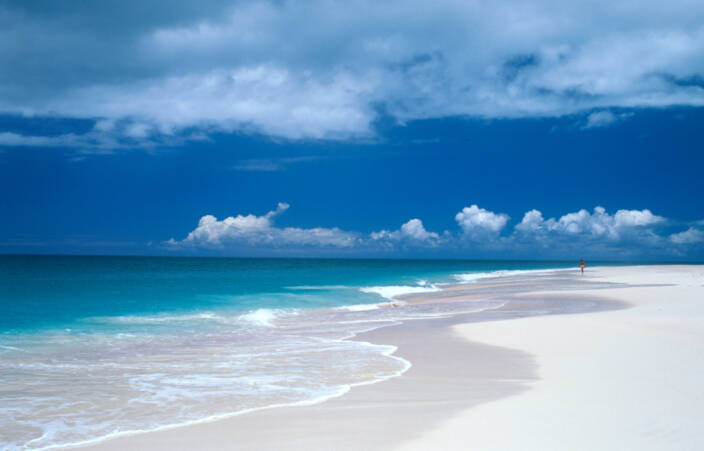 Beautiful Barbuda Offers Splendid Isolation for Caribbean Lovers
October 22, 2020 Admin
Barbuda, Antigua's laid-back sister island, is a quaint destination known for its low-key wellness lifestyle.  A favourite escape for Princess Diana and her sons, relax on the beach named in her honour.
Featuring stunning pink and white sand beaches, the extraordinary Frigate Bird Sanctuary, and lots of space to relax and truly get away from it all, this really is as close as it gets to a deserted island. 
With just 1500 people living in the only village, Codrington, Barbuda prides itself on being 'virtually untouched by tourism'. A quick flight or ferry ride from Antigua, takes you to a different world…
Barbuda was impacted by the hurricanes of 2017 but time has seen this small island slowly rebuild.  Even the frigate birds have returned to the Codrington Lagoon, which is a habitat for these huge birds and home to more than 150 other bird species and the Frigate Bird Sanctuary.
Rent a car, or take a Buggy Tour to get around the island. There is plenty of hiking to do as well as exploring caves some with spectacular petroglyphs. Yes, there really are pink sand beaches and Pink Sand Beach is a must. And the longest beach in the Carribbean,11 Mile Beach, wraps the Barbuda shoreline.
The oldest 'tower' built in the Caribbean is found here – the Martello Tower Barbuda.  At 56' high it is the highest landmark on the island, standing out against the low-lying topography and aiding in navigation in and around Barbuda.   
The renowned luxury boutique hotel, the Barbuda Belle was completely rebuilt after Hurricane Irma, and its better than ever.  Only accessible by boat, the Barbuda Belle is located on a pink and white sand beach called Cedar Tree Point.
There are a total of eight private beachfront bungalows offering amazing views of both the ocean and of the nearby lagoon park. The hotel boasts two restaurants: a laidback bar and grill and a gourmet seafood restaurant. The Barbuda Belle offers the ultimate in rest and relaxation allowing you to enjoy a remote vacation in the comfort of luxury.
Want to visit Barbuda with the family?  Stay at an eco-friendly, more rustic property located on another stunning beach. Think Muskoka cottage meets stunning white sand shoreline.  Barbuda Cottages invites guests to enjoy a private beach and spectacular ocean views from every room. Each cottage is equipped with a kitchen, internet, board games and more, allowing you a peaceful and private retreat when not exploring the island
The Barbuda Cottages has a restaurant on the property, jeep rentals are available, and it is located on the southwestern coast where the water is calm and perfect for different water sports.  A must visit is Uncle Roddy's, conveniently located right next door (Princess Diana was a frequent visitor!).
No matter your accommodation preference, luxury or rustic, Barbuda offers the ultimate escape as the original destination for distancing.
About the Author