Jim Byers' Travel Blog: Rapid Testing at Calgary Airport a Potential Gamechanger For Canada
October 22, 2020 Jim Byers
News that Calgary Airport will take part in a trial program that could see rapid virus testing replace mandatory, 14-day quarantines is a major development in the Canadian travel world.
The federal and Alberta governments on Thursday announced that they will begin a rapid-testing trial program at Calgary/YYC on November 2, 2020.
The idea is that arriving international travellers can volunteer to take a rapid COVID-19 test. They then must quarantine until they get a result, a process that might only take a couple days. If the test is negative, the quarantine requirement would be lifted. Passengers would be able to leave their place of quarantine as long as they commit to getting a second test on day six or seven after their arrival, according to the Calgary Herald.
The Herald said that participants "will also be closely monitored through daily symptom checks. They will also be required to follow enhanced preventative health measures, such as wearing masks in public places and avoiding visiting high-risk groups."
A potential two-day quarantine in a hotel room or your own home and a second test a few days later, along with some common-sense restrictions, is obviously WAY better than a guaranteed 14-day quarantine, so it sounds on paper like a tremendous change for the airline and tourism industries in Canada.
Unconfirmed media reports say the program, if successful, could be broadened to include airports across Canada. That, too, would be a huge help to the nation's airlines, not to mention hoteliers, caterers, flight attendants and others who rely on the aviation industry to feed their families and pay their rent or mortgage.
"I've been talking to Premier Kenney about it and when he had the conversation with the other premiers, and the prime minister, we're keeping a really sharp eye on what's going to happen out in Calgary on this pilot project and I'd be open to it," Premier Ford said Thursday, 
"We simply must move forward to develop policies to facilitate safe travel," Alberta Premier Jason Kenney said during a news conference today at Calgary International Airport. "Though a lot of work lies ahead, we can see a return to normal travel."
Kenney said the pilot program could be expanded to the Edmonton International Airport by February if all goes well at YYC.
The International Air Transport Association (IATA), working with the International Civil Aviation Organization (ICAO), called for the widespread implementation of pre-departure testing as a way to make air travel safer and to encourage folks around the world to fly again.
Canadian airlines have been making the same point for months. WestJet has been trying a rapid-test program at Vancouver Airport, while Air Canada did something similar at Pearson; a program they said worked extremely well. Air Canada also has announced the purchase of 25,000 rapid tests.
WestJet today applauded the trial program.
"This announcement is welcomed by WestJet and I applaud and thank Prime Minister Justin Trudeau and Premier Jason Kenney for taking this important step in providing peace of mind to anxious travellers," said Ed Sims, WestJet President and CEO. "We have been asking for a science-based approach based on multiple layers of testing to help safely ease the quarantine requirements. With our home and largest hub in Calgary, guests from the province will be the first to experience this important trial as an alternative to a 14-day quarantine."
Air Canada said it also is pleased.
"Air Canada has been a leader and a strong advocate of the use of rapid testing to protect customers and employees. Earlier this year, Air Canada partnered with McMaster HealthLabs (MHL) and the Greater Toronto Airports Authority for a study on testing that continues to yield results that demonstrate the validity of testing as a means to ease travel restrictions and quarantine requirements," officials said.
"We know Canadians expect the rich data from these test results to lead to a loosening of the federal government's quarantine requirements immediately, which will allow families to reunite and the economy to resume," said Calin Rovinescu, President and Chief Executive Officer at Air Canada. "Our customer surveys clearly show that Canadians favour safe and science-based alternatives to blanket quarantines.
"The results from the McMaster study at Toronto-Pearson were instrumental in guiding the federal government and public health agencies to add the easing of quarantine to this latest testing initiative. I have personally heard from numerous business leaders in Canada and from other countries who are very anxious to see the quarantine requirements safely abridged as soon as possible," he said.
"The preliminary results from the MHL study provide evidence that testing passengers on arrival into Canada may be an effective way to screen for COVID-19. The data has provided the federal government and the government of Alberta with the confidence to move forward with this new testing initiative," said Dr. Jim Chung, Air Canada's Chief Medical Officer.
"In fact, today Alberta Premier Jason Kenney thanked Air Canada for helping advocate for measures to safely reduce quarantine, which is an encouraging step in the continued push for a secure resumption of air travel. Rapid testing is also a means to enable governments to relax current blanket travel restrictions and quarantines in a measured way while still safeguarding the health and safety of the public," Chung said.
Since the Toronto-Pearson study began September 3, MHL has conducted over 28,000 tests of arriving travellers who volunteered to participate. As our interim report noted, more than 99% have tested negative for COVID-19 with less than 1% having indicated COVID-19. For more information on the MHL study see https://aircanada.mediaroom.com/2020-09-03-McMaster-HealthLabs-Air-Canada-and-Greater-Toronto-Airports-Authority-to-Conduct-a-Voluntary-COVID-19-Study-of-Arriving-International-Travellers
This is no overnight panacea. But it's a big step forward for Canadian travel and the Canadian tourism/aviation/travel industry. Signs of hope, indeed.
About the Author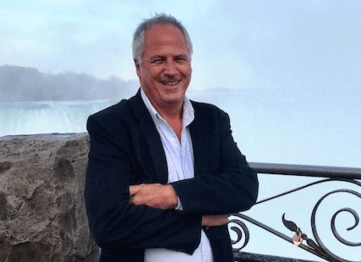 Jim Byers was travel editor for five years at the Toronto Star, which has the largest travel section in North America. "Canada's Travel Guy" is a sought-after expert in the industry and has recently published his first e-book "Ontario Escapes, 19: Places to Visit Right Now."  Jim also serves as Senior Editorial Director for TravelPulse Canada.