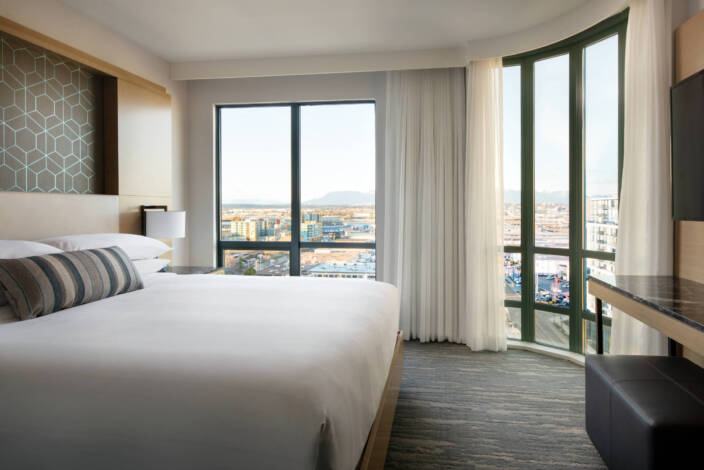 Vancouver Airport Marriott "Hotel of the Year" Award
October 22, 2020 Admin
The Vancouver Airport Marriott has been awarded the title of '2019 Hotel of the Year' by Marriott International among all Classic Premium brand Marriott hotels in Canada.
Marriott International's Classic Premium brands include Delta Hotels, Marriott Hotels, and Sheraton Hotels. The criteria included the hotel's guest and event satisfaction scores, financial performance, associate engagement; its performance in brand strategy, leadership, culture, overcoming challenges and integration; and executing its brand promise while in compliance with brand standards.
"We are truly honoured and proud to receive the 2019 Hotel of the Year award. This achievement would not have been possible without the passion and dedication of our entire team and it's a privilege to work with them every day to provide an exceptional guest experience," said Yannick Simovich, Vancouver Airport Marriott General Manager.
The Vancouver Airport Marriott Hotel had been reimagined through a $14-million renovation completed in early 2019. It included a complete transformation of all the public areas, 236 guest rooms, event space and restaurant.
In 2020, as part of Marriott's Commitment to Clean, the hotel reinvented themselves again to meet the changing needs of their guests. A variety of new protocols and elevated practices were implemented keeping with their high standards of cleanliness and commitment to providing excellent service. 
The hotel is located in the heart of Richmond, B.C., less than five kilometers from Vancouver International Airport and accessible via complimentary shuttle. Area attractions, including wonderful Asian and international restaurants, the Richmond Olympic Oval and CF Richmond Centre are close by, and downtown Vancouver is easily accessible via the SkyTrain. 
You're also close to Steveston Village, a wonderful area of Richmond with cool shops and restaurants and a beautiful waterfront.
About the Author