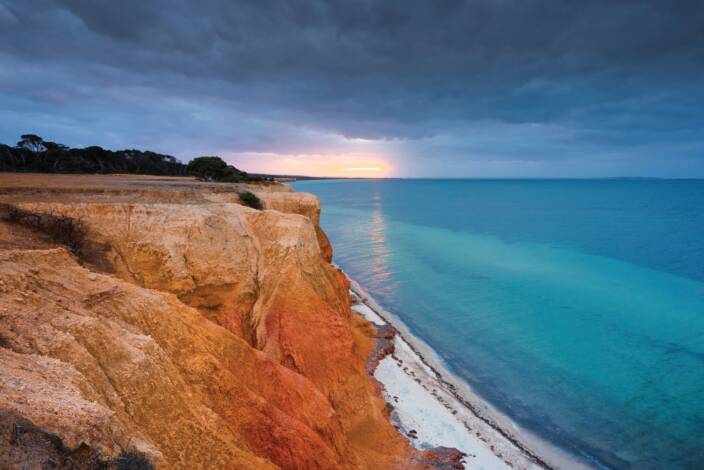 Travel Dreaming: Add South Australia to Your Must-See List
October 23, 2020 Admin
Canadians can't visit Australia right now, but we can still dream. Here's a look at some cool places to see and great things to see, do and taste in South Australia.
BUSHFIRE RECOVERY TOURS
Kangaroo Island was affected by devastating bushfires earlier this year. Some of the tour operators on the island are offering fire recovery tours which provides traveler with information on fire ecology and conservation efforts on the island.
Exceptional Kangaroo Island | Flinders Chase Focus: A full day tour exploring the wilderness of the west end of the island where much of the fire hit. The tour includes access to a private wildlife refuge with Kangaroo Island Land for Wildlife where travelers can check out wildlife surveys targeting tiny endangered mammals (sooty dunnart) with an introduction to the bush. From there, travelers will break for an elegant picnic lunch accompanied by South Australia's famous wines. After lunch, guests will travel into the Flinders Chase National Park which was heavily devasted by the fires. The local guide will dive into fire ecology sharing how the Australian bush has evolved with fire as an ever-present and essential component. Many of the native plants not only cope with fire but many require fire to flower, release their seeds from hard capsules, or to release a dormancy in the seeds to allow germination.
Sea link Road to Recovery Tour: The local Kangaroo Island Odysseys guide will take travelers on a personalized tour of Kangaroo Island to see the regeneration of the native vegetation and wildlife that was devastated by the bushfires in January 2020. Learn about the flora and fire ecology of this scenic wildlife haven, plus walk amongst wild Australian sea lions, and see kangaroos, koalas and native Australian birds in their natural wildlife settings.
ACCOMMODATION OPTIONS
Arkaba Conservancy
Located in the ancient and awe-inspiring grand scale landscape of the Flinders Ranges, the real splendour of this resort is that their 60,000 acres are shared by only 10 guests at a time. Visitors who stay at this Wild Bush Luxury property will immerse themselves in the story of the bush—showcasing its ancient geology, diverse wildlife and provide guests with the chance to get 'hands on' with the conservation programs of the property.
The most popular of the conservation experiences is joining a guide for an exclusive evening trek under the star-dotted outback sky. Guests can track radio-collared feral cats or help set up trip cameras that monitor key sites across the property.
This program was introduced in 2014 by the Foundation for Australia's Most Endangered Species (FAME). The program aims to the western quoll (Australia's largest endemic carnivore), which was threatened with extinction.
Although the wildlife conversation it what really makes this property sustainable and a big draw for travelers, each aspect of the homestead from energy usage to waste disposal, recycling of bottles or the use of eco-certified cleaning materials has been carefully planned to minimize the impact on the land. Additionally, Arkaba has adopted a 'buy local' principle with its food and wine sourced entirely from South Australian producers and the chef working his own local touches to the menu.
Lastly, two per cent of the all-inclusive experience at Arkaba goes back into their conservation programs guaranteeing that a minimum amount of the experiences goes directly into protecting Australia's biodiversity.
An elegant and boutique accommodation situated on the Redbank cliffs overlooking Nepean Bay of the wild Southern Ocean. Their off-grid, eco design and build gives guests a personalized 5-star experience along with the good feelings that come with leaving a small footprint and an ethos that seeks to both restore and give back to the environment. Here are some sustainable features to the property:
The two villas built on passive solar principles and are completely self-sustaining in terms of rainwater harvesting. Each Oceanview Eco Villa is built using solar power, natural timber and stone accents, natural gas, rainwater, and carpets made of recycled plastic bags, among other ecological feats. All waste is sent to the on-property worm farm – so nothing is truly wasted
UNIQUE WINE HERITAGE
South Australia is known for its wine and produces 70 percent of all premium Australian wines. From big bold reds in the Barossa Valley to crisp whites in Clare Valley there is something for every traveler's palate. Interesting enough, South Australia is home to the oldest vines in the world of Cabernet Sauvignon and Shiraz which are found in the Barossa Valley—the first notable wine region of South Australia.
Adelaide Hills
Home to over 90 wine producers and 50 cellar doors, Adelaide Hills is one of Australia's largest geographical wine regions. The region is known for its aromatic whites including Sauvignon Blanc and Pinot Gris; but in terms of red varietals they are known for their Shiraz and Pinot Noir. Because this is a younger region, it is not inhibited with any stylistic expectations. The region has been named a playground of sorts for creative wine making that really pushes the boundaries. Winemakers of the region enjoy trying new techniques with twists on classic favorites.
Barossa Valley
An hour outside of Adelaide, Barossa Valley is home to some of the oldest vines of Shiraz in the world dating back to 1843. Barossa boasts more than 550 grape-growing families, many with the sixth generation still working the same plot of land, supplying quality grapes to more than 170 wine companies. While Barossa is world-famous for its amazing wines, it is also renowned for its seasonal produce, artisan food producers and award-winning restaurants
McLaren Vale
The birthplace of wine in South Australia, the coastal wine region of McLaren Vale lies 45-minutes south of the capital city of Adelaide offering a myriad of soils which bask under a Mediterranean climate. Best known for Shiraz, McLaren Vale also excels in the production of ultra-premium Grenache and Cabernet. Many of these old vines produce a more rustic earthy flavor, while the younger vines produce more of an irony, sooty, and almost peaty characteristic. McLaren Vale has many boutique and eclectic wineries that continue to push the boundaries in the search of perfection.
About the Author