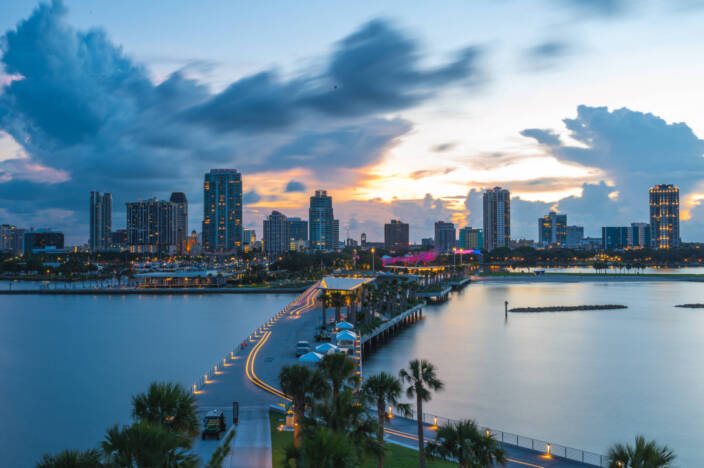 St. Pete Pier: A Great New Attraction in a Part of Florida Canadians Love
October 28, 2020 Admin
Canadians have another reason to visit one of their favourite Florida destinations.
The St. Pete Pier opened to fabulous reviews in Florida this past summer (July 6) and is ready to welcome Canadians with a bevy of great things to see and do.
The pier is a massive, 26-acre structure that juts far out into Tampa Bay in downtown St. Pete, where you'll find remarkable hotels, shops, restaurants and a couple of the finest museums in the U.S., the Salvador Dali Museum and the St Petersburg Museum of Fine Arts.
The pier and the new St. Pete Pier District features wide open spaces for social distancing, a white sand beach, vibrant local art, a wonderful playground for kids, rotating kiosks featuring works by local artisans and vendors, several restaurants with top-notch outdoor patios and a marine discovery center.
Here are some of the highlights, from west to east:
The Marketplace: 17 local artisans and vendors sell regionally-made goods in a shady area with a solar roof.
The Bending Arc by Janet Echelman: World-renowned artist and Tampa Bay native Janet Echelman has created an enormous net sculpture that's nearly 430-feet wide and 75-feet high and features 180 miles of twine that twist and wave in the wind. Definitely an Instagram highlight.
Playground/Splash Pad/Spa Beach: The Kids' playground is near the splash pad (with jets of shooting water) and Spa beach, a true beach that has been expanded and given a more natural shoreline.
Doc Ford's Rum Bar and Grille: Authentic Florida fare and rum cocktails. Try the famous Yucatan shrimp with butter, lime and hot sauce.
Tampa Bay Watch Discovery Center: Here you can learn about the importance of the Tampa Bay estuary and check out videos and a large aquarium tank. The bay is home to dolphins, manatees and more, so keep a close eye out.
Pier Teaki: Located at the eastern end of the pier, this complex features a ground-floor café and a rooftop tiki bar with stunning views of the Bay and downtown St. Pete. It's said to be amazing for sunsets.
There are bike rentals in town if you like, and tourism officials said they'll soon add kayak and Stand-Up Paddleboard rentals for folks who want to get out on the bay.
About the Author