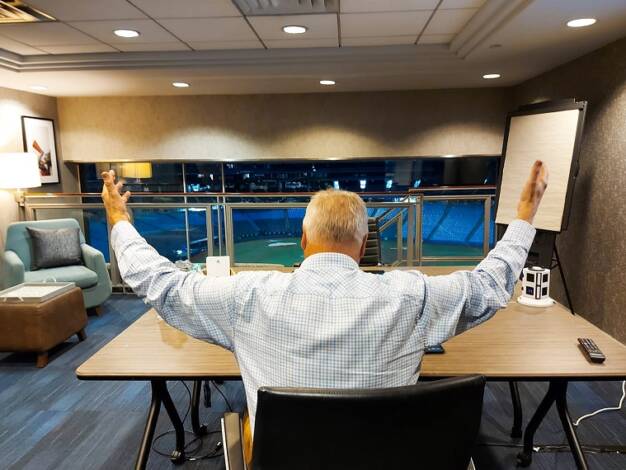 Work For a Day in a Rogers Centre SkyBox: Awesome Toronto Marriott City Centre Deal
November 10, 2020 Jim Byers
I see a lot of deals pass through my email. But this one really stood out.
The folks from the Toronto Marriott City Centre Hotel, which is nestled inside the Rogers Centre (formerly the SkyDome), dropped me a line recently to say they have an offer for folks who wanted to use one of their hotel rooms during the day. It's becoming more common in the industry as a way for hotels to generate a bit of revenue in the toughest times imaginable, while giving guests a chance to write or do Zoom chats in a peaceful, controlled setting with no screaming kids or howling dogs to worry about.
The hotel's Day Pass is $89 per room per day. It includes 6 a.m. check-in and 6 p.m. checkout, so you have tons of time to get your work done. You also get parking for one vehicle, a private bathroom, free Wi-Fi and local calls, the chance to earn Marriott Bonvoy (frequent guest) points, an in-room fridge, access to their pool and fitness centre, and a $5 gift card from Starbucks that you can redeem in their lobby coffee shop.
They also have a Work Anywhere Stay Pass. Guests are offered early check in at 6 AM and late check out at 6 PM the day of departure, which means up to 36 hours of quiet time. In addition to amenities included in the Day Pass, guests receive a $25 food and beverage credit daily that can be used at the lobby-level Starbucks or at the restaurant, Sportsnet Grill. Marriott Bonvoy members will be able to earn Elite night credits and points on eligible hotel charges. Rates start from $163 per night, which is a terrific deal for a fine hotel in the centre of the city.
You also can work in their lobby for the day for just $15, including a $10 Starbucks card.
But what REALLY got my attention was their "Think Inside the (Sky) Box" plan. Exclusive to the Toronto Marriott City Centre Hotel, four spacious open-air Skyboxes are available overlooking the Rogers Centre stadium.
Each Skybox is available from 7 AM to 6 PM and includes an LCD TV, private bathroom, complimentary Wi-Fi, and $10 Starbucks gift card. Bookings can currently be made for up to four people per Skybox and are subject to regulation changes. Rates start from $119 per day.
As a guy who loves travel, loves a nice hotel room, loves to work in a quiet spot and loves baseball, I couldn't resist. It also helps that I covered the Blue Jays for the Toronto Star for six years back in the day and spent a lot of time in that stadium. So, when I heard about the chance to work back in my old stomping grounds for a day, I couldn't resist.
It was, in a word, magnificent.
The boxes are great when you're at a game, but there are usually dozens of people hanging around. You don't realize how big they are until you have one all to yourself.
They're pretty close to 800 square feet, with a couple rows of seats that are actually inside the stadium, so you can set up shop there or take your coffee out and gaze out at a stadium where so many magical events have taken place, everything from Bruce Springsteen concerts to Joe Carter's 1993 World Series homer and Jose Bautista's infamous bat flip.
Even if you're not a sports fan, it's pretty cool to just look out – and up – and admire the engineering that went into a stadium with a retractable roof that opened more than 30 years ago.
Take away the stadium seating and you've still got a MASSIVE room to enjoy for the day.
The boxes have large, double-size desks with a comfortable chair, a coffee maker with coffee and tea available, free Wi-Fi, a mini-fridge, bottles of water, a printer, office supplies, two whiteboards, tons of plugs and USB outlets, sanitizing wipes, sanitizing gel, a sofa, two soft, attractive chairs and a very large flat-screen TV with HDMI cables you can use to hook your computer up to the TV.
They also have a stand that lets you put your laptop up at a higher level for Zoom chats and a huge marble bathroom.
I was able to get a lot of work done in quiet, super comfortable conditions. Several times I got up to go see what was happening in the stadium. There were a few scattered workers doing what looked like routine maintenance, including watering down the infield dirt (I guess it keeps dust from flying around, which makes sense).
I hardly heard a sound and I was in the room for a good four or five hours. I worked. I checked the election results on TV. I made a coffee. I even laid down on the sofa for a quick power nap.
The boxes are available from 7 a.m. to 6 p.m., and it's a great deal for one person. For four people, you'd have tons of space and you'd pay only about 30 bucks each.
In addition to using the SkyBox, the hotel let me stay the night in one of their top-floor suites, a city-view room that looked north and west at towering condos and office buildings and even offered a view of the sunset.
The room (1135 if you want to try it someday) was spacious and then some, with two televisions, a large desk, a sofa and chair (I turned it around to admire the city lights while I read the newspaper on Friday night) and a bathroom larger than many hotel rooms I've stayed in, complete with a tub, a rain shower and double sinks.
They also set me up with a meal at Sportsnet Grill, which has a heated patio and takeout food available right now. The patio was terrific, with plenty of heaters, tables placed apart for physical distancing, and a couple of large TV's to watch sports (and more of the election, this being Friday night before things were decided down south). I had a fine dish of spicy calamari with two dipping sauces and a very good rice bowl with tons of veggies and chicken.
I dined at the inside portion of the restaurant a couple years ago and thought it was quite good, with a wide variety to choose from and a more sophisticated menu than most sports bars offer up.
Being attached to the Rogers Centre, you're just a short walk from just about all the major downtown Toronto attractions. The CN Tower is maybe 200 meters outside the front door of the hotel, with Ripley's Aquarium right next door to that and the Scotiabank Arena a few steps to the east. You're also maybe a 10-12 minute walk to the waterfront, which was glorious on a warm afternoon last Friday.
About the Author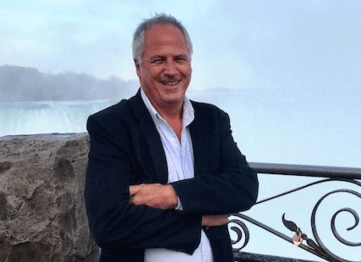 Jim Byers was travel editor for five years at the Toronto Star, which has the largest travel section in North America. "Canada's Travel Guy" is a sought-after expert in the industry and has recently published his first e-book "Ontario Escapes, 19: Places to Visit Right Now."  Jim also serves as Senior Editorial Director for TravelPulse Canada.