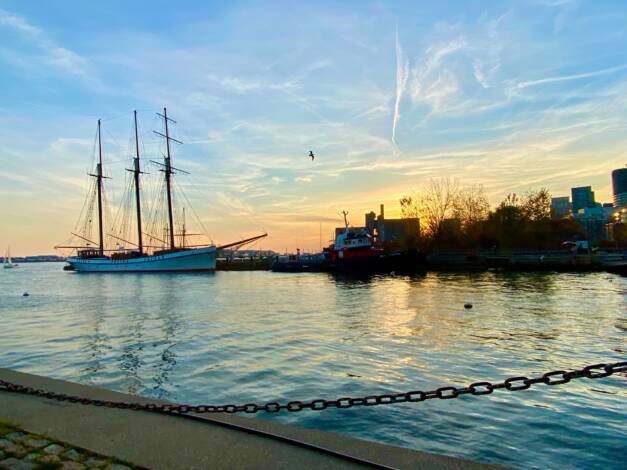 Jim Byers' Travel Blog: A Mild November Weekend on the Toronto Waterfront
November 14, 2020 Admin
I stayed at the Toronto Marriott City Centre hotel last Friday and worked during the day at a Rogers Centre Skybox; an experience I talked about in a story we posted last week.
Because I was downtown, I took advantage of a fabulously warm weekend to explore the city's waterfront. On Friday I went walking between Yonge Street and Bathurst Street along Queen's Quay and Lake Ontario just before sunset. The next morning it was Cherry Street Beach and the Leslie Street Spit, where I hadn't been in maybe 20 years or more.
Here's a look at some photos I snapped along the way, using only my iPhone (the 11 Pro Max).
Muskoka chairs at Harbourfront in Toronto. Jim Byers Photo

The Old Canada Malting Site on the Toronto waterfront. Jim Byers Photo

Downtown Toronto from Roundhouse Park. Jim Byers Photo

Cherry Street Beach in Toronto. Jim Byers Photo

Sunset at HTO Beach at Toronto's Harbourfront. Jim Byers Photo

A beach on the Leslie Street Spit in Toronto. Jim Byers Photo

The tall ship Empire Sandy on the Toronto Waterfront. Jim Byers Photo

The Rogers Centre and the CN Tower in Toronto. Jim Byers Photo

A view of downtown Toronto from the Leslie Street Spit. Jim Byers Photo

Sunset along Toronto's waterfront. Jim Byers Photo
About the Author