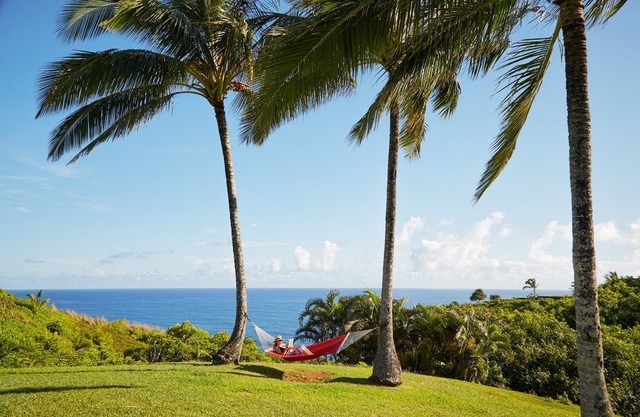 Black Friday Deal of the Day: All-Inclusive Hawaiian Holiday at The Cliffs on Kauai
November 21, 2020 Admin
Located on 22-cliffside-acres in luxurious Princeville on the tropical island of Kauai, The Cliffs solar-powered suites are growing an audience with eco-conscious young families looking for a green travel experience.
The Resort's progressive sustainability program addresses climate change and resiliency, energy consumption, water conservation, and recycling. It's unnoticeable to the guest, but beneficial to the environment.
They've put together three all-inclusive packages, with some amazing experiences on the North Shore of Kauai, widely considered the most beautiful of the Hawaiian islands. These packages support the local community (@alohaforkauai) in Hanalei and beyond.
With up to 100 one bedrooms and one bedrooms with loft, The Cliffs is a perfect family getaway – uncrowded, affordable and naturally social distanced. Day tripping here is awe inspiring, with Kilauea, Anini, Hanalei Bay and more on the road to Ke`e Beach and the trailhead for the Kalalau Trail, which snakes along the Pali cliffs on the north side of the island and might be the best hike in Hawaii.
The Cliffs resort offers a panoramic view of the Pacific and sunset views to Bali Hai. Vibrant local businesses like Hanalei Spirits and Ekahi Ahi demonstrate the creativity and resilience of the residents of this small island.
Kauai locals are the very best brand of the aloha spirit.
The state of Hawai'i this week announced a plan that allows Canadians to take COVID-19 tests before flying to the islands. Travellers who take a test with 72 hours of flying and test negative for the virus can avoid 14-day quarantines.
Discover Kauai (Mauka) Deal includes:
Seven night stay in a one bedroom condo, four door Jeep rental, complimentary parking and no resort fee. 
Zip and Dip at Princeville Ranch on nine thrilling ziplines and a hair-raising suspension bridge. This famous zipline experience takes guests to a hidden jungle swimming hole.  
Journey on horseback into Kauai's heartland with Silverfalls Ranch, with magnificent views of the Makeleha mountain range and a stroll to a tropical botanical reserve. Take a plunge into a natural pool and waterfall before mounting up for the ride back.  Refreshments and snacks provided.
A $200 (ALL FIGURES USD) dinner credit at the Dolphin Restaurant in Hanalei Town, a favorite of visitors and locals alike, known for its fresh seafood cuts, nostalgic riverside ambiance, second-to-none service and world-class sushi lounge.
Package Price: $3,500 including room rate, taxes and fees* ($870 pp)
High Season: $3,765 ($941.25 pp)
Available now through February 2021, excluding December 18-31. Extend your one-bedroom suite stay up an additional week at $199/night. Upgrade to a one-bedroom + loft suite for an additional $299/night.
*One bedroom accommodations include full kitchens and are suitable for two adults and two children under 18. Activities are subject to medical advisories, including pregnancy, and other company restrictions.
About the Author