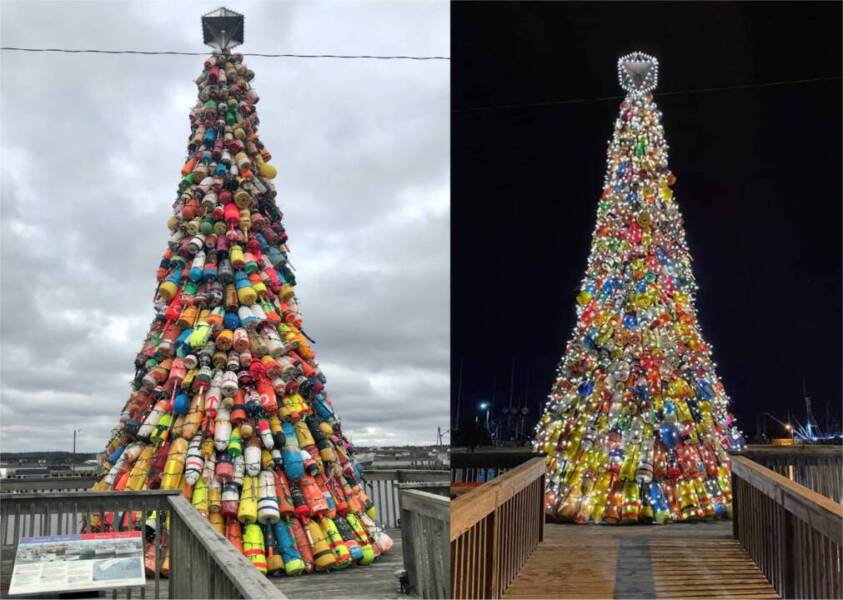 Oh, Buoy: Lobster Trap Christmas Trees Are A Nova Scotia Holiday Tradition
December 14, 2020 Admin
Lunenburg County is considered the "Balsam Fir Christmas Tree Capital of the World".  Normally, the province's cool and humid winter climate is ideal for growing balsam firs, which have become the Christmas tree of choice in large parts of North America because of their lush foliage, fragrant aroma and low needle loss
Each year, Nova Scotia's tree growers sell and ship over 350,000 balsam fir trees throughout Canada and the United States, spreading the characteristic "smell of Christmas" across the continent.
But these are not the only Christmas trees gaining world-wide recognition.
Adorned with colourful buoys, twinkling lights and evergreen boughs, towering Christmas trees fashioned out of carefully stacked lobster traps are becoming regular fixtures in fishing communities across Nova Scotia. Barrington, on the southwest coast, bills itself as the "Lobster Capital of Canada" – rightfully so since about 40% of the country's lobster harvest comes from this area annually.
So, each year, a five-metre tall tree made from about 200 rectangular, metal traps — often referred to as lobster pots — is constructed at the Cape Sable Island Causeway . Most of the pots are reclaimed from the local landfill, each of which has served their duty catching thousands of lobster on the bottom of the ocean floor.
The traps are then festooned with over 180 wooden and plastic buoys, each painted in a pattern unique pertaining to a local fishing boat and most inscribed with the names of fishermen lost at sea.
Over the years, other Nova Scotia communities have joined the tradition, including East Pubnico, Port Mouton, Port Maitland, Toney River and Musquodoboit Harbour.
"The lobster trap tree, as all Christmas trees do, not only brings families, friends and our wonderful community together to celebrate the Christmas and lobster season but it also helps us to remember loved ones," said Suzy Atwood, Director of Marketing & Tourism Development for the Municipality of the District of Barrington. "It's a reminder of the importance the lobster industry plays to our communities, residents, businesses, not only here in the Municipality of Barrington but to the entire province of Nova Scotia."
Trees in Dennis Point and Pugwash also pay homage to the lobster fishers of the areas, but with a slightly different twist – these trees are constructed of hundreds of buoys and are upwards of 20-25 feet, full of lights and decorated with colourful buoys donated by local residents and fishermen alike.  And like the lobster trap trees, the buoys often serve as memorials to loved ones in the communities.
No matter how you honour those who battle the seas to provide us with our favourite crustaceans, the lobster pot trees are now a Christmas tradition in Nova Scotia and here to stay. What better way to spend the day with family and friends then to take a drive and see these masterful creations in person.  They guarantee it will be lobster-ific.
About the Author