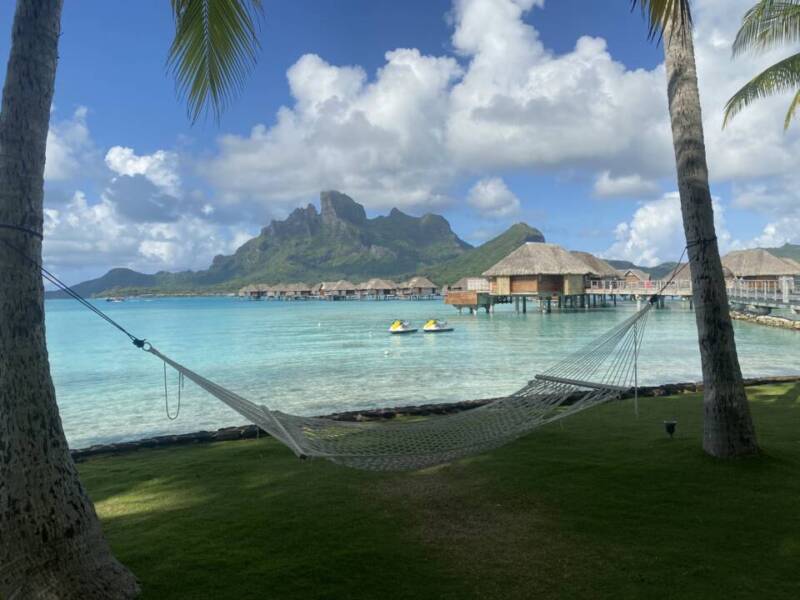 Beautiful, Remote Tahiti: Tailor-Made For Today's Troubled Times
December 20, 2020 Admin
One of the world's most beautiful – and most isolated – destinations is welcoming travellers.
Tahiti's islands are among the most romantic in the world, and they're also far from any worrisome crowds.
Speaking at a virtual Tahiti conference held the other day, Nicholas Panza of Air Tahiti Nui noted that the islands, roughly eight hours southwest of Los Angeles, have been open to travellers since July 15.
He also noted that Hawai'i gets as many visitors in a week as Tahiti gets in a year.
Overwater bungalows can be expensive, but there are plenty of fabulous places to stay that are quite reasonable. My wife and I stayed at a beautiful place on the main island of Tahiti called Vanira Lodge on our last visit. The lodge, roughly 80 minutes from the capital of Papeete, features a group of thatched roof units that are spread about a hillside a few meters above the Pacific Ocean.
Rooms at Vanira Lodge are beautifully decorated, and the food is very good. They have a couple of pools, a yoga pavilion and tons of space to spread out or be alone, and they have rooms right now for less than $200 CAD per night.
"Tahiti is a low-density, low-impact destination," said Panza, the airline's Vice President, The Americas. "Most resorts are less than 170 rooms, and almost all tours have only four to eight people."
Tahiti Iti is a large, round peninsula that juts out of the main island of Tahiti, with only a several low-key lodges like Vanira and Bonjouir Lodge Paradise, which can only be reached by foot or by boat. (Okay, I guess you could parachute in.)
Click here for a story about Tahiti Iti.
I also would recommend the island of Raiatea, which is super-quiet and has several lovely places to stay, including Fare Vai Nui, which has only a handful of rooms, all located in separate buildings along the waterfront. There's not much of a beach, but there are several good ones nearby and they have a nice swimming pool, as well as free bikes to use and an excellent restaurant.
A negative PCR test is required three days prior to your departure. But if you're negative you don't need to isolate upon arrival in Tahiti.
There have been 90 deaths from COVID-19 in Tahiti, which has a population of about 280,000 people.
Panza said he understands that would-be travellers aren't sure about flying these days. But he said there are strict rules in place regarding masks on board Air Tahiti Nui flights, and that guests are given wipes and sanitizing gel on board.
The airplanes are cleaned top to bottom, he said, and they also have HEPA filters "which capture and block 99.995 per cent of bacteria and viruses." Fresh air is brought into the cabin ever two minutes, he said, and all crew are tested before they can work.
Panza said flights are as low as $750 from LAX right now, with no change fees to worry about. There also are four-night packages available from $1,948 USD that include your stay in a four or five-star oceanfront room or overwater bungalow, breakfast and dinner each day, and all your transfers. You arrive Saturday morning and leave Wednesday night, so you actually end up with five full days in the destination.
Flights leave LAX at night and arrive in Tahiti at 5 a.m., so travellers have the full day to enjoy themselves and fly into Los Angeles during the day from several Canadian cities. Likewise, flights leave Papeete at night and arrive in L.A. early the next day, allowing passengers to get connecting flights home.
Nathalie Tanious, chief operating officer at TravelBrands, said Tahiti "has done everything right" to make things safe for visitors and offers beautiful beaches, top-notch gastronomy and more.
It's a top spot for romance travel, and also very popular for honeymoons and destination weddings.
If you care to splurge, the Four Seasons Resort Bora Bora is the most beautiful resort I've ever stayed at, with amazing overwater bungalows, stellar views out over the lagoon to Mount Otemanu, a wonderful spa, luscious grounds, a couple marvelous beaches, and terrific food.
Click here for our story on the Four Seasons Resort Bora Bora.
About the Author