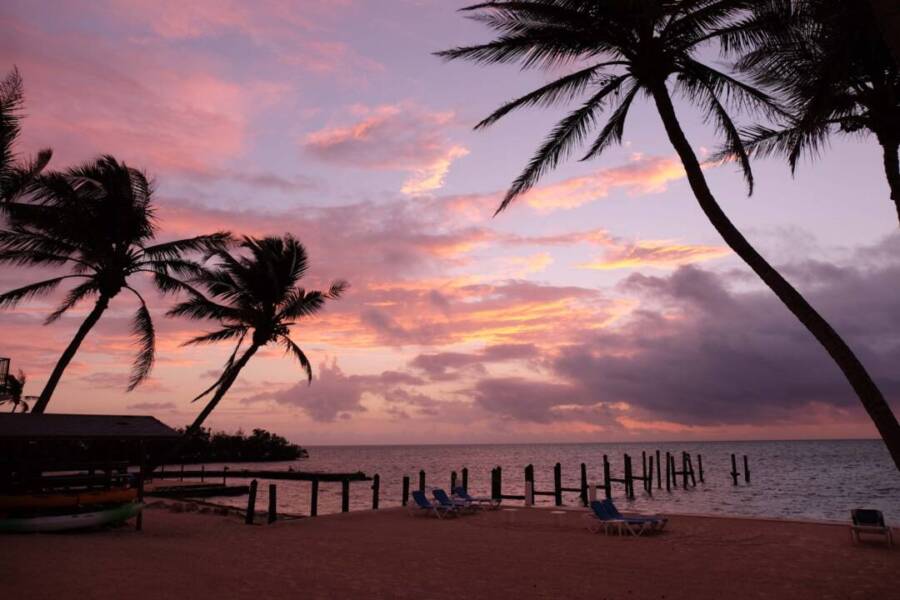 Health and Safety Top of Mind as Florida Keys Embrace the Start of Winter
December 21, 2020 Admin
Winter may bring snowy or freezing weather to many locations, but the 125-mile-long Florida Keys island chain ushers in subtropical warmth and a variety of outdoor and cultural activities for visitors.
Keys resorts continue to undergo rebranding, renovations and expansions, adding suites for families that allow social distancing while reconnecting with loved ones.
In Key West, masks are mandated everywhere outside of a lodging establishment or residence. Throughout all other areas of the Keys, everyone must carry a facial covering for immediate use to be worn inside businesses and outdoors when 6 feet of social distancing is not possible. Masks may be removed for eating or drinking.
Visitor venues, attractions and resorts throughout the Keys have enhanced sanitization and safety measures. For comprehensive COVID-19 visitor guidelines, visit fla-keys.com.
Among what's new:

Keys Visitor Health Protection
A coronavirus-fighting robot is to begin patrolling Key West International Airport's interior spaces after hours beginning Tuesday, Dec. 15. The robot emits high-intensity ultraviolet UV-C wavelength light that kills harmful pathogens in the air and on surfaces. The ultraviolet disinfection robot, developed by UVD Robots, is designed to remove 99.9% of pathogens including coronavirus. Key West International Airport is among the first airports in the United States to acquire one of the sophisticated units that provides nonchemical disinfection, according to a manufacturer's representative.
The equipment's acquisition was motivated by a desire to augment the airport's other cleanliness and passenger protection practices to safeguard against coronavirus, said Richard Strickland, director of airports for the Keys' Monroe County.
The robot can move around the airport autonomously, while a human operator is to ensure people are away from spaces it will sanitize and monitors its progress via a smart tablet. The robot's autonomous operation is vital, since the light it emits during the active disinfection cycle is so intense it can only be used after hours when people are not present. For further safety, a sensor will shut the light down if a human presence is detected to protect people from UV-C exposure.
Officials said the robot can disinfect the entire airport's interior spaces in approximately 2.5 hours. Visit Key West International Airport at eyw.com.
Keys Accommodations
In Marathon, the 16-acre waterfront Faro Blanco Resort & Yacht Club, with 125 rooms and a 73-slip marina accommodating vessels up to 120 feet, has been acquired by EOS Investors LLC, which describes it as an "amenity-rich, destination resort." EOS also owns the nearby Isla Bella Beach Resort. Faro Blanco's amenities include the 199-seat Lighthouse Grill with expansive waterfront views, two swimming pools, bar, market, fitness center, on-site watersports and fishing charters, and more than 11,000 square feet of indoor and outdoor event space. The resort's on-site landmark Faro Blanco Lighthouse has guided guests by land and sea since the 1950s. Visit faroblancoresort.com or call 305-743-1234.
The historic Casa Marina Key West, A Waldorf Astoria Resort, celebrates its 100th anniversary on New Year's Eve as the final project of industrialist Henry M. Flagler, founder of the Florida Keys East Coast Railroad that stretched from the Florida mainland to Key West. Casa Marina opened on New Year's Eve 1920 as Key West's most glamorous resort . It was converted into U.S. Navy office headquarters from 1942-1946 and was commandeered by the U.S. military during the Cuban Missile Crisis in 1962. Notable guests have included Ernest Hemingway, Rita Hayworth and other famous Keys visitors. Today the landmark resort, beloved by locals and visitors, offers 311 rooms and suites, two private pools, a large private beach and the island's largest space for meetings and weddings with 11,000 square feet indoors and outdoors. Amenities include Spa al Mare; Flagler's Ballroom, serving daily breakfast; and the outdoor Sun Sun Beach Bar & Grill with lunch, dinner and "toes in the sand" dining options. Visit casamarinaresort.com or call 305-296-3535.
In Key West, the 219-room Kimpton Key West collection is adding its fourth and fifth Old Town boutique-style resorts. Ridley House (the former Cypress House Inn) at 601 Caroline St., ideal for honeymooners and VIPs, is to open Feb. 14. Ella's Cottages at 811 Simonton St., for groups and extended stays, opened Nov. 15. Recently unveiled are the 44-room Fitch Lodge, 1030 Eaton St.; the 45-unit Lighthouse Hotel, 902 Whitehead St.; and the 85-room Winslow's Bungalows, 725 Truman Ave., named after artist Winslow Homer and the collection's largest property with three pools. Each pet-friendly resort has continental breakfasts, complimentary bikes, hammocks and its own pool. Visit kimptonkeywest.com or call 877-219-4500.
The new boutique Capitana Key West — one of the closest properties on North Roosevelt Boulevard to downtown Duval Street and with a private beach fronting the Gulf of Mexico — is scheduled to open by early 2021 as an Opal Collection property. Seventy-five rooms, each with a balcony, include 64 units with Gulf views and 11 townhome-style cottages (offering grocery deliveries from Fausto's Food Palace). The 64 units include 3 suites with two bedrooms (one with bunks and one a king); 32 king rooms, some with wraparound Gulf-view balconies; and 29 queen rooms with kitchenettes. Four units are ADA-accessible. Amenities include a 24-hour fitness center, signature bicycles, lobby market shop and poolside cabanas (reservations required). It's at 2401 N. Roosevelt Blvd., previously the site of Banana Bay Resort & Marina. Visit thecapitanakeywest.com or call 305-292-6925.
Margaritaville Key West Resort & Marina is to be rebranded Jan. 4 as the 178-room Opal Key Resort & Marina as part of the Opal Collection Hotels & Resorts. A seamless transition is to unveil a resort known for offering its popular Key West experiences with a convenient, central location adjacent to Mallory Square at 245 Front St. The resort is home to a full-service 37-slip marina with watersports, outdoor and indoor dining options, waterside shops and live entertainment. Visit opalcollection.com or call 305-294-4000.
About the Author