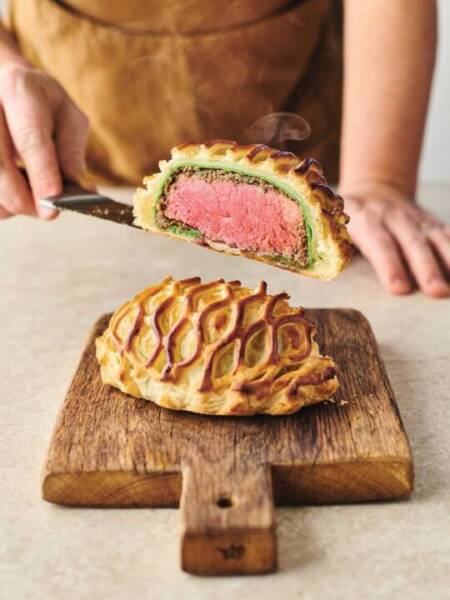 Travel & Food: Our CTN Recipe of the Day is Jamie Oliver's Beef Wellington For Two
January 14, 2021 Admin
We're not travelling much these days, but a lot of us seem to be cooking. And eating! With that in mind, we thought we'd inspire our readers with a dash of travel and cuisine combined. We present the first of our Canadian Travel News' recipes of the day, a series in which we'll regularly present international and Canadian recipes that give you a taste of this great world, and hopefully whet your appetite for future travel.
After all, food is a major part of why we travel, right? All you have to do is look at the number of "likes" people get for their photos of Pad Thai at a street market in Bangkok, or a perfect Salad Nicoise in the south of France to know the power of food and travel.
So, here we go with our first recipe. Today we feature British celebrity chef Jamie Oliver and his recipe for Beef Wellington. It's something many of us probably think is a complicated dish, but doesn't seem all that tricky.
Ingredients:
1 red onion
250 g mixed mushrooms
1 x 230 g higher-welfare steak filet (in case you're wondering, the Brits use the phrase to mean meat from animals who have been well cared-for)
olive oil
½ a bunch of thyme , (10g)
2 large free-range eggs
1 mug of plain flour, plus extra for dusting
100 g baby spinach
1 x 320 g sheet of all-butter puff pastry
Method:
Peel the onion and roughly chop with the mushrooms. Put a 30cm non-stick frying pan on a high heat. Season the steak with sea salt and plenty of black pepper and rub with 1 teaspoon of olive oil. Turning with tongs, sear the steak all over for 2 minutes in total, then remove to a plate. Return the pan to a medium heat with the onion and mushrooms. Strip in the thyme. Cook for 15 minutes, or until soft, stirring regularly. Blitz in a food processor until spreadable, season to perfection, and remove. Blitz 1 egg, the flour, spinach, a pinch of salt and 1 mug of water in the processor until smooth. Put your pan back on a medium heat, rub with oil, then pour in a thin layer of batter. Cook for 1 minute on each side without colour. Tip on to a plate to cool. Cover the leftover batter and chill for breakfast or brunch.
Preheat the oven to 220°C. Sit your pancake on a large sheet of clingfilm. Evenly spread over the mushroom pâté. Place the steak in the centre, then gather up the clingfilm and twist into a parcel. Sit the wrapped steak (clingfilm discarded) on the pastry, 2cm from one side. Eggwash all the pastry, then fold and mould the excess over the wrapped steak, leaving a pastry border around it. Trim to 2cm, pinch the edges to seal, eggwash, and decorate with the trimmings, if you like. Cook on the bottom of the oven for 25 minutes, or until the pastry is golden on top and crispy underneath, for blushing, juicy beef. Rest for 2 minutes, then serve.
Recipe courtesy of Visit Britain and Jamie Oliver
About the Author