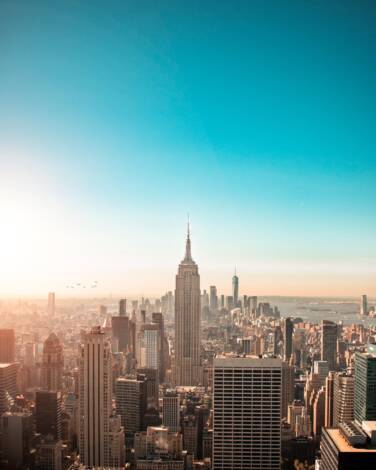 Jim Byers' Travel Blog: Will Biden and Harris Boost Canadian Visits to U.S.?
January 20, 2021 Admin
This may mark the renewal of a beautiful relationship.
The United States and Canada have been close allies for decades; brothers in North American arms if you like. Americans summer in Banff and Muskoka, while Canadians winter in Florida, California and Arizona. We have driven regularly across the border for what seems like centuries; enjoying each other's company, visiting relatives and friends, and cherishing a remarkable relationship.
Now, I'm a little biased here. I grew up in California and spent 25 years in the States before moving to Canada almost 40 years ago. I love what the U.S. represents, and I love spending time in the country of my birth. But I've grown weary of the turmoil and the vitriol, as have many of my fellow Canadians.
The U.S. that many Canadians grew up knowing and loving somehow slipped away in the past four years. Donald Trump was a very unpopular figure for most Canadians, many of whom swore off, at least in theory, trips to the United States.
But now Trump is a former president sitting at the side of a pool in Florida, and a good friend of Canada (on most topics, anyway) is behind the desk in the Oval Office. Will it make a difference? Absolutely. Canadians can't drive to the U.S. for the most part right now, and our prime minister is asking us to stay home. Canadians also worry about COVID-19 spikes in the U.S., and also in their home country. Now isn't the time to plan a holiday to the U.S.
But once the virus situation settles, and that could happen fairly soon, I suspect that a lot of Canadians who've been leery of trips to New York City or Miami or San Francisco will jump back in with both feet. With a president who uses Canadian-sounding words like "unity" and "generosity" and "greater good," and with a vice president who spent many of her formative years in Montreal, I'm confident Canadians will be more than willing to give the U.S. another shot quite soon.
We've got a great country here in Canada. I love it dearly. But there are a lot of things you can only find in the U.S., such as New York City museums and the latest Broadway shows, golden Hawaiian beaches, The Grand Canyon, Nashville's music scene, southwestern deserts and Hollywood. Canada has soccer and baseball and hockey and hoops, but we don't have the spring training home of the Blue Jays or the honky tonk bars of Austin.
So many mythical or iconic attractions can only be found in the U.S. If we want to get our kicks on Route 66, we need to drive an American highway between Santa Monica and Chicago. If we want to relive Huckleberry Finn, we need a trip on a Mississippi steamboat. If we want to ride cable cars that climb halfway to the stars, we need to head south to the City by the Bay.
The U.S. has always had amazing attractions that fascinate Canadians and other travellers from around the world. Now, with a new administration in charge, Uncle Sam is about to be seen in a new/old light again. And that can't help but be good news for U.S. travel and tourism.
Canadian Travel News would like to hear from you. Here's our question:
Will the inauguration of Joe Biden and Kamala Harris make you more likely to visit the United States? Drop us a line in our comments section, and check our poll on Twitter (@TravelNewsCA) and on Facebook (https://www.facebook.com/travelpulseCA).
About the Author