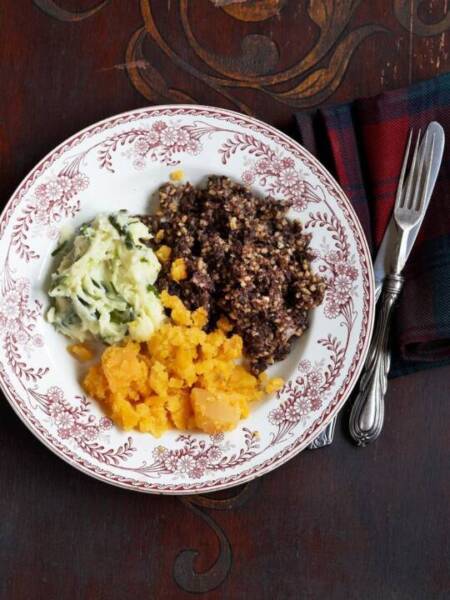 Our Recipe of the Day: Try Some Haggis For Robbie Burns Day (January 25)
January 22, 2021 Admin
Monday, January 25th marks Robbie Burns Day, marking the 262nd anniversary of the birth of Scotland's most famous poet. Burns Night usually features a slew of great Scottish food, including haggis, cock-a-leekie soup and, naturally, a great glass of Scotch to top it all off.
Here's a haggis recipe from the folks at Visit Scotland.
INGREDIENTS
12 fresh quail's eggs
250g minced pork
250g Three Bird haggis
Freshly milled black pepper, to taste
5g chopped parsley
2g dried sage
4 large eggs
1l vegetable oil, for frying
80ml milk
80g plain flour
200g panko breadcrumbs
Maldon sea salt, to taste
INSTRUCTIONS
1. Bring the quail's eggs to the boil in enough salted cold water just to cover and simmer for 1 minute. Remove from the heat and stand for 1 minute, then cool in cold running water for 10 minutes. Gently peel and reserve in the fridge to firm up (you will probably loose two when peeling hence start with a pack of 12).
2. Crumble the Three Bird haggis and mix with the pork mince, parsley, sage and seasoning, then divide into 10 equal 50g balls.
3. Moisten your hands in cold water, take one ball of haggis mix and flatten in the palm of your hand, then place a quails egg in the middle and bring the haggis mix around to fully encase the egg. Roll gently and repeat a further nine times.
4. Chill the haggis balls.
5. Break the eggs into a bowl and whisk, add the milk and mix. Place the flour in a tray and season. Place the panko breadcrumbs in another tray.
6. First roll the haggis balls in flour and dust off the excess. Next dip in egg wash and drain excess, finally rolling in the breadcrumbs. To ensure a good coating repeat the egg wash and breadcrumbs for a second time, roll gently.
7. Reserve in fridge.
8. To serve, heat a deep frying pan to 180˚C and the oven to 180˚C.
9. Gently cook the Scotch eggs until golden brown and finish in the oven for 4 – 6 minutes.
About the Author