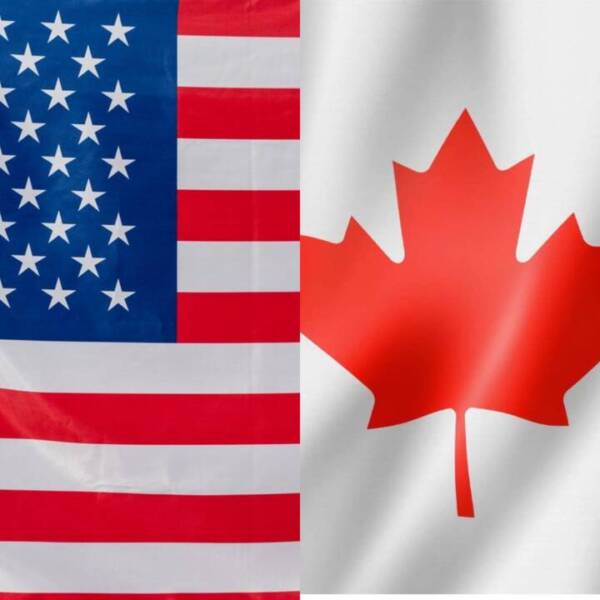 Jim Byers' Blog: Is The Canada-U.S. Border About To Be Closed For Air Travel?
January 23, 2021 Admin
The border between Canada and the U.S. was closed to non-essential traffic almost a year ago. But a steady stream of flights have continued between the two countries, an anomaly that even a veteran travel and political writer like me had trouble explaining to people.
The U.S., it seems, had a clause in the "contract" between the two neighbouring countries that said the limited closure was for land and sea, but that airlines could continue flying. It was a strange ruling, but it did allow airlines to get a little more business and for families and friends to see one another more easily, assuming they could get past immigration and obey whatever quarantine or COVID-testing rules were in place in the place they were flying to.
Now, however, it looks like air travel between the two countries could get at least partially shut down.
Following Prime Minister Justin Trudeau's Friday talk about tougher measures for travellers and warnings of new rules coming any day, Canadian Public Safety Minister Bill Blair on Friday said Canada has been talking with the Biden administration in the U.S. about closing "loopholes" in the border agreement.
"A loophole, frankly, does exist because the Americans previously had not placed any restriction on international flights coming into the US," Blair said at a press conference. "That concerns us because that restriction is at our land border but not at air travel."
"We are looking at a number of measures that can include further restrictions on international travel, additional tracing measures, additional quarantine measures and enforcement measures in order to de-incentivize and discourage people from making unnecessary trips," Blair said.
Trudeau on Friday asked Canadians not to fly south for March Break, or even travel around the country. He said Canadians need to "hunker down" until spring, when more vaccines are due to arrive.
Trudeau on Friday also warned that tough new measures, perhaps including mandatory 14-day quarantines at designated hotels, likely at the cost of the traveller, could be instituted for people flying to Canada.
The Prime Minister said again that rules could change at any minute and that Canadians who leave the country risk getting stranded if they travel now.
Trudeau suggested new travel restrictions could be announced in the next few days.
Quebec Premier Francoise Legault has been putting a lot of pressure on Trudeau to further lock down the borders, and the PM seems to be listening. Trudeau talked again on Friday about the dangers of the new variant of COVID-19 that's making the rounds.
It's not the best of news for the already besieged airline industry. If Trudeau were to further clamp down by closing off trans-border routes, you'd have to think his government would be forced to finally step in with sector-specific financial help for Canadian airlines.
Even then, it's going to be a few tough months before things start to get better. I've been trying to stay positive, but Canada's vaccines from Pfizer are being significantly reduced. And now there's word that AstraZeneca vaccines for the European Union will have to be cut by 60% for the first quarter of this year, which pushes back the likelihood of any sizeable increase in travel within or to Europe.
President Joe Biden has said the U.S. will start requiring negative COVID-19 tests for people flying to the States, just like Canada now does. He also said this week that he wants all visitors to the U.S. to quarantine for a minimum number of days. The precise amount of required quarantine time is expected to be announced in another 10 days or so, but even a relatively short one will discourage travel to the U.S.
Things will get better in spring, I think. But likely not until April, May or even June at the rate we're going now.
Then again, look on the bright side. I've got (very brave and perhaps foolish) daffodil shoots popping up out of my garden in Toronto, and spring in the northern hemisphere officially begins on March 20.
About the Author