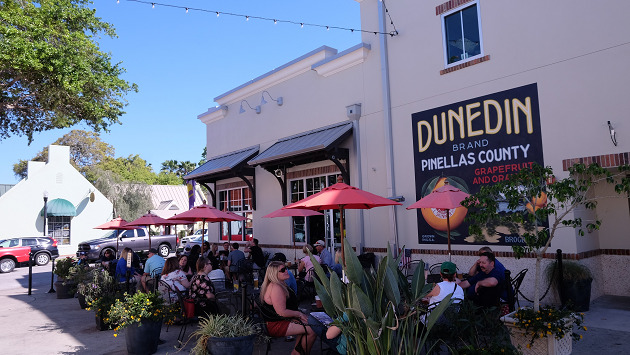 Blue Jays To Start Regular Season in Dunedin, Florida: Here Are Great Things to See & Do
February 18, 2021 Admin
The Blue Jays announced today that, due to ongoing issues with travel restrictions in Canada, they'll start their 2021 regular season in Florida.
The Jays have played their spring training games in Dunedin, Florida for more than 40 years, and last year they opened a newly renovated and enlarged TD Ballpark in downtown Dunedin. It's a glorious park that should suit them well until they can make their way back to Toronto.
I'm told that they'll be allowing 15% of normal capacity at spring training games, which start in Dunedin on Monday, March 1.
I've been going to Dunedin for almost 30 years now, and it's maybe my favourite city in Florida. Here's a story I wrote about it a couple years ago.
It was the spring of 1993. I don't remember the weather in Toronto. I only remember that I was heading down to a town called Dunedin in Florida to cover the Blue Jays in their spring training games for the Toronto Star, where I was one of a trio of baseball beat writers.
I've always had a strong liking to warm weather, palm trees and casual, walkable cities. I picked up a rental car at the Tampa Airport in March of 1993 and drove over the Courtney Campbell Causeway, rock and roll tunes ringing from the car speakers and the windows all the way down to soak in the views of Tampa Bay.
After a relatively short drive I found myself in an adorable, small town with a vibrant Main Street, cute shops and pretty harbour on the Intracoastal Waterway, with brilliant white sailboats under a warm, blue sky.
I fell in love. I took long walks on Victoria Drive, a partly dirt and partly paved (I remember more dirt than asphalt back in 1993) road with romantic homes featuring wide lawns and big front porches overlooking the water. I dined at a funky spot in town called Kelly's and ate tacos at Casa Tina. I took regular trips out to Honeymoon Island to admire the beach, or occasionally over to Clearwater Beach.
I've been back, oh, I don't know, 15 or 20 times since then. I love seeing the Jays play on a sunny spring day. I love the food. I love the people. And I adore a town that has become my favourite one in the state of Florida, no offence to other great communities I love in the Sunshine State.
I was lucky enough to be back for a couple days in January of this year, where I stayed two nights at the sleek Fenway Hotel and also took in some new and already well-loved sights.
I took one of the Fenway Hotels' bikes out one day so I could admire those Victoria Drive homes, which I often dream about buying. I snapped a few photos of high-back, wooden chairs (we call them Muskoka chairs in Ontario, but many folks use Adirondack Chairs to describe them) in the shade of slim, towering palm trees a few from the water's edge and watched other bike riders meander along the road.
The next day the Visit St. Pete/Clearwater folks hooked me up with an electric bike from the folks at Pedego, who have a shop just a couple feet from the Pinellas Trail in the heart of downtown Dunedin, which seems to stretch out a little further each time I go but still has a ton of charm; colourful buildings, casual surf shops, galleries, antique stores and fun restaurants. Kelly's, a long-time favourite, now has a lovely patio out back under the shade of massive trees.
The Chic a Boom Room next door is a fun bar that often features Drag Queen Bingo, a wildly entertaining evening out that always draws a crowd. Maybe not something you expect from a town founded by Scottish settlers, where you'll often find bagpipers whirling a tune at the downtown bandstand, but that's another reason I love this place.
The Pedego bikes can go up to 30 km/hour, but I tried a combination of cycling and motoring to at least get a little (okay, hardly any) exercise. I explored some fun neighborhoods along the water that I'd never wandered into before and discovered a beautiful, sandy beach on a small key that's maybe 150 meters off shore. When I was there a group of kayakers were heading out for a picnic, and how great an idea is that?
I took the Pinellas Trail north from downtown to Honeymoon Island, where you'll find a busy beach and kayak and canoe rentals, as well as stand-up paddleboards and Sea-Doo's for rent. It's only a couple miles from the mainland to Honeymoon Island State Park, where you'll find a series of fantastic nature trails that wind through forests of palmettos, live oaks and cypress trees. I spotted a couple bald eagles' nests and watched a couple of Ospreys having a morning chat with one another in another nest.
The trails get progressively quieter as you make your way west towards a lonely beach that looks out toward the town of Tarpon Springs, famous for its sponge diving. If you're looking for solitude and great kayaking or paddle-boarding, this is your spot.
Another great activity is to take a quick pontoon boat ride over to Caladesi Island, often rated one of the best beaches in the United States. It's been super-quiet every time I've gone (probably five or six times by now), and there are tremendous opportunities for shell seekers. They also have interpretive trails that explain the flora and fauna of the area, which I love checking out.
I finished by electric bike tour with a visit to Dunedin Brewery, where creator Michael Norman Bryant filled me in on the brewery's history and his experiments making orange wine as a youngster in Kentucky.
"My mom had an old recipe book and I wanted to make some kind of alcohol. I thought it might impress the ladies. But I couldn't ask her to buy me the ingredients, so I used what we had at the house; basically oranges, sugar and yeast."
He later tried making wine from grapes and then moved to Dunedin, where he started making his own beer. I didn't dine here on this visit, but I ate dinner at the brewery with my wife a couple years ago and had a fine meal. They also have live music and a nice patio out front.
I've almost always dined on Main Street when I'm in town. This time, a friend took me to The Restorative, a small place on Patricia Ave., a few blocks east of downtown. The restaurant is in a small strip mall across from a bowling alley, so it doesn't quite have off-the-charts curb appeal. But the food was outrageously good.
Owners Jason Borajkiewicz and his wife, Erin "Cricket" Plunkett, serve meals only from 4 to 9 p.m. Monday to Friday. They have a website and they'll answer emails. But there's no phone, and they don't take reservations.
"Not even for my grandma," Borajkiewicz tells me with a smile.
The menu changes constantly, and most items only last a week or maybe 10 days before they swap it out for something fresh.
I had hoped to try the lamb ribs that were on the printed menu, having never heard of lamb ribs as a dining option. But, true to the owner's word, they only have enough for a few meals and someone who arrived for an early dinner has snapped up the last portion.
I quickly forget about what I'm missing as I devour a series of sensational dishes; ginger-garlic meatballs, wonderful, house-made pasta with seafood, a great salad tossed with a warm egg yolk and absolutely tremendous, perfectly cooked scallops with mushrooms charred cauliflower.
It's a small room with a few scattered prints on the wall and a little area at the back where you can relax if they don't have a table ready yet. But you don't come here for the décor, you come for the food. And it's outstanding.
I don't have room for dessert, but I notice that one of the offerings in early January is Norwegian Christmas bread, something that struck the fancy of Borajkiewicz one day.
I think I'm safe in saying that The Restorative might be the only restaurant in the world with ginger-garlic meatballs and Norwegian Christmas bread on the same menu. Yet another reason why I love this town.
About the Author