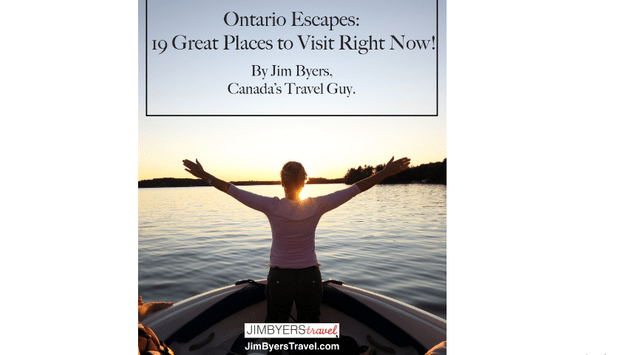 "Canada's Travel Guy" Jim Byers Releases First e-book on Ontario Travel
July 21, 2020 Marsha Mowers
Canadian Travel News is excited to announce that our co-founder and celebrated travel journalist Jim Byers has published an e-book that looks at wonderful places to explore in Ontario.
"Ontario Escapes: 19 Great Places to Visit Right Now," focuses on the natural, quiet places to explore across the province as Ontario recovers from COVID-19.
Readers will find colourful, engaging locals in towns like MIllbrook, Rossport, Baysville, and Erieau, as well as a winery called The Frisky Beaver and a garden near Peterborough that's filled with hand-carved Zimbabwean stone art. He also has stories from a good deal of this vast province, including Grand Bend, Gananoque, Thunder Bay, Killlarney, Toronto, Prince Edward County, Port Dover, Peterborough and the Kawarthas, Grey County, Niagara Falls, Muskoka, Ottawa and more.
"Having been a travel writer for many years, I wanted to stick to mostly quiet places that are full of nature with a focus on great hiking, kayaking, waterfalls and other outdoor activities," explained Byers. "I've also included some great food places and attraction such as the Buxton Settlement, a vital part of Ontario's Black History."
The book is available from Apple Books for just $4.99.
About the Author
Marsha Mowers made the move to editorial side of travel after many years working in destination marketing where she represented places such as NYC and Las Vegas. Her experience on "both sides" of the industry has put her in a unique position to provide valuable context to both readers and trade partners. Marsha also serves as Director of Content for TravelPulse Canada
2 responses to ""Canada's Travel Guy" Jim Byers Releases First e-book on Ontario Travel"