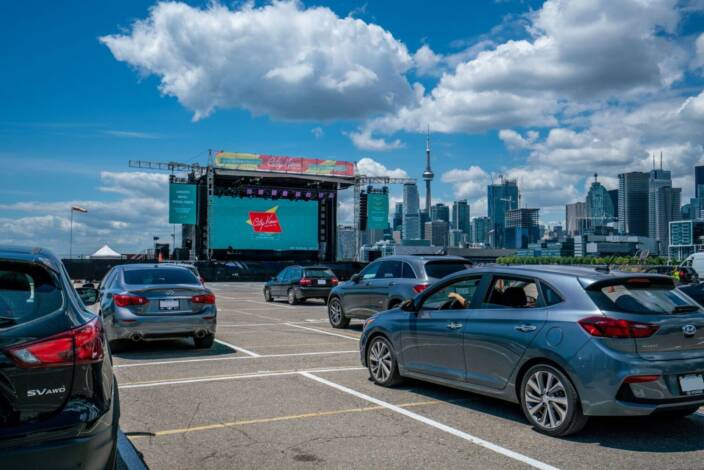 Five Drive-In Experiences You Can Try in Toronto
License up to date? Check. Backseat clean (or cleanish)? Check. Favourite snacks on hand? Check. Buckle up for Toronto's eclectic drive-in scene. Beyond traditional drive-in cinemas, local attractions and venues have innovatively adapted to our current climate and gifted us with never-before-seen experiences. Cruise through a simulated safari, an international film festival and even iconic artwork
IMMERSIVE VAN GOGH
At this internationally-acclaimed exhibit, Van Gogh's post-impressionist masterpieces are projected from ceiling to floor, while also animated by mesmerizing movement. From the comfort of your car, entrench yourself in stunning projections that emphasize the artist's technique and use of colour. Each vehicle timed-ticket purchase includes free walk-through tickets. Plan your visit ahead of time as space is limited.
TAKE IN A SHOW
If you're a concert lover who's nostalgic for the downtown live music scene, you can now transform your car into a soulful venue with live performances from Canadian rock bands. Upcoming shows include Big Wreck, The Sheepdogs, Sam Roberts Band and more.  Located at Ontario Place's Lot 2, purchase your tickets online, with options to pre-order eats that are delivered right to your car.
NAVIGATE THE SERENGETI
Since you won't be able to fly to Africa anytime soon, head to the Toronto Zoo and experience their drive-through Scenic Safari instead. Keep your eyes peeled for exotic animals from the world's ecosystems including the Serengeti, the Americas, the Tundra and Eurasia. Don't forget to adjust your radio for commentary regarding each geographic area. This tour is 90 minutes long and washrooms are accessible prior to its start. Tickets are sold online only.
TIFF 2020
The Toronto International Film Festival (TIFF) is back for another year with 50 new feature films, including all the glitz and glam that we love—but from a safe distance! With added health precautions in place, films are being screened at both physical and drive-in locations. TIFF 2020's drive-in venues include Ontario Place and CityView Drive-In. You'll receive your assigned parking spot upon the purchase of your online ticket. This year's critically-acclaimed films include Ammonite, Bruised, Fauna, Concrete Cowboy and others. Check out TIFF 2020's schedule for showtimes.
TORONTO SHINES
Toronto Shines is the whole package with live entertainment (concerts, comedy, drag shows) and movies, all in one night. Sit back and enjoy witty comedians, live musicians and fabulous queens do their thing prior to your feature film. Located at Ontario Place, this event is family-friendly and inclusive, featuring blockbuster films that everybody loves. Tickets are sold online and food trucks are available on premises, with eats delivered right to your car.
About the Author