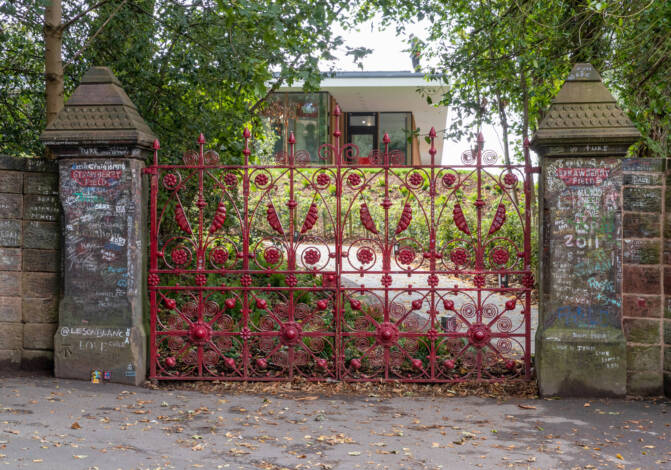 Yeah, Yeah, Yeah: Strawberry Field Attraction Re-Opens in Liverpool
September 17, 2020 Admin
One of the coolest sights in England is open again for visitors.
Strawberry Field, which was made famous by John Lennon in the Beatle's classic song "Strawberry Fields Forever," is not only open again for has cut ticket prices by 45%. Entry is now just seven British pounds, or about $12 CAD. Those under 16 go in free with a paying adult, so you can take that budding Beatles fan along for no charge. This offer is available until the end of September.
Tickets must be booked in advance via their website, www.strawberryfieldliverpool.com and tables in the cafe booked by calling 07407088968.
"While we are excited to welcome visitors back, we have made some changes so that we can all remain safe during your visit," officials said. ."To limit and monitor the number of visitors we have established pre-booked entry time slots; you must book a ticket and a timeslot in advance of your visit."
Each visitor will enter into a world where 'nothing is real' plunging into the 1860's era where Strawberry Field began as a Victorian house, before it transformed into a safe place where The Salvation Army supported and homed some of Liverpool's vulnerable youth. Visitors can then experience through archival footage, photographs and timelines and our specialist media guides the world where John Lennon played as a child and what happened behind the famous red gates. 
The Media Guide tour continues into the gardens where John played, providing inspirational thoughts and music for peace, love and self-exploration. The exhibition and garden tour contains over 4.5 hours of meaningful and inspiring content, however they expect most visitors will spend around 1.5 hours on their first visit.
Strawberry Field wasn't open when I visited Liverpool a few years ago, but I did get to take a photo of the famous sign and the red gates. I also spent a couple nights at the famous Cavern Club, toured the childhood homes of John and Paul McCartney on a "Magical Myster Tour" bus, took photos of the famous "Penny Lane" sign, and visited the terrific Beatles Story museum on the city's beautiful waterfront.
A Beatles tour is especially relevant now as John Lennon's 80th birthday would be October 9, 2020.
You can visit their website for more information on their health and safety measures and to book your tickets: https://www.strawberryfieldliverpool.com/tickets
About the Author