Hunte's Gardens: A Luscious Slice of Barbados
September 20, 2020 Jim Byers
Sometimes the beauty of a place separates it from the competition. Sometimes it's the food. For me, what makes Barbados particularly special is an eccentric gentleman of a certain age who runs a garden high in the hills.
On my first visit to this Caribbean island, I'd wanted to check out some gardens I'd read about. I visited Orchid World, Andromeda Gardens and more. But I fell in love with Hunte's Gardens, a lovingly arranged spot in the hills of St. Joseph's Parish, west of Bathsheba.
The owner, Anthony Hunte, was busy setting up for a wedding so I helped him move some chairs around on a lawn that's set deep in a thickly shaded ravine filled with glorious birds of paradise, brilliant pink-red ginger and other ravenously beautiful flowers.
After wandering around for a while and admiring his Buddha statues and intimate pathways, Hunte invited me to his home, which is filled with furniture he's gathered from around the world and has several rooms open to the elements, giving the place a kind of Swiss Family Robinson meets antique store feel. He poured me a glass of homemade lemonade and we chatted about gardens and family and life.
Fast forward to a few months ago. I hadn't had a chance to visit Hunte's Gardens on a four-day trip, but pulled up to his front gate on my final day on the island.
I wandered inside and saw Hunte chatting with a couple of young girls. After they were finished, I walked up and said hi.
"You wouldn't remember me, but my name is Jim. I was here writing a travel story a few years ago."
Hunte is probably in his 70's by now. He looked at me and smiled.
"You work in Toronto," he said. "You came here and helped me set up chairs for a wedding. Then we had a glass of lemonade."

I was overwhelmed. And more than a little chuffed, as the might say.
After he showed me his garden improvements, including a dramatically exposed old quarry wall dripping with vines, we again repaired to his treehouse-like family room and sipped his homemade lemonade, this time adding in a sip or three of local rum that was bottled in his honour.
It's hard to beat that kind of travel experience. But I've found Barbados to be an absolutely marvellous destination, with beautiful beaches and silky aquamarine water, rugged caves you can explore on foot, wonderful food, family friendly resorts and a couple of world-beating golf courses.
My trip had started at The Crane Resort, in the southeast corner of the island near the airport. It's got class to spare and a wonderful beach for swimming and body-surfing, as well as one of the Caribbean's prettiest swimming pool complexes; a multi-tiered affair that spills down the side of a gentle hill. There's a great variety of units, and there's a variety of restaurants.
You're also a short walk from a fantastic sandwich place called Cutter's, where they make a mean flying fish sandwich and also are known for an award-winning rum punch that will knock your Bermuda shorts off. No less an authority than Jimmy Page of Led Zeppelin has been spotted here, as well as Mick Jagger and other celebs.
About the Author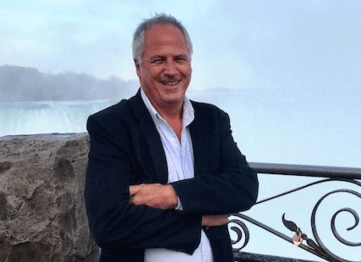 Jim Byers was travel editor for five years at the Toronto Star, which has the largest travel section in North America. "Canada's Travel Guy" is a sought-after expert in the industry and has recently published his first e-book "Ontario Escapes, 19: Places to Visit Right Now."  Jim also serves as Senior Editorial Director for TravelPulse Canada.
2 responses to "Hunte's Gardens: A Luscious Slice of Barbados"