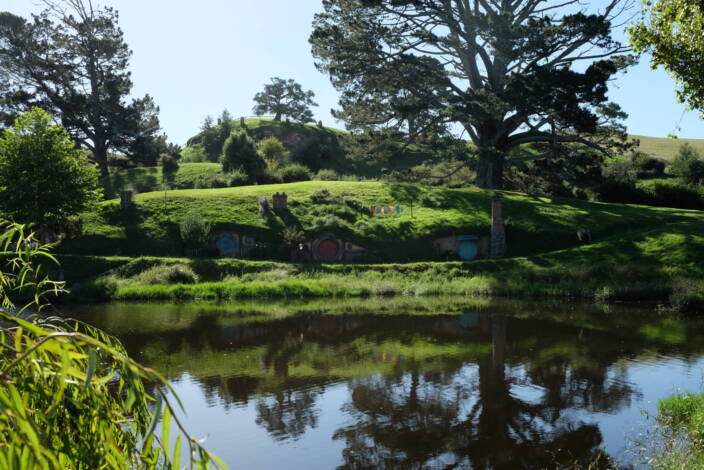 It's Hobbit Day! A Look Back at a Wonderful Tour of the Movie Set in New Zealand
September 22, 2020 Jim Byers
This is a post from 2016. New Zealand is currently not open for most foreign visitors.
NEAR MATAMATA, NEW ZEALAND – Magic. Sheer magic.
Even if you don't know Frodo from Bilbo or Gandalf from George Clooney (they do bear a certain resemblance if you think about it), a visit to the Hobbiton Movie Set in the middle of New Zealand's North Island is a great experience; with fantastic gardens and fascinating glimpses into how movies are made.
On the other hand, if you're a lifelong fan of The Hobbit and The Lord of the Rings like I am and cried when the final Hobbit movie was over because it's the end of the Peter Jackson-produced series, this place is utterly sensational. The fact I arrived on a picture perfect, 26 degree Celsius day in March was a bonus.
I was a bit surprised as I rolled into the nearby town of Matamata. Given the iconic status of the movies, I was expecting a giant gold ring at the side of the road, or maybe some wood elf statues. Instead, there wasn't even a "Welcome to Middle Earth" or "Frodo Lives Here" sign in sight.
I drove several minutes past Matamata, following the signs, and finally started winding my way into an area called Hinuera, with green hills the colour of Ireland or my native northern California in winter and spring. It's the sort of bucolic setting that director Jackson was obviously looking for.
You park your car and buy your ticket, then wait for the next hourly tour bus. It's a short but pretty ride over a series of hills and dales dotted with hundreds of woolly, white sheep, with deep valleys twisting here and there and distant purple-brown hills scattered in the distance. I find it an entrancing landscape, much like the East Bay Area hills I played in as a kid. "It's like a new version of home," I said to myself as I drove my way south from Auckland to Matamata.
The tour is a couple hours long (and costs about $72 Cdn; half that price for kids 9-16 and free for those 8 and under) and includes a wonderful, informative tour that explains how Hollywood weaves its movie magic. You quickly find yourself surrounded by small, colourful hobbit holes with bright doors painted in shades of mauve, pumpkin-orange and faded red. In fact, they doors were doused with vinegar to make them look old and well-used. Similarly, they wanted the fences around the yards to look old, so doused them with thick yogurt and oats and other bits so they'd droop down and resemble growths of moss or lichen.
Our guide also talked about how youngsters and little people were used in various scenes and how the movie producers kept many of the older actors happy with plenty of local beer, only to find they had to brew a new, low-alcohol version to keep the actors sober. We also found out how one tree above Bilbo's house had been augmented with tens of thousands of fake leaves. Another tree, a plum tree, was festooned with fake leaves of its own but never used in the movie.
A nearby pond was built to look like a natural part of the landscape. It was too natural, in fact, as a group of frogs moved in. That's nice, but the critters were so busy croaking or expressing love for one another that the actors couldn't hear themselves, forcing Jackson and company to haul the frogs off to a new home.
The tour takes you past luscious, real vegetable gardens used in the movie, and the guides can point out scenes from the various movies. You can only go into one of the hobbit holes, and even then perhaps a foot or two. Still, it's cool to see how they made it work and to see the level of detail around the various homes, such as jars of honey outside the beekeeper's home and such.
The views from the top of the hill, near the area called Bag End, are lovely; with ponds and tall trees and green hills everywhere you look. You also get a nice view of the Green Dragon Pub, used in exterior shots in the Lord of the Rings. There are 44 hobbit holes in the "park" in total, and you also can see the famous "Party Tree" where Bilbo's 111th birthday party was held and famous fireworks set off.
At the end of the tour, you'll get a chance to local a small cup of beer at the pub, which features a fireplace and looks a lot like the pub in the movie, where Frodo and Sam first meet Strider the Ranger. The beer is included in the admission price. They also have hobbit clothes you can try on for photos, although I somehow missed that part. Still, I had more than a few photos taken of myself and that I was grinning like an idiot the whole time.
The only drawback I found was that I had arrived at mid-day, and by the time we got to Hobbiton the sun was fairly bright behind Bag End, the famous area of Hobbiton where Bilbo lives. That made for tricky photos of Bilbo's place, which is probably best viewed in the morning. It was best filmed in the morning, too, our guide said. That's find, but many actors were forced to stay a couple of hours drive away, which made for some pretty long shooting hours and very early morning bus rides.
For the first movies, The Lord of the Rings trilogy, the owners told Jackson they wanted the set to be temporary. So it was all torn down. The movies became a HUGE hit, of course. For The Hobbit movies, the owners decided maybe they'd make the set permanent. Which is why you'll find 44 hobbit holes and a Green Dragon Inn and a windmill and ponds and hills and gardens all over this central New Zealand farm.
I had dinner with a New Zealand tourism official one night during my stay. She told me that when Jackson first spotted the area, he knew it was what he wanted; with the perfect trees and rolling hills and sense of isolation to represent Hobbiton. The story goes that he touched down in his private plane, asked around about who owned the place and knocked on the door of a family named Alexander. "Mr. Alexander told Jackson it was all well and good that he wanted to make a movie on the property, but that "I'm watching the All-Blacks (New Zealand's ultra-beloved rugby team) on the telly. Can you come back tomorrow?"
Jackson did. And the rest is movie, and New Zealand, history.
About the Author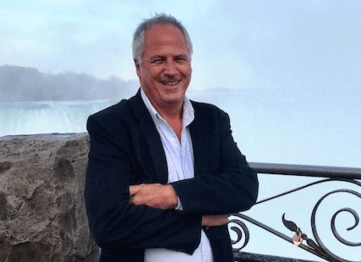 Jim Byers was travel editor for five years at the Toronto Star, which has the largest travel section in North America. "Canada's Travel Guy" is a sought-after expert in the industry and has recently published his first e-book "Ontario Escapes, 19: Places to Visit Right Now."  Jim also serves as Senior Editorial Director for TravelPulse Canada.