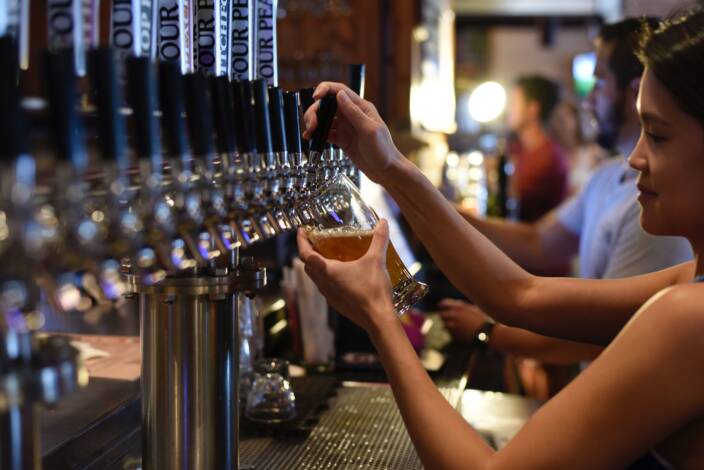 Canadian Beer Day: Here Are Some Great Craft Brewing Spots
October 7, 2020 Admin
Canadian Craft Beer is growing by leaps and hops, with micro-breweries popping up in small towns and big cities from coast-to-coast. They're almost all run by independent, stubborn beer lovers who are intent on transforming the way Canadians drink beer by stressing local and sometimes even quirky tastes versus generic, mass-produced suds. Here's a look at several cool craft beer places around the country.
REBELLION BREWING, REGINA
These guys put their mantra right in their name. "Saskatchewan might be the last holdout for the big national beer brands, so we call ourselves Rebellion," sales guy Paul Chicoine tells me on a summer visit. "We're rebelling against industrial beer." Rebellion is a very relaxed kind of place, where workers on sales calls often wear shorts and flip flops instead of coats or ties and where the music in the tasting room often features the likes of Johnny Cash.
CRAFT HEADS BREWING, WINDSOR
This is both a coffee spot and micro-brewery in downtown Windsor. I quite enjoyed their Feather Hat Guy IPA, named for a colorful local character often seen parading around downtown. It's got a nice, hoppy edge to it, but the brewmaster wisely took his foot off the accelerator before it got too bitter. When I visited, co-owner Bryan Datoc said it wasn't easy to wean conservative beer drinkers off the mass-produced stuff they're used to but that locals are beginning to embrace the craft beer scene and welcome a local product.
BLIND ENTHUSIASM, EDMONTON
Greg Zeschuk told me he got the name for his brewery because he didn't know much about the beer-making business prior to jumping in with both feet. He previously worked as a medical doctor and also in video game business, which admittedly isn't the average background for a brewmaster. Blind Enthusiasm shares the Ritchie Market with a great coffee shop called Transcend, as well as a bike shop and an established butcher. Zeschuk also operates a fine restaurant in the building called Biera.
STORM BREWING, VANCOUVER
This small spot on the industrial east side of town bills itself as the longest-running craft brewery in the city. It's a funky spot that has made a wide variety of quirky beers over the years, everything from a Vanilla Whiskey Stout to an Orange Creamsicle Ale.
GOOD ROBOT, HALIFAX
Folks wanting to see what's new outside of downtown should check out this fun brewery on Robie St. in the north end. "We make beer for misfits because we don't wanna grow up," a statement on their website reads. Among their beers is a Kentucky-style ale that they claim goes well with horses, bluegrass and hangovers.
LABROSSE BREWERY, MONTREAL
This was the first craft microbrewy to open on the West Island. Head guy Troy Olynyk used to work as a software engineer but was playing golf one day a few years ago and decided to try something new. The brewery is located in an industrial area of Pointe-Claire. Beers include a "Blonde, James Blonde" and a "Bitter Englishman Milk Chocolate ESB."
About the Author