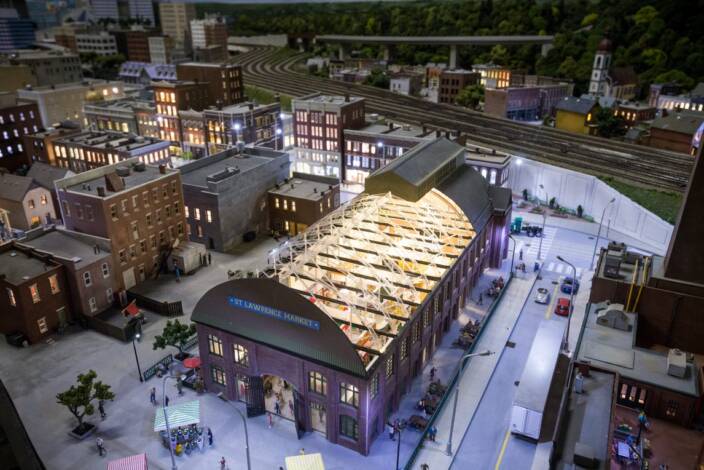 Canada in Miniature: "Little Canada" Attraction Coming to Toronto in 2021
October 25, 2020 Admin
Southern Ontario residents who can't or don't want to travel will soon be able to get a glimpse of Canada's glories in one spot.
Little Canada, which opens at Yonge and Dundas in downtown Toronto sometime next year, "will take guests on an immersive journey through Canada in miniature, offering them a rare opportunity to explore our beautiful country in just a few short hours."
"We are excited to bring an incredible and unique experience to Toronto," said Jean-Louis Brenninkmeijer from Little Canada. "We can't wait for our visitors to experience the magic of Little Canada first-hand, and the many great things this country has to offer in miniature form."
Little Canada is a vast, highly detailed and animated miniature world brought to life by 21st century technology. At launch, Little Canada will open with five destinations including Little Niagara, Little Toronto and Petit Quebec and a sixth, Little North, will be under construction. Guests will have the opportunity to see behind the scenes how Little Canada's Miniature Makers actually bring our little country to life.
Little Canada will continue to expand year-after-year by adding new destinations until the experience covers all of Canada, from coast-to-coast-to-coast.
"Our mission is to evoke a sense of wonder and curiosity about Canada. Little Canada is a celebration of Canada and all that makes this country so great, shrunk into a two-hour experience, a place for residents and visitors alike to experience Canada and all that it has to offer. All under one roof."
Of course, proper health and safety protocols will be in place when they open.
"As we prepare to welcome visitors to Little Canada next year, we are working hard to create a safe, memorable experience for everyone," said Brenninkmeijer. "The safety of our employees and guests will always be our top priority and we look forward to opening when the time is right."
For more information about Toronto's next big attraction, Little Canada, please visit https://www.little-canada.ca/.
You can also find Little Canada on Instagram, Twitter and Facebook.
About the Author