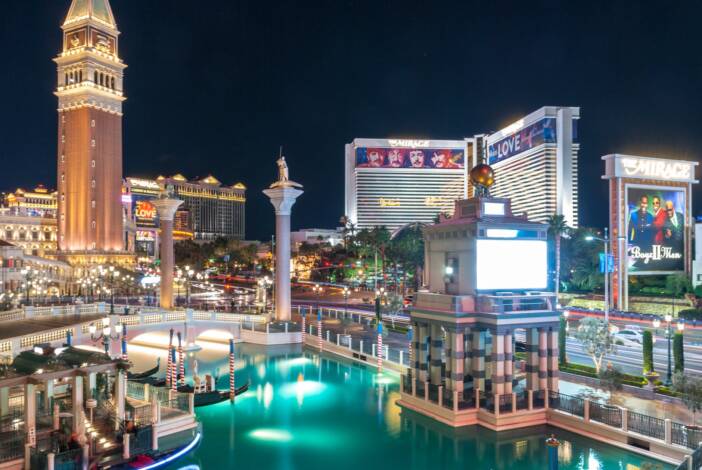 Pension Group Sees a Travel Recovery + Live Shows Back in Vegas: Jim Byers' Travel Blog
October 26, 2020 Admin

There's carnage everywhere you look in the travel and tourism industry.; empty hotels, idled airplanes, shuttered attractions. But Canada's national pension looks at things with a longer-term view, and they're encouraged.
"Hotels aren't over, cruises aren't over, flying's not over — these things are going to come back," Mark Machin, CEO of Canada Pension Plan Investment Board, said last Friday in an interview with Bloomberg. "So I'm supportive of teams if they find decent opportunities in those areas."
The country's largest pension fund, which has $434 billion in assets, hasn't made any investments in the sector since the pandemic hit but is "keenly looking at some things," Machin told Bloomberg.
"We've never bought an airline so I'm not suggesting we'd invest in airlines at this point," Machin said. But other firms are — Bain Capital LP rescued Virgin Australia Holdings Ltd. in a deal with creditors to restructure the business, which fell into administration in April.
That doesn't mean there aren't other opportunities. Machin said it's unlikely that travel and hospitality-related companies will see their business recover to pre-pandemic levels soon, even if pharmaceutical companies are successful in producing a COVID-19 vaccine next year. It will take a while for public confidence to grow, he said — but it will recover.
"I personally am a believer in us all being social beings," Machin said. "I don't think we're all going to be sitting isolated for the rest of our lives."
LIVE SHOWS BACK IN VEGAS
MGM Resorts is bringing live shows back to The Strip.
The company recently announced that live entertainment will return starting next month and that magician David Copperfield will kick things off.
"After eight months, it's time to bring entertainment back to the Entertainment Capital of the World," said George Kliavkoff, MGM Resorts' President of Entertainment and Sports. "While there is still a long road in our city's recovery, the reintroduction of these shows is an important first step. November 6 is going to feel very special as we welcome back team members and guests and bring the curtains up for that first time."
There has been no live entertainment in Las Vegas since March. The shows returning on Nov. 6 include Copperfield, Brad Garrett's Comedy Club hosted by the former 'Everybody Loves Raymond' star, Fantasy, comedian Carrot Top, Jabbawockeez, Thunder from Down Under and The Australian Bee Gees.
COSTA RICA REOPENING TO INTERNATIONAL TRAVELLERS
Beginning Monday, October 26, travellers entering Costa Rica by air will no longer need to present a negative RT-PCR test result. The measure was announced by Costa Rica's Minister of Tourism last week and comes less than a week before the country reopens its borders to all international travellers on Nov. 1. Supported by the Pan American Health Organization (PAHO), the government's decision is an effort to revive the country's tourism industry.
Beginning November 1st, only the following entry requirements are necessary. Note, international travellers should still check the country's visa requirements here.
● Fill out the electronic epidemiological HEALTH PASS form, available at https://salud.go.cr.
● Traveler's Medical Insurance – international policies or purchased in Costa Rica through the National Insurance Institute (INS – Instituto Nacional de Seguros) https://www.grupoins.com/seguroparaviajeros, or Sagicor https://www.sagicor.cr/seguro_para_turistas/.
About the Author