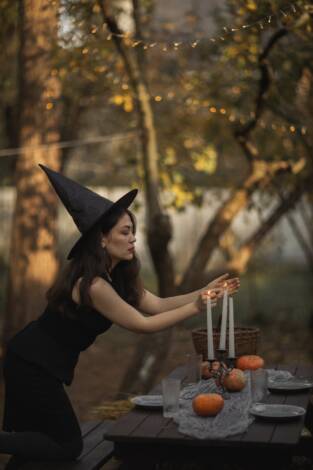 Love Halloween? You Can Thank The Irish
October 27, 2020 Admin
If your kids collect a solid haul of candy on Halloween, you can thank Ireland for starting the whole thing centuries ago.
We may think of Halloween as a modern-day event marked by plastic skeletons and jars filled with Smarties and Caramilk bars, but it's a tradition that dates back 3,000 years.
Speaking on a Tourism Ireland zoom call, Irish folklorist Billy Mac Fhloiin said
Halloween has its origins in the ancient festival of Samhain (pronounced Sow-in),, which was a time when the harvest was finished and the "light half of the year" turned to the "dark half."
"It's the end of the harvest, and it was a time when the harvest had been saved and people had plenty and there was grain and meat and ale  and the lighting of bonfires took place" to guard against fairies and evil spirits, he said.
There were no pumpkins in Ireland 3,000 years ago. Instead, locals carved turnips into ghoulish faces. Folks would go door-to-door in spooky costumes seeking nuts and apples instead of candy and chocolate.
It was also was considered acceptable to raise a little hell, and youngsters would toss cabbages at the front doors of grouchy neighbours.
Christians later declared All-Saints or All-Hallows Day for November 1st, which made the night before All-Hallows Eve, or Halloween.
The holiday is very popular in Ireland to this day, and the festival in Derry-Londonderry has been voted one of the best Halloween festivals in the world.
There's also a national Museum of Ireland in County Mayo where you can learn about Irish history and the origins of Halloween.
Chef Kevin Dundon talked about Ireland's famous barmbrack, a kind of fruit cake with prizes inside that signified good luck or an impending marriage or other events.
They also talked about how Bram Stoker, the famous author of Dracula, was an Irishman. One of his relatives, Dacre Metcalfe, hails from Montreal and talked about the Dracula legend and Bram Stoker's friendship with Oscar Wilde and other famous authors.
There's a Bram Stoker Festival in Dublin every year to celebrate "the gothic, the mysterious and the thrill of Halloween," officials said.
Alison Metcalfe, Executive Vice President USA and Canada at Tourism Ireland, said her country is ready to welcome Canadians and Americans when they can, with stringent safety and health rules in place.
"We know they'll be looking for opportunities to enjoy our wide-open spaces, our spectacular scenery, our rich culture and heritage and our great outdoor activities."
About the Author