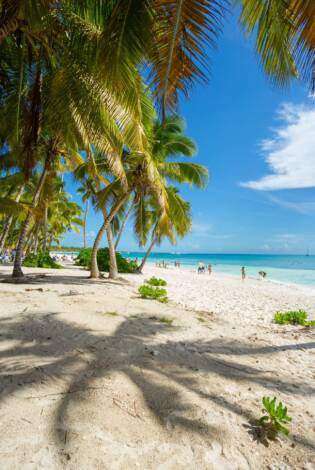 Jim Byers' Travel Blog: More Flights to the Sunny South + Calgary Rapid Tests Begin
November 2, 2020 Admin
Three Canadian airlines are stepping up their service to the sun.
Air Canada Rouge began flights today between Toronto and Cancun, marking the return of Air Canada Rouge to the skies.
Air Transat will begin flights to Holguin, Cuba from Toronto and Montreal TOMORROW (November 3).
Sunwing will be resuming partial flight service beginning this coming Friday, November 6.
They'll be offering departures from Toronto to Punta Cana in the Dominican Republic on Fridays and Sundays from November 6, from Toronto to Montego Bay in Jamaica on Saturdays from November 7, and from Toronto to Cancun in Mexico on Saturdays from November 7 and on Sundays from November 15.
They also will offer departures from Montreal to Punta Cana on Fridays from November 6, from Montreal to Montego Bay on Saturdays from November 7, and from Montreal to Cancun on Sundays from November 8 and on Fridays from November 20.
Travellers will be able to find the full winter schedule online at Sunwing.ca, which will continue to be updated as more gateways and destinations open up based on consumer demand.
As Canadians return to the tropics, they can travel with confidence with the Safe with Sunwing commitment in place. As the only travel provider that owns the airline that customers fly on, the transfer buses that travel to and from hotels, and over 30 hotels throughout the Caribbean, Central America, and Mexico, Sunwing can ensure that the highest Canadian health and safety standards in place throughout the entire vacation journey.
CALGARY AIRPORT RAPID TESTING BEGINS TODAY
In related news, rapid testing is slated to begin today at Calgary/YYC Airport.
International travellers arriving at the Calgary International Airport may now skip the required 14-day quarantine period and elect to take a test instead,
The program offers travellers the option to get a test and self-isolate for 24 to 48 hours while they await their results, CTV News said in a report. Once confirmed negative for the novel coronavirus, the traveller may leave self-isolation on the condition that they remain in Alberta for 14 days, get another COVID-19 test within the next six to seven days and complete daily symptom checks.
If successful, the pilot program will be given a try in larger airports in Canada.
Airlines and others in the travel and tourism business say there can't be a recovery for the industry until mandatory quarantines are eliminated for Canadians returning home and others coming to visit.
MAJOR REOPENINGS: MACHU PICCHU AND NYC'S ONE WORLD OBSERVATORY
One of the world's most iconic sites, the Inca citadel of Machu Picchu, reopened for visitors on the weekend after being closed off (except for one Japanese tourist who had been stranded in Peru and was allowed to go) since March. That's definitely good news.
Closer to home, One World Observatory, the acclaimed observation experience at the top of One World Trade Center in lower Manhattan, also re-opened to the public on the weekend.
They'll be open again on Saturday, Nov. 7 and will resume two-day weekend operators starting Saturday, Nov. 14.
The attraction will have adjusted hours of operation, from 11 a.m. to 7 p.m.
The views are spectacular.
AUSTRALIA OPENS FOR AUSTRALIANS
We Canadians can't go just yet, but Australia is opening its internal borders in time for the holiday season. That will at least allow, for example, Sydney residents to visit friends in Perth or Hobart, or residents of South Australia to head to New South Wales for a visit with friends or family.
MORE ON THE ASIA REBOUND
I wrote last week about how things were recovering pretty nicely in Asia and that it's a bit of a beacon of hope. Bloomberg filed a report a couple days ago with much the same message, but with a ton of details.
Here's part of their story:
The strategies pursued by South Korea, Vietnam, China and others do still seem to be paying off. While the total Covid-19 death toll is between 500-700 per million people in France, the U.K., Spain and the U.S., in China and South Korea it is below 10 per million. Cases are a less perfect measure, but there's a similar observable gap. Wuhan, once the epicenter of Covid-19, is welcoming tourists again.
South Korea tested early, and often, using walk-in centers and drive-throughs. In Wuhan, the authorities tested 11 million people over 2 weeks. The share of tests coming back positive in South Korea and Vietnam is below 1%; in France and Spain it has risen to 10%.
Bloomberg also ran a chart showing that there have been 688 deaths per million people in the U.S. In South Korea the number is just nine per million. Nine! In Japan it's been just 13.7 per million.
According to Statista.com, Canada has seen 272 deaths per million people. Which is a lot better than the U.S. but tragically high compared to Korea or Japan, both of which are democratic societies.
If you're hankering for a holiday, you might want to look to Asia.
About the Author