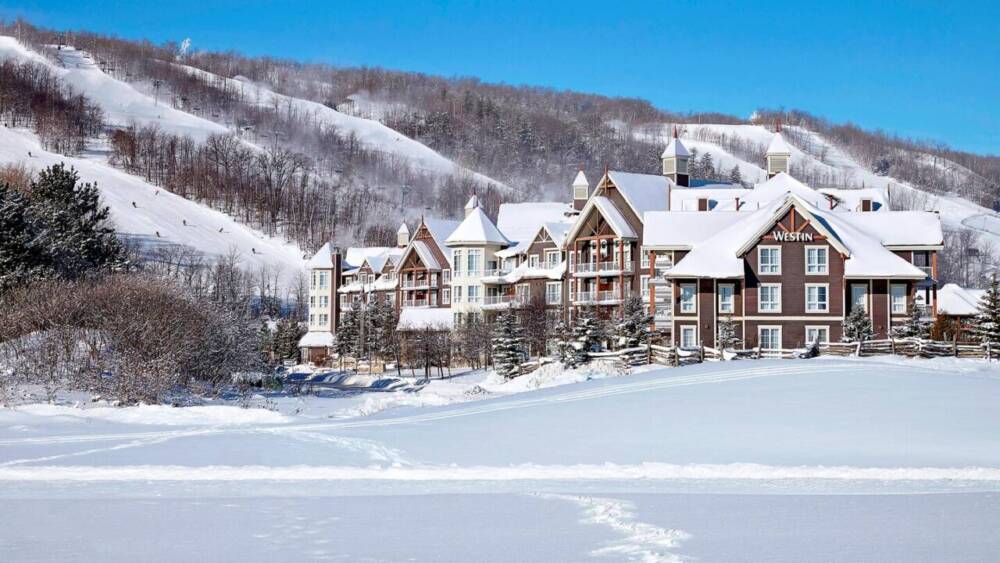 Blue Mountain and Grey County, Ontario: A Fine Winter Holiday Spot
November 22, 2020 Admin
A young ski instructor is giving an older, not overly experienced skier a lesson on the easy hills at Blue Mountain, one of Ontario's top ski hills and a great Canadian winter destination. But he wants to make sure I have my hands in the right position.
After a few runs on the beginner hill and the open, short run they call Graduate, we venture to the top of the hill and come down on a wide open, easy green run called Happy Valley. Part way down I start to slide a bit but then get my balance back. I snow plow my way to a gradual stop and pull up next to my instructor on the slopes.
"Nice recovery," he tells me, giving me a nice psychological lift. "That's important. Some skiers say skiing is nothing but a series of linked recoveries, so you're doing great."
It had only been a year since I'd been on skis, but it was only the second time in perhaps 10 years. So having a patient, funny and caring instructor made all the difference.
As much as I enjoy downhill skiing now and then, I also love the quieter side of the region. I began my Grey County trip with a visit to Walters Falls, a gorgeous waterfall north of Flesherton. I'd seen it in summer, but it's equally impressive in winter, with pure, white snow drifts piled on the rocks in the water below the falls like so many cotton balls, and the swirling water of the falls cascading over a high ridge of grey rock.
There's a beautiful old, wooden mill building on the edge of a pond near the top of the falls that looked wonderful in the snow; like a peaceful painting from a simpler time.
I also got in a brief snowshoeing walk around the vineyards at Coffin Ridge winery northeast of Owen Sound. The snow was crisp and perfect and the sky a gorgeous shade of robin's egg blue on a warm, spring-like day. I snapped some photos out among the vines and watched a group of women chat and sip wine on the patio, then ducked inside the bright, airy tasting room for a few sips of wine (most of their wines are made with local, estate-grown grapes) and a light charcuterie lunch. Some of the products at lunch are brought in from The Cheese Gallery in nearby Thornbury.
Shop owner Casey Thomson told me people laughed when she opened her shop in Thornbury seven years ago. It was a lot of work to get going, but the area is now a hotbed for foodies and a centre for Ontario's farm-to-table food movement.
I also spent part of an afternoon at the Scandinave Spa in Town of Blue Mountains. I'd been there in summer but it's even more enjoyable on a winter's day, with snow piled high around the trees and steam escaping from the pools. A warm pool is nice in summer, sure. In winter, though, the pull of the 40 degree soaking tub is that much stronger and the eucalyptus smell in the steam room that much sweeter and the woodsy air in the new infrared sauna that much more comforting.
At Oliver and Bonacini, located inside the fine Westin Trillium House at Blue Mountain Village, I had a lovely short rib that was flavourful and moist and tender as a spring morning. I also found time for a great lunch at Northwinds Brewhouse and Kitchen in nearby Collingwood, where they serve a very nice chicken shawarma sandwich and make fine beers, including their Route 26 American Brown Ale and a fine Rainmaker IPA. Also highly recommended is The Pottery restaurant in Blue Mountain Village, where I had a great Caesar Salad and some of the best risotto ever.
About the Author