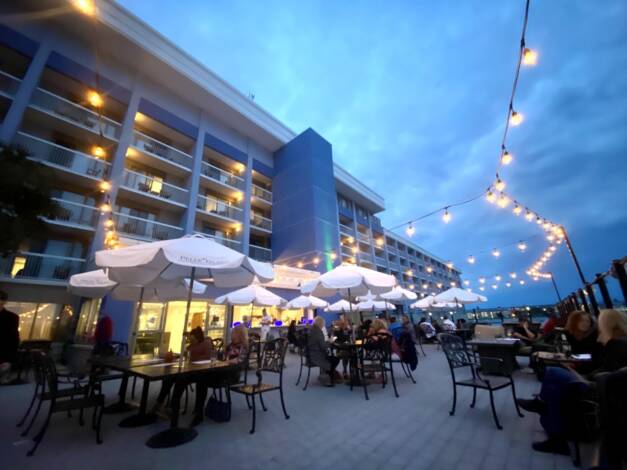 The Holiday Inn Kingston Waterfront: A Great Option in a Wonderful Ontario City
September 2, 2020 Jim Byers
A popular Kingston, Ontario hotel has a fresh new look.
The Holiday Inn Kingston Waterfront commands a wonderful spot at the foot of Princess Street, the main shopping street in this historic city. It also sits on the city's beautiful waterfront, with many rooms facing directly onto Lake Ontario, City Hall, Confederation Park and Kingston Harbour.
All rooms have walk-out space or roomy balconies to enjoy the views, and you're literally a few short steps from the heart of the city.
The hotel was recently given a major makeover and looks fabulous. Rooms are calm and bright, with shades of soft grey and blue and plenty of natural wood; hues the hotel calls "driftwood and water-based tones."
With an indoor pool (closed right now but hopefully re-opening soon) it's a great spot for families. They also have a couple of sleek and stylish suites if you need a little more space. We lucked into the St. Lawrence Suite (551, 553 and 555 on the floor plan) and had a large room with a desk and a TV, plus a kitchen area, a huge dining room table and a large living room with another big-screen TV. Not to mention three balconies overlooking the waterfront and two bathrooms, one with a large shower.
All rooms have a king-bed or two queens.
It's also a great spot for biz folks, as they have an on-site business centre and they've thoughtfully provided a half-ton of plugs and USB ports, including some right by the bed. The desk in my room featured a table that could be pulled out from underneath the main unit, allowing me to move my table to a spot in front of the balcony so I could work in the fresh air and admire the boats in the harbour.
Our room also had a Keurig coffee maker, a super-comfortable bed and nice toiletries from Body and Bath Works.
There's upgraded, free, high-speed Internet in all rooms and they have a good-sized fitness centre that overlooks the lake and features lots of new equipment.
The restaurant also has been given a major bump. Now called Wharf and Feather, they've hired a new chef and have a terrific patio next to the lake.
I don't know what the food was like before, but I thought it was terrific when we stopped in last week. My wife had  a lovely bowl of butternut squash ravioli in a cream sauce with hazelnuts, while I gobbled down a sandwich made with brie, roasted pears, bacon and arugula on locally made rye bread from the renowned Pan Chanco bakery in town. It's one of the best sandwiches I've had anywhere; a great combo of flavours that came with a generous side of fries.
I also ordered the duck confit wings as a starter. With five plump and tasty wings in a sweet Asian-style sauce they were practically a meal on their own. I enjoyed them, but I would probably add a dash of red chili flakes if I ran the kitchen.
We had a good time listening to a father and son band play bluesy and rock and roll numbers on a Friday night as the sun went down and the white, overhead patio lights came on.
We also had solid breakfasts both mornings we were there, including "urban hippie granola" from Kingston, a nice omelette with avocado, tomatoes and feta and tasty farmers' sausage.
The hotel is maybe 20 metres from Confederation Park, the waterfront park that features old trains and the city's giant Kingston sign. You're about the same distance from Ontario Street, where you can shop set up trolley tours, ghost tours and other activities.
The harbour cruise boats that ply the St. Lawrence River are located directly behind the hotel, so you're definitely in the heart of the action. And the city's Saturday market is perhaps 100 meters away, right behind City Hall.
Of course, social distancing and health protocols are definitely in force. The restaurant and patio had limited seating, and the two fellows singing had plastic shields in front of them. We had plenty of space around us at dinner and at breakfast.
The hotel also has plenty of social distancing signs about and hand sanitizers in the lobby and on every floor.
Great food, new rooms, helpful staff and a superb location. It doesn't get a lot better than this.
About the Author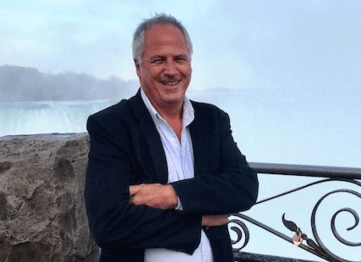 Jim Byers was travel editor for five years at the Toronto Star, which has the largest travel section in North America. "Canada's Travel Guy" is a sought-after expert in the industry and has recently published his first e-book "Ontario Escapes, 19: Places to Visit Right Now."  Jim also serves as Senior Editorial Director for TravelPulse Canada.
One response to "The Holiday Inn Kingston Waterfront: A Great Option in a Wonderful Ontario City"